So you've taken the plunge into the wild, wonderful world of e-commerce. You've found your niche and are ready to test the waters of selling online. One of the first decisions you, as a business owner, need to make is deciding on a payment services provider. Choosing a payment processor can be confusing, as there are so many options available. For small business owners, your primary concerns are choosing a solution that is affordable and quick to get up and running.
Today we are excited to present an exciting new option. Ladies and gentlemen, meet Simplify Commerce, by MasterCard. Simplify Commerce makes it easy for you to accept e-commerce and mobile commerce payments, regardless of payment brand, in just a few minutes.
Simplify Commerce is available today, FREE for a limited time.
Keep it Simple
Developed by MasterCard Labs, we are extremely excited about this easy to use interface. We are confident that Simplify's straightforward integration will help business owners and streamline the process of getting a merchant account and, ultimately, make it easier for you to deliver amazing payment experiences to your customers.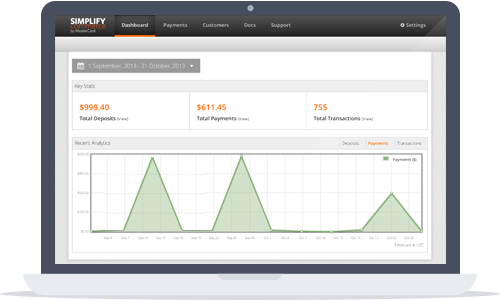 Simply a Great Offer
Simplify Commerce is setting a new bar with incredibly low pricing at 2.85% + $0.30 per transaction and two day funding to your bank account. There are no setup fees, no monthly fees and no hassle.
It gets better. WooCommerce users who sign up for a Simplify Commerce merchant account by February  28, 2014 will get FREE processing for their first $10,000 in sales.
We are passionate about you, our loyal customers, and rolling out products and promotions that make sense for your your businesses. A free WooCommerce extension, an amazing new payments service and $10K in free sales is another amazing partnership and deal.
You have until January 31, 2014 to take advantage of this offer. Service only available to US based merchants. For more information,
click here
.
Questions or Comments? We are here to help. Please post to our helpdesk where our pre-sales ninjas are on hand to assist. For questions related to  Simplify Commerce as a service click here.