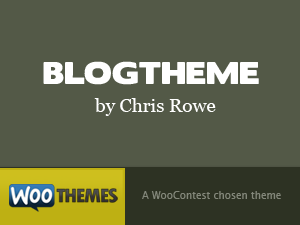 It's the 28th of the month and we've got just enough time to squeeze another theme release in before the end of the month, that mean's we've launched 3 themes this month!
BlogTheme is another design concept that we received through our WooContest . Designed by Chris Rowe, who also designed Gotham News , this theme, that's name is pretty self explanatory, has been specifically designed to cater for personal bloggers who like a simple, clean-cut blog design, with no bloating functionality, just the optional lifestreaming plugin that helps bring together all your social media profiles onto your site.
This theme is bundled with 5 colour styles, one of which we are sure we'll suite you and your colourful personality.
You'll want to read what we're about to say!
We've decided that we will be launching some even more affordable themes, specifically for personal bloggers, with less functionality, but of course the same quality framework working under the bonnet. BlogTheme will be the first of these themes and available for an amazing 40 dollars ! Yup 40 dollars !
What are you waiting for, take this theme for a test drive , find out more about what this theme offers, and then give your blog a facelift.
As always please provide us with your constructive feedback.