From the outskirts it probably seems a little quiet compared to our usual lightening pace of WooCommerce development? Never fear though, inside WooLabs things are seriously heating up with a HUGE amount of time going into version 1.4, that will be one of our most noteworthy updates in our track history. That's still a couple weeks away, with the exact release date kept mysteriously vague for now. We do however have something to tide you over. 4 exciting new extensions.
A teaser of what to expect in 1.4
As I've said it's not ready yet, but you can start getting excited about it because of a number of reasons that include:
A new default theme
Much better and easier to use templating system for beginners
Local and compound taxes
Many code optimisations to improve loading time/memory
There's loads more to it, but we can't give away all the secrets now can we?
New WooCommerce extensions
This week sees an sms notification system for your online shop and 3 very different, equally powerful payment gateways.
 Clickatell SMS Notifications
The Clickatell SMS Notifications plugin for WooCommerce allows you to keep you customers updated on the progress of their orders by sending them SMS notifications when their order statuses change. This extension requires a Clickatell Central API account in order to send SMS.
You can also send custom one time SMS messages by going into an order; you have the ability to send the customer a one time SMS message with whatever text you wish.
Developed by Gerhard Potgieter.
View this WooCommerce extension
FeeFighters Samurai Gateway
This plugin allows you to take payments utilizing FeeFighters' Samurai Payment Gateway.
Developed by Patrick Garman.
View this WooCommerce extension
Amazon FPS Gateway
Gain your customers trust by allowing them to securely pay using their Amazon account. Amazon Flexible Payments Service (Amazon FPS) will allow you to accept payments via credit card, bank transfer, and even through your customers Amazon balance!
Developed by Patrick Garman.
View this WooCommerce extension
PayPal Digital Goods Gateway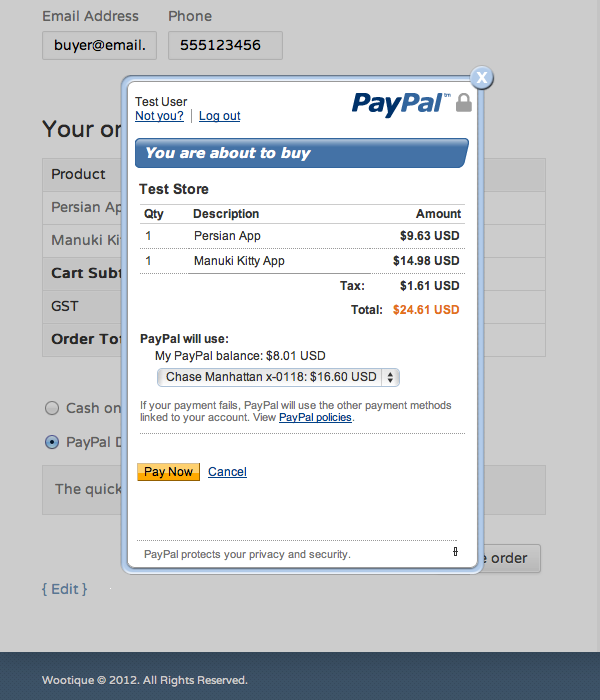 This extension offers in-context payment of digital products so buyers never leave your site to pay for an order. After a buyer has purchased once with your site, they can choose to not be required to log in to PayPal for future purchases – one-click PayPal payment, but only with the PayPal Digital Goods extension.
Developed by Brent Shepherd.
View this WooCommerce extension