Some theme launches here at WooThemes are hyped for weeks and weeks on Twitter and in our blog, others we silently and secretly work on and launch for our community as a nice little surprise. Mortar is one of those that I've been working on for a few weeks.
Built on an awesomely flexible grid structure that enables you to select how many columns you want on your home page and archives page and then arranges your posts according to their height and width using the JS Masonry layout plugin built by David DeSandro (Source code available here). The rest of the design is governed by the fabulous Grid 960 framework for easy modifications.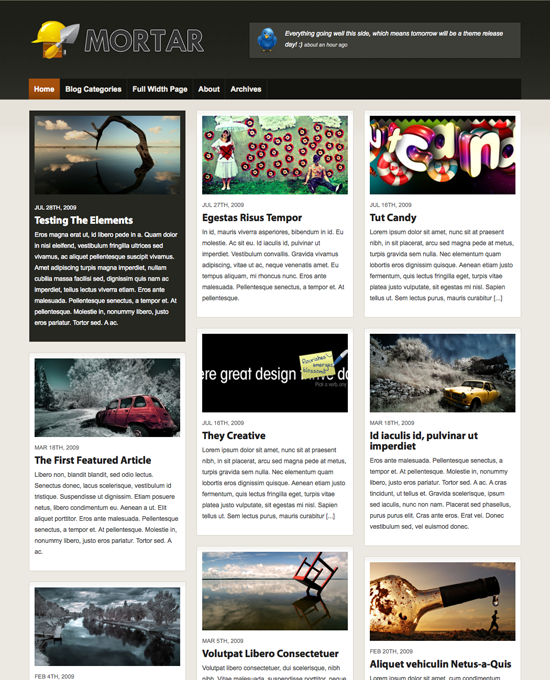 As is noticeable in the screenshots no space is left unused between post boxes and the posts don't need to be equal heights like other WooThemes, making for a much more fluid, fun, collage-like layout. With an optional Twitter, Ad Banner and About module the home page can take any form you so desire.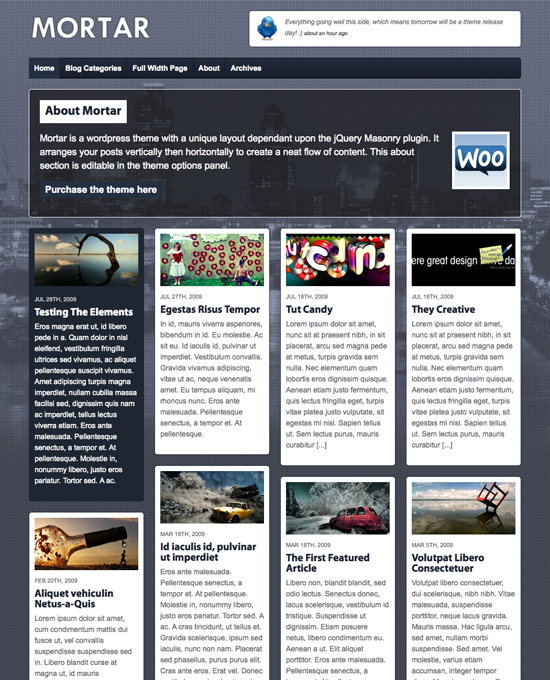 The 'City Life' theme style is one of my favourite styles with a background image of a London city skyline I snapped a few months ago, with a layered semi-transparent grid over it highlighting its sharp edges and urban feel.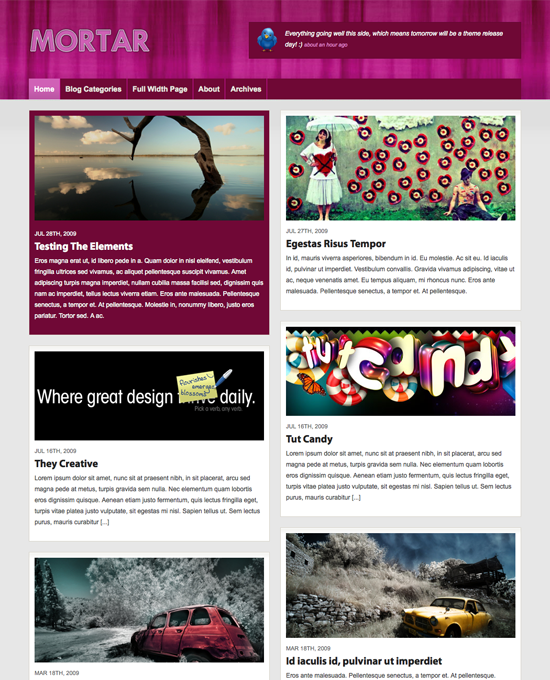 Enjoy building onto this theme's flexible layout and we look forward to seeing some creative showcase submissions. As can be seen in the screenshots its usage could be limitless, a photographer's portfolio/diary, a web designer's showcase gallery or an online magazine for a publishing company.
As with all our themes we welcome your constructive feedback, but make sure you've had a good look around the demo and seen the sub-page layout of the blog posts, single pages and full-width content before judging this theme 🙂
The Challenge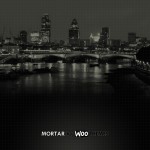 A special prize for those who have read to the bottom of this post. I've made a Mortar wallpaper for the release of this theme, it is a polished version of a photo I took here in London – which is a place filled with bricks and mortar!
The first 5 people that leave a comment with a link to a picture of them sitting in front of their computer, with the Mortar wallpaper apparent on their desktop, will each win a free standard package of this theme. Easy hey? Competition closed- winners announced below.
The wallpaper is available in 5 different sizes: