After many hours of hard work completing a task, there's nothing quite like someone saying "well done" or "good job". The one feeling that trumps this is the feeling of saying "well done" or "good job" to someone else, recognising the effort they put in to completing the task.
Today's release aims to encourage these feelings, as well as encourage additional study via your online school. We're proud to announce that Sensei Certificates is available, from today, for FREE!
With Sensei Certificates, your students are awarded a certificate for each course they complete through your online school. These certificates can be downloaded, printed and framed on their office wall, or stuck up on the fridge for the entire family to enjoy.
Customise the certificate design
Sensei Certificates includes an advanced certificate design system, allowing you to upload your own background image, position and style the size, typeface and colour of the various pieces of text on the certificate and truly create a unique design best suited to your online school.
You can create multiple certificate templates, so you can even use a different certificate design for each of your courses.
If you don't fancy yourself as a designer, or don't have the time to spend creating your own template, Sensei Certificates includes a stylish default certificate design, suited to any genre of online school.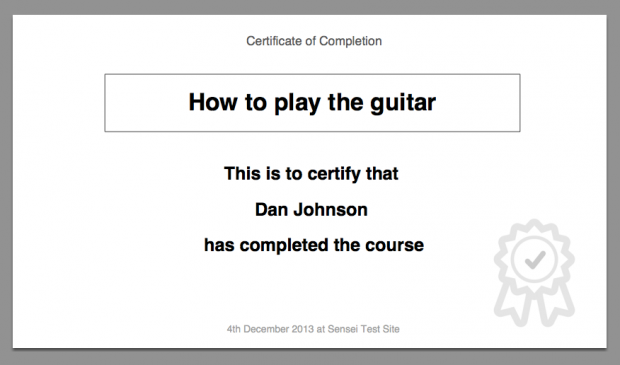 Virtually limitless benefits
Offering certificates at your online school, while not always necessary or appropriate, is a wonderful additional feature to complement your Sensei-powered online learning offering.
Giving students a tangible acknowledgement of their progress encourages them to study further, shows how proud you are of their course completion and lets you share in the creation of a lasting memory for your students.
We look forward to seeing how you use Sensei and Sensei Certificates to enhance the learning experience at your online school.