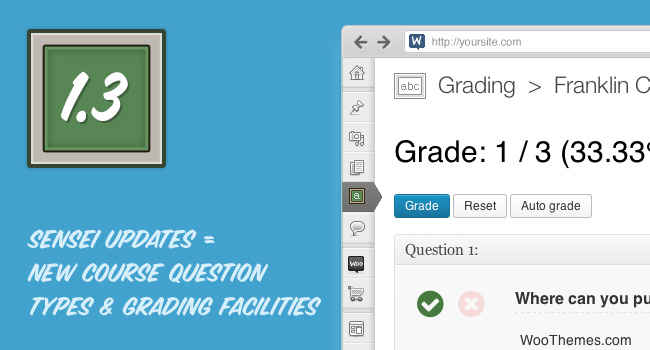 Since the launch of Sensei, our learning management system for WordPress, our aim has been laser-focused on one aspect of the product: enabling the offering of courses. This is Sensei's core purpose. Keeping this core purpose in mind, our goal when developing Sensei is to ensure the course taking (for your students) and course management (for you, as the facilitator), are as seamless as possible. Our latest version aims to focus on exactly that.
Meet Sensei 1.3.0.
We've received really great feedback and ideas from the Sensei user community, many of whom are seasoned education professionals, looking to enter the online learning space (and to sell courses using WooCommerce). After spending some time discussing and fleshing out these ideas, we set about upgrading Sensei to include some much-anticipated new features and to enhance the existing core feature set.
Question Types- now with Multiple Choices
Earlier versions of Sensei offered only "multiple choice" as a type of question to ask your students in the quiz, after taking a lesson. Sensei 1.3.0 introduces several new question types, to expand how you test your students' knowledge.
The question types now available are:
Multiple Choice – Students select one answer from given options.
True/False – Is the statement given "true", or "false"?
Gap Fill – Display a sentence with a missing word. Have students fill in the word.
Essay Paste – Enable students to paste in an essay.
Multi-Line – A text-based answer, spanning multiple lines (a paragraph).
Single-Line – A short, text-based answer.
With the above array of question types, it's now possible to find out even more about your students, how they answer questions and to further gauge their working knowledge of the lesson at hand.
Making the grade – introducing quiz grading
Along with our new question types, we've included a new grading feature in the Sensei admin. This enables quizzes to be automatically or manually graded by a lecturer.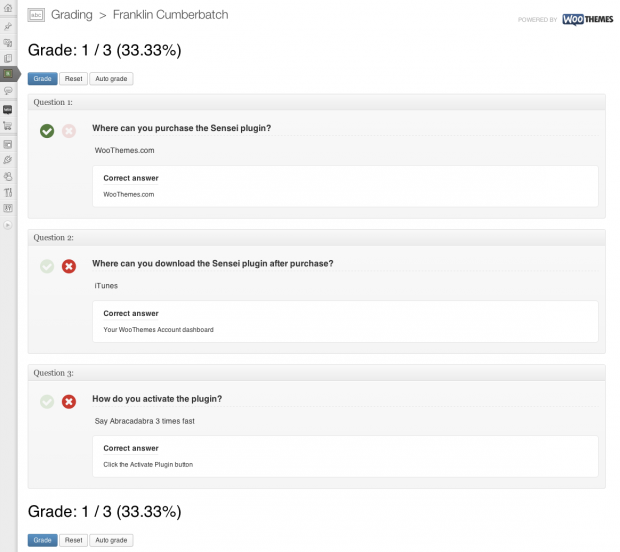 With many of our new question types ("Essay Paste", "Multi-Line", "Single-Line", "Gap Fill"), it's not possible to automatically grade the answers the student provides. Therefore, Sensei 1.3.0 includes a manual grading feature. A lecturer can login to Sensei, view all answers to a given quiz and grade the student based on their essay, filled in gap fill or their text answer in a single or multi-line question.

Under the hood – a few technical enhancements
For the techies out there, we've included several technical enhancements to the inner workings of Sensei core. These include a new sensei_access_permissions filter and a fix for a PayPal-related bug, spotted by several Sensei users.
The sensei_access_permissions filter enables developers to apply their own custom code to determine whether or not a student has access to a given course. This would be especially useful when integrating with other membership systems, for example.
Share your Sensei ideas
We're always keen to hear what you have to say and to hear about your ideas, discovered while using Sensei.
Share your Sensei ideas with the community over at the Sensei board on WooIdeas. If you spot an idea there that you'd like to see, vote it up and show the community (and us) what you'd like to see.
If you've upgraded to Sensei 1.3.0 and spotted a bug, please pop a ticket over to us via our
Help Desk
where our ninjas are on hand to assist.
We look forward to seeing what you create and offer using Sensei 1.3.0 and the new features we've built in.