The second theme release for this month is a magazine theme that doubles as a business theme, and triples as a portfolio theme. It's flexibilty lies in it's modular design and it's ability to highlight multiple authors blog posts and portfolio items efficiently.
With so many cowork spaces popping up all over the world, creating affordable, shared work environments for freelancers we thought it only fitting to provide them with a theme that helps sell the space, and the people who use it better.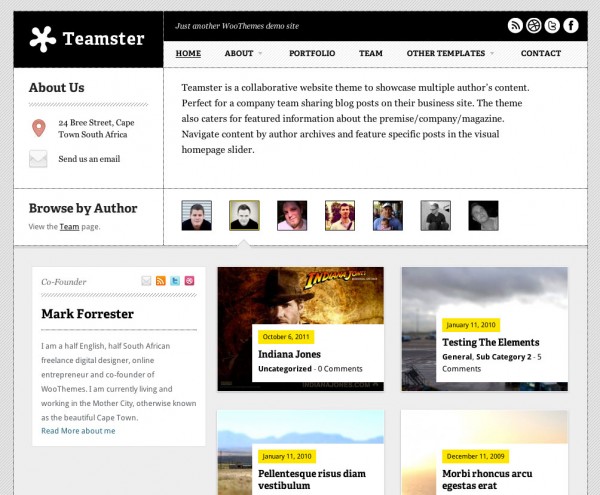 For me it was great to get back into Photoshop and to finally design something again, after spending the vast majority of my time over the last few months managing the workflow of our theme designs/developments with the recent increase in the size of our team.
Teamster Features
Getting the balance right between the amount of features, and making sure there is no feature bloat is an important factor when we build themes. We feel we've done this well with Teamster.
The homepage author module
The author module on the homepage is an AJAX powered tabber that displays all your WordPress contributors, editors and administrators, with the option to hide certain users. Once you select an author to display it will load their latest blog posts, portfolio items or a combination of the two. We've built additional fields into the author profile in the WordPress backend to capture a short biography about the user, their Twitter, Facebook and Dribbble links and their role within the company/CoWork setup.
The team custom page template
Further advancing the author module we have a custom page template you can dedicate in your WordPress site – the team page. The team page showcases all the WordPress authors blog posts and portfolio items, and you can navigate to each author's profile page.
Author blog archive pages functions the same way.
The homepage featured post tabber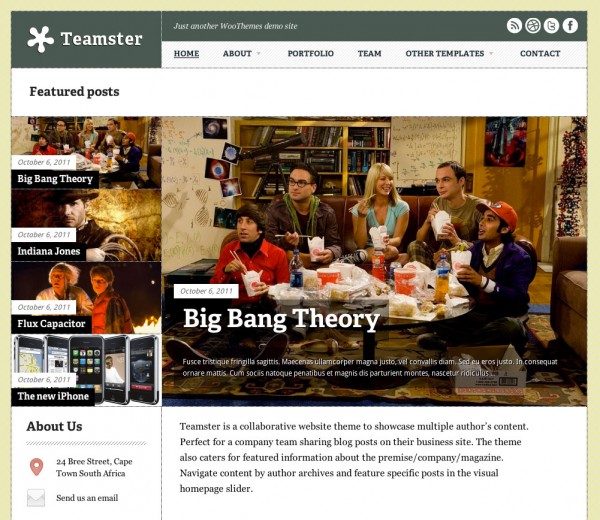 The homepage featured post tabber is a largely graphical showcase of particular blog posts, tagged with a specific tag. A hover effect on the tabs displays further information about the author.
And all the rest
There is an about/connect module reserved for the homepage, a homepage module sorter theme option, a dedicated portfolio overview page, and individual portfolio item pages, as well as specially styled custom widgets, and not to forget the alternate styles and easily customizable look and feel.
Let us know your constructive feedback, dive deeper into the theme in the demo, and read more about it on our Teamster theme listing page.
Grab Teamster with an 11% discount coupon, valid until 24 October. Just use TEAMSTER11 as your coupon code on checkout. 🙂