Today we get bring two amazing plugins together with the launch of our Gravity Forms Product Add-ons extension, developed by Lucas Stark.
And as this is to be the last WooCommerce drop before the new year, we'd also like to briefly recap our achievements since WooCommerce launched back in September.
Gravity Forms Extension
With the Gravity Forms Product Add-ons extension, advanced product configuration forms can be built and linked to any product in WooCommerce. Forms that contain conditional logic, pricing fields, user input prices, conditional-pricing fields, conditional submit button logic can all be created for your products. Additionally, any product that contains a Gravity Form is tracked in the cart to ensure, no matter how complex your product form only unique configurations are added to the cart and duplicates are incremented in quantity.
The Gravity Forms Product Add-ons extension gives you full control over how the display of the prices in the store should appear. You can use the default price displays that WooCommerce will display, or in the case of a configurable product containing pricing fields, set the price to something such as "As Low as $1000".
You also have control over when the built in automatic price calculation will be displayed, if at all, and have the ability to configure each label individually.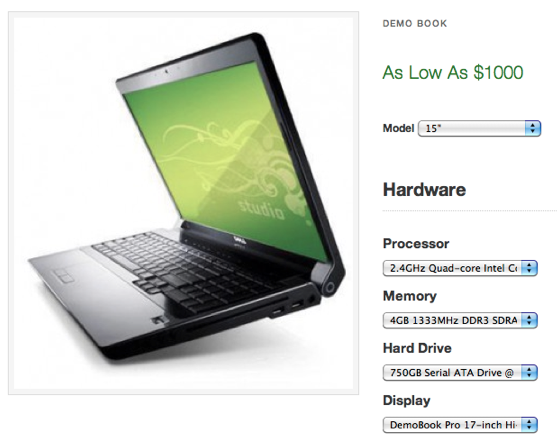 Buy the Gravity Forms Add-ons extension
2011 – A great year for WordPress e-commerce
The final quarter of 2011 has been a very exciting time for us. Not only have we released some awesome themes, but in September we also dived in at the deep end of the WordPress plugins ecosphere with the launch of WooCommerce.
We've worked incredibly hard on building a reliable, feature rich eCommerce solution. It has since been supplemented with dozens of premium products which either extend the default functionality, or provide a gorgeous front end to your online stores.
To reflect on our progress, here's a quick roundup of our WooCommerce specific achievements;
Almost 40,000 downloads, eclipsing the codebase from which WooCommerce was forked
Launched 49 premium extensions including payment gateways which make WooCommerce a realistic option for businesses the world over
Nurtured an active WooCommerce developer community enabling Woo members to monetise their own WooCommerce extensions, ipso facto delivering a greater number of high quality extensions to the WooCommunity at large
Launched 15 WooCommerce specific themes including child themes for some of our most popular parent themes, and our free theme; Wootique which has been downloaded over 10,000 times.
Facilitated many free plugins built upon WooCommerce
WooCommerce has truly taken the eCommerce niche within WordPress by storm. We're extremely proud of the progress we've made so far, and excited to continue that through 2012.
Merry Christmas
Just in case you've missed it, don't forget to check out our WooCommerce Xmas bundle. 3 WooCommerce themes, 8 extensions (including table shipping) for $150 – a massive saving of 45%.
And for today only you can get 35% off any individual WooCommerce product using the code 12DAYSWC.
Have a great Christmas!