Here at Woo, we have a few components that make up each theme we release. The two main components are the theme's design and code and the WooFramework. Our themes and the WooFramework alike, are updated regularly with improvements and bugfixes to enhance our products and keep them up to date with current trends and developments, as well as code improvements and refinements. Each theme, as well as the WooFramework itself, carries a version number, which is increased with each update or bugfix.

As the WooFramework is so seamlessly integrated into all of our themes, it can be confusing at first as to which pieces are what, which files to upload when upgrading your theme and how the WooFramework fits into the bigger picture. While we have support documentation that explains theme upgrades, the rest of the pieces may require a bit more explanation. Today, I'll be explaining what the version numbers mean, how to keep your theme up to date and what role the WooFramework plays in our themes.
The WooFramework
The WooFramework (found in the "functions" folder in all our themes) is the engine that powers our 100+ themes (and growing). Functionality such as the woo_breadcrumbs(), woo_pagination() and our theme options are all run through the WooFramework. Periodically (quite often, in fact), we update the WooFramework with enhancements and code improvements, as well as fixes for the occasional bug that presents itself. These updates are rolled out via an automated update system built into the WooFramework (The "Update Framework" link in the WordPress admin). Also included in the WooFramework are the Sidebar Manager and an easy to use backup facility to create downloadable backup files of your theme options.
If a new feature is developed and isn't specific to a single theme, it would be included in the WooFramework for use by everyone.
Theme Components
Each theme is made up of the core WordPress template files (found in the main folder of the theme) as well as several theme-specific functions and components, found in the "includes" folder. These files, while pretty consistent, can change from theme to theme and, therefore, are not included in the WooFramework. Theme options are specified in the "includes" folder, as well as theme setup-related functionality and specific enhancements (custom typography and styling generation, for example).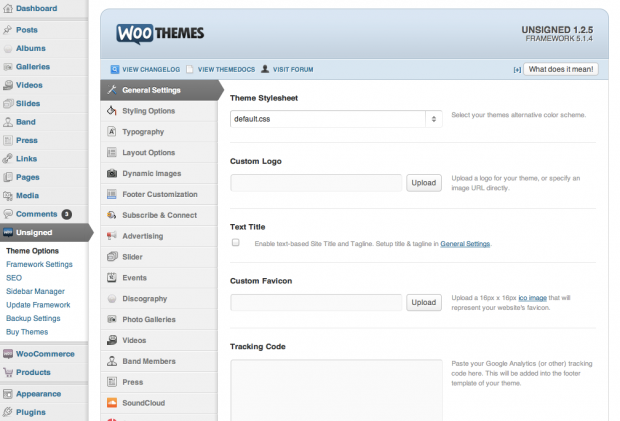 Version Numbers… what do they mean?
Our versioning system consists of three parts; rewrites/major upgrades, new feature updates and bugfixes. For example, V1.0.0 is a new theme with no features added after release and no bugfixes, where as V2.4.3 is theme that has had 1 rewrite/major upgrade, 4 new features and 3 bugfixes after the 4th new feature.
Knowing this versioning system is important when upgrading and maintaining a website using one of our themes. If you're running, for example, V2.4.0 and V2.4.1 is released, you can instantly know that this is a bugfix, is usually minor and may not affect you.
That being said, it is important to keep your theme up to date. For this reason, each of our themes includes a "changelog.txt" file, denoting each update made to the theme, which file it was made in and what the update was. Reading the changelog for the version you're looking to upgrade to, along with understanding our version numbering system above, can go a long way to improving your upgrade experience and understanding how best to manage your theme maintenance. Speaking of theme maintenance, using a child theme is always a good idea.
When it comes to the WooFramework, this is where the majority of major updates are released. For this reason, the WooFramework provides a neat update notifier that adds a message on your theme options admin screen when a new version is available. We'd recommend activating this if you would like to be notified of the latest updates.
I hope this helps to provide a clearer understanding of our versioning system, when and how to upgrade and what it all means, as well as enhancing your overall WooThemes experience.