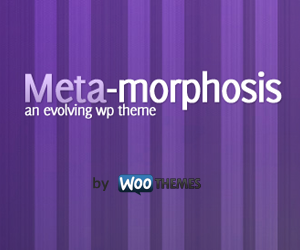 We know you like a freebie once in a while, and when we first saw the Meta-Morphosis design by Izzudin Helmi we immediately wanted to develop it into a WordPress theme, and give it away for free! The Photoshop design uses the Delicious font type, and we wanted to try and bring this over to the finished product, something we managed with the help of Cufon.
The layout of the theme is a bit unusual as it has a two column homepage with featured posts on the left, and normal posts on the right, so there is no sidebar like in your traditional theme. All of your widgets go down in the javascript slider in the footer, which is superslick!
We also incorporated the new and improved Woo-Framework in this theme, so you will see some changes in the backend options. The biggest improvement is the ability to upload your thumbnails directly without having to use the old upload, copy+paste link into custom setting field anymore. This also applies to uploading your custom logo in the options panel. We hope to update all our themes with this new functionality soon!
Check out the demo and get downloading already!