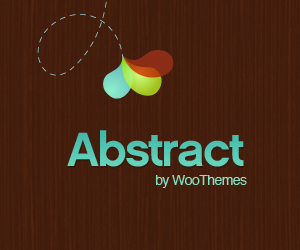 Today not only see's the launch of our Christmas 4 for 1 special, but also the launch of one of our exciting themes that we collaborated with the wonderful Veerle Pieters on – Abstract.
A good few months ago we commissioned Veerle to design us a theme with a typical Veerle flair to it. We requested the theme have a business feel to it, keeping it simple and fun though. That was our only guidelines giving Veerle almost complete creative freedom on this project.
The end product that Veerle supplied us with was a pixel perfect Illustrator mashup of shapes and curvy lines in a harmonious colour palette, laid out neatly in a spacious grid structure. It was professional enough to be used as a business theme, and also fun enough to be used as a personal theme making it quite multi-functional.
Over the last month, we've sliced and diced her beautiful photoshop/illustrator design into neat html/css and Adii and Magnus have applied some wordpress wizardry.
I was the lucky one to be selected to create some alternate styles for the theme, not a particularly easy task when working with an industry leading designer's designs. No pressure. I do hope you enjoy the 4 alternate styles though and will find one that suites your personality.
Without further ado here is the demo for Abstract for you to marvel at, and below you will find links to purchase it. Remember if you buy this theme in the next week you will be entitled to download 3 other WooThemes. Bargain!