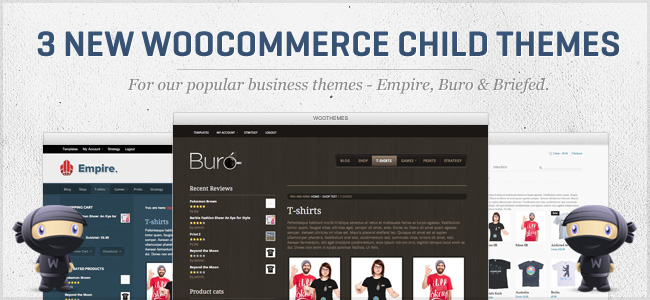 That's right three more WooCommerce enabled WooThemes. Specifically three more WooCommerce enabled business themes. We've been working down our theme leaderboard chart picking the most popular themes to cater for e-commerce facilities.
There is no WooCommerce core update to report on today unfortunately, but we don't believe that's a bad thing. Not everyone wants to update their e-commerce plugin every week right? Even if the update is filled with awesome sauce. It also means we can concentrate more time on further refining particular modules like the tax calculations that Mike has spent a heap of time on this week. More on this soon though.
Briefed
This popular theme was designed by Cameron Moll. With it's minimalistic, swiss influence design, and modules allowing it to function as a portfolio or business theme, with a WooCommerce child theme a photographer can now sell his/her prints using it, or Letterpress posters if you are like Cameron…
Buro
Designed by our Paraguayan friend Juanma Teixido this was our first responsive business theme. Now it's a responsive business theme with e-commerce facilities. Jay has worked hard in styling the shop pages for a consistent user experience, all the while keeping all pages responsive.
Empire
Ryan O'Rourke designed this beauty for us with the initial intent for it to showcase real estate for agents. We turned it into a more general business theme as we thought the layout modules were generic enough. Now with a WooCommerce powered shopfront one could potentially sell houses with it! Ok maybe you'd struggle taking such large payments, but it certainly adds further appeal to this design that has grown quickly in popularity.
You thought that was it? We've got a couple more WooCommerce goodies for you:

Australia Post Shipping Method
Calculate shipping costs based on Australian post rates. Australia Post can check availability and calculate costs of the following options: Standard, Insured, Registered, Express, International (by sea), International (by air).
View the Australia shipping extension listing.
Canada Post Shipping Method
Similarly, the Canada Post Shipping Module is a great way to extend your customers shopping experience to include a very sophisticated shipping service. This shipping extension uses the product's weight and dimensions to calculate the most accurate rates possible using Canada Post's Sell-Online (http://sellonline.canadapost.ca).
Each order is automatically divided into packages of 30kg or less. It will calculate how many packages need to be sent, calculate the cost of shipping each package and display the total cost to the customer. Let your customers choose the speed and cost of delivery when they order items from your online store. This Shipping module works for both domestic and international shipments.
View the Canada shipping extension listing.