With the 2013 year growing ever-distant in our rear-view mirrors, and the 2014 road out ahead of us, we're excited to share with you what we've got planned for the first quarter of 2014.
2013 was a great year, for Woo. We expanded our team, helped thousands of customers and added many new items to our product line, while steadily updating existing products. To find out more about everything we did in 2013, check out our 2013 year in review.
Without further ado, lets dive right in and find out what the first quarter of 2014 has in store for us.
WooFramework gets a fresh face
The WooFramework, the engine which powers every WooThemes theme, is getting a fresh face. Being largely rewritten from the ground up (with backwards compatibility in mind, of course), we're excited to share more information on the newly-optimised WooFramework, as we get closer to the release date.

The focus of this upcoming version 6 is "self help". No details have been spared in ensuring the user experience with a WooThemes theme is amazing, clear and easy from the very first step of activating the theme.
Keep an eye on our blog for more information on this release, as it develops.
WooCommerce 2.1
We're very excited to get WooCommerce version 2.1 into your hands. This exciting new release includes an API, optimised separation of CSS and many other updates, optimisations and aids to help run your online store.

For more information on this release, check out all related posts on the Develop WooCommerce blog.
LEAN Plugins
Throughout 2013, one of our primary goals has been to abstract commonly used functionalities into plugins, rather than bundling these features into each theme. This goal will continue into 2014 with the release of dedicated Subscribe & Connect, Contact Details and Shortcodes plugins, as well as continuing to abstract further useful tools out into plugins (both free and paid) to assist you in getting your website up and running as swiftly as possible, and with the best possible user experience.
Continuous Optimisation
At Woo, we are firm believers in the LEAN methodology. A core aspect of LEAN is continuous improvement. We've tweaked (optimised, if you will) this process to read "continuous optimisation". This core distinction helps us to maintain focus on the end goal; optimising while improving at the same time.
WordPress is our passion. We spend hours each day, observing developments within the community, adding historical context to the platform's evolution and looking back to ensure the core WordPress vision is at the forefront of our minds, as we aim to innovate and pave new roads within the WordPress community.
This historical context forms an integral part of continuous optimisation. Since it's inception, WordPress has always been about freedoms, democratisation and empowerment. A theme has always been a skin, leaving plugins to handle the heavy lifting functionality. This helps with data portability and data freedom.
Reserve your place in line for this WooCommerce teaser
With an exciting year ahead, we thought we'd leave you with the following teaser of our most exciting product release for the first quarter of 2014. More will be mentioned in a future blog post. For now, we'll whet your appetite.
Project your Projects
Along with all of the above, we've been hard at work on an exciting offering for displaying your projects on your website. Stay tuned to our blog for more on this exciting project for showcasing your projects.
Sewed and Stitched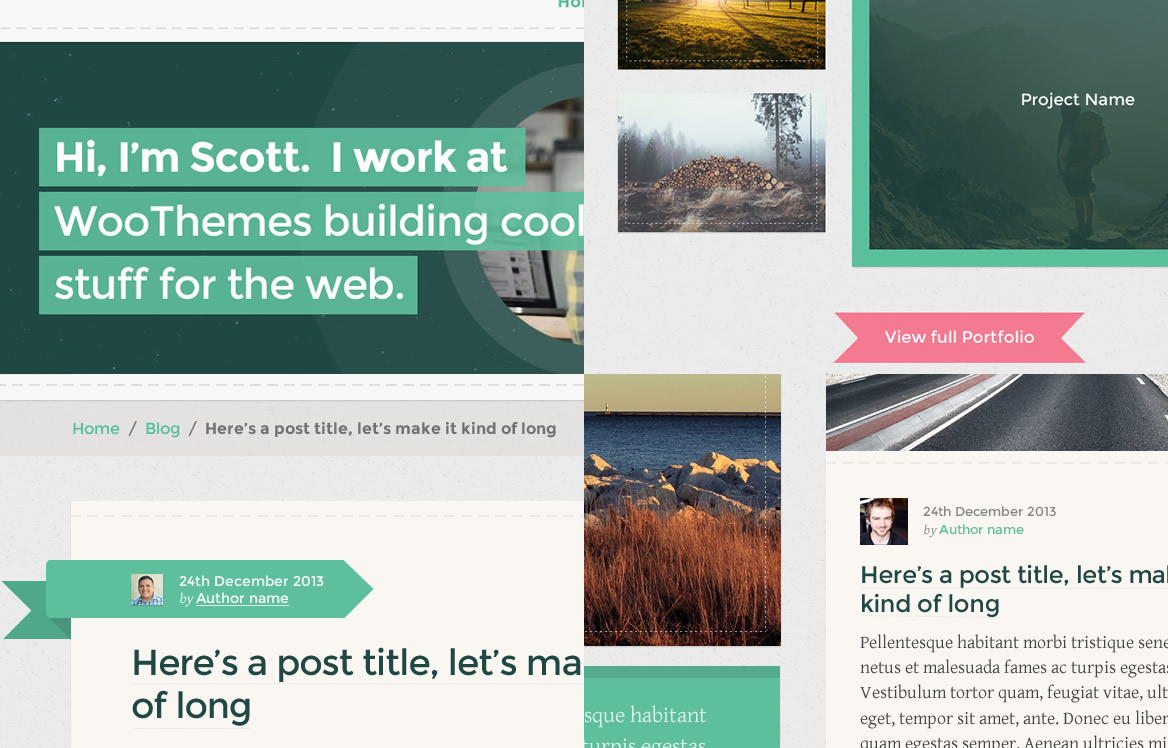 Lastly, here's a little teaser for our upcoming theme to kick off 2014. You'll all get to meet Stitched early in 2014. We're excited to share it with you and showcase this new addition to our catalog.
The aforementioned items are, of course not the only items on our release schedule for the next few months. Keep an eye on our blog for new themes, other new plugins and exciting WooCommerce, Sensei and WooSlider extensions.
Here's to 2014!