Heard of Receiptful? They do supercharged email receipts for eCommerce with easy setup, analytics, upsells and out-the-box integrations with leading platforms. At the helm? Adii Pienaar, longtime friend and co-founder of WooThemes.
In 2008 WooThemes was founded by Magnus Jepson, Mark Forrester and Adii, a formidable team who together played a key role in the early stages of the premium theme industry and eCommerce for WordPress. In November 2013 Adii officially exited WooThemes as a partner and set out on a new adventure.
On how it all came together, in an interview with Obox about his new project towards the end of last year, Adii said:
I read this article about the missed marketing opportunity of email receipts and immediately just had an "AHA!"-moment. It was just one of those things that hit me square between the eyes as such a cool and obvious idea. So I immediately dropped everything else I was working on and decided to swing for the fences.
Adii penned this launch post the day Receiptful went live which is well worth a read. Kudos to him for taking the gap and providing such a neat way for stores to make customer experience richer and turn something typically dull into a canvas. We caught up with him on the current lay of the land and Receiptful plans for 2015.
Unlikely to be music to the ears of Northern hemisphere dwellers, you mentioned you'd answer these questions after a beach visit! How's life in Cape Town?
In between visits to the beach, I live out in the Winelands with my young family; so I'm definitely trying to take advantage of the best that Cape Town has to offer 🙂 Whilst I might not be the most patriotic Capetonian (I definitely want to live elsewhere in the world too in the future), it's a beautiful place with so much to offer.
There have been some pretty huge changes for you in the past 12 months. What were your feelings kicking off this new year versus 2014?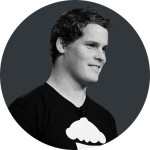 I started 2014 in an unknown place; I had left Woo and decided not to pursue my then startup idea, PublicBeta. So in terms of my ambition and (professional) purpose, I had a void to fill.
This year has started with a bang though. Receiptful launched in November and initial uptake was slow. Throughout the latter parts of December momentum picked up though and transferred into January, which has been an incredibly busy and exciting month for Receiptful.
Shortly after launching Receiptful as a premium product you made the switch to freemium. Tell us a little about that?
It's our long-term ambition and mission to power the vast majority of eCommerce receipts being sent worldwide. So keeping our core features (receipts) free helps us to aggressively strive and grow towards that goal.
This is not to say that we will compromise or sacrifice on revenue (I'm still a bootstrapper at heart); and we have a very clear revenue strategy in place that we will switch on later in 2015 whilst keeping our supercharged receipts completely free.
What is the lay of the land when it comes to Receiptful users?
I actually think Receiptful's initial userbase mimics the characteristics of Woo's initial userbase: relative early adopters pursuing functionality that was previously only available if you had it custom-built.
That means we're generally talking about Receiptful being used for SME-sized eCommerce stores. Our most well-known customer right now is WuTang Clan, which was quite a cool Christmas gift when they signed up in late-December. 😉
There are currently integrations for WooCommerce and Shopify, any more close to completion?
Yep – we've completed and will be releasing new integrations for Magento, BigCommerce and Easy Digital Downloads soon.
Our aim has always been to be platform-agnostic and democratize supercharged receipts as much as possible. That said, our WooCommerce integration was our first and is our most mature & complete integration.
The contrast between the regular WooCommerce receipt versus your supercharged is pretty stark! What is the favourite feature to date?
It is stark indeed. 😉 Our advantage obviously is the fact that Receiptful is a hosted app that lives outside of the realms of WordPress, which makes a couple of things easier to achieve in a scaleable way.
Our users' favourite features are definitely a combination of two things. I think many users start off just wanting a quick & easy way to make minor customizations to their receipts, but then soon thereafter discover the ability to include an upsell or marketing message within the receipt (doing both without having to touch any code).
And then once they see the analytics related to their receipts and their upsells (along with the positive impact this has on their revenue & customer engagement), I'd like to think they've become lifetime users. 🙂
What advice do you have for anyone who spots a similar gap for a product and is wondering whether or not to go for it?
This is a tough one. Part of me wants to say "JFDI!", but part of me would also like to caution future entrepreneurs, because Receiptful isn't necessarily a good case study for a first-time entrepreneur.
I think the main consideration here is how much risk one would like to take on board. Receiptful isn't a painkiller today and selling a tool that is more of a vitamin will always be harder. In that sense, it's a riskier idea (which I hope to de-risk slightly via my experience and network).
Once you've figured out what your risk appetite is though, I think it is mostly about just getting started. There's no way to really know beforehand whether any idea can succeed and failure is always a possibility. Sitting around and trying to find that idea that is a silver bullet is just a way of never getting started.
Sitting around and trying to find that idea that is a silver bullet is just a way of never getting started.
As a founding father and friend of Woo do you have any comments on our trajectory, the world of WordPress and specifically on WooCommerce?
Firstly – I'm amazed to see how much the team has grown since I left. I can still remember conversations about hiring with Mag and Mark back in the day where we decided that we "never want to be more than 10 people on the team". So much for that now!
The thing that excites me most however is how WooCommerce has slowly become an industry behemoth with a reach beyond just WordPress. This is an exciting opportunity and (from the outside looking in) it seems to me that big industry players (the WooConf sponsorship list is great evidence of this) are sitting up and taking notice. This is fascinating for a company that started outside of a traditional tech hub by three relative strangers who only met up (IRL) after 16-odd months of working together. On top of that, it's bootstrapped and completely funded by the WooCommunity.
Finally, learnings are golden. What will you do differently when you launch your next brain child?
Probably a lot, but I wouldn't be able to say what those differences are now. I think the exciting and challenging part of my journey is stumbling onto (and into) new ideas and then just allowing myself to re-discover and re-learn what it means to be an entrepreneur.
—
Thanks to Adii for the catch up. I haven't met him yet but many of our team have fond memories with him from Woo Trips, get togethers and WordCamps around the world. His legacy lives on and as for Receiptful, keep watching that space!