Our latest theme release has been sitting on the backburner for a while now, ever since it was initially released as a Tumblr theme (which we've since discontinued). Not letting it go to waste the designer, and co-founder of WooThemes, Magnus Jepson hoped to find some time to give it some WordPress love and subsequently a more impressive feature-set. As can be seen on this blog we've been pretty busy this year so he only found the time a month ago, but we are very happy to finally get this out.
The beauty of Beveled is it's simplicity. It's not overly designed, but well coded and perfect for people wanting to customise a theme through typography, custom background images, custom logos and widgets.
Beveled is a clean yet sophisticated portfolio theme, which can be used to show off your work, or even display your photos. It is compatible with the WooTumblog plugin, which when enabled gives you access to post formats and iPhone publishing, thanks to our Express App!
It's minimal design allows the content lots of space to breath and showcase. With a responsive design the theme adapts to the media type it is being viewed on.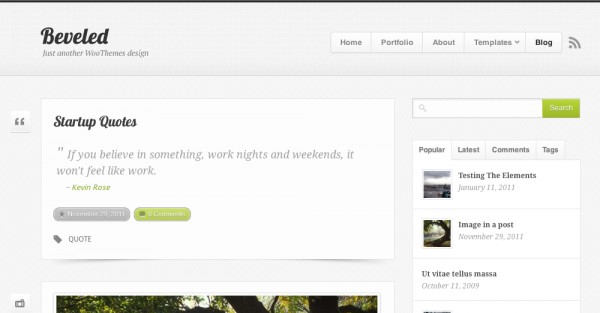 Thanks to the custom typography editor in the theme options you can really transform it's look by simply changing some header, paragraph, post meta and navigation font families.
Have a look at Beveled's complete feature set here or experience Beveled in full on the demo before letting us know what you think.
2011 is almost coming to an end, but we're still celebrating each new release with a 11% discount coupon. Use "BEVELED11" to grab 11% off Beveled today. Valid until 14 December 2011.