Since WooCommerce launched over a year ago, the platform has come to be the eCommerce solution we all know and love. We have, since, launched a collection of themes specifically geared to work with WooCommerce and to help you sell your products and services online.
While these themes were specifically WooCommerce-focussed, sometimes you'd want to use the design for something more, or even without WooCommerce. From today onwards, we've made this a whole lot easier to do.
Building Better Business Themes
Looking back on discussions we've had on this blog in recent months, one core focus has been apparent: delivering happiness through innovation and ensuring that our product offering works for you, the WooCommunity.
Today, we're proud to launch significant updates to the following themes: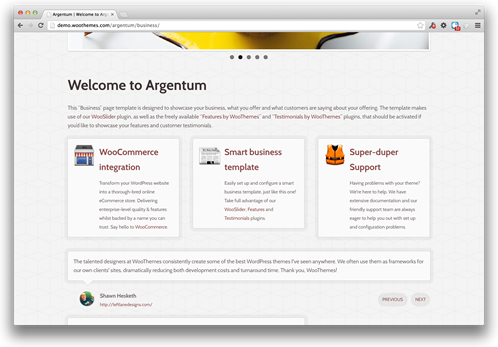 These themes were, until today, purely geared towards WooCommerce. Today, each theme now includes a new "Business" page template, for showcasing your business offering via features, testimonials, recent blog posts and a slideshow of snappy images.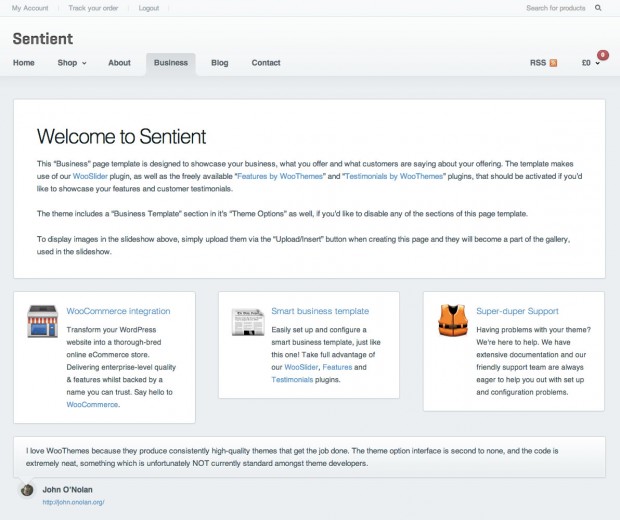 Tell me more about this "Business" page template
The "Business" page template works by combining our "WooSlider" (version 1.0.6 or higher is required), "Features" and "Testimonials" plugins (two new free plugins we released last month) with some theme options and a detailed design, tailored to each theme, to showcase your business in a new and exciting manner, that is easy to setup and to maintain.
If the main focus of your website is to showcase your business, with your product catalog being secondary, you could even set this page as your front page (using the built-in settings within WordPress) to place the new design as the first screen your visitors see when arriving at your website.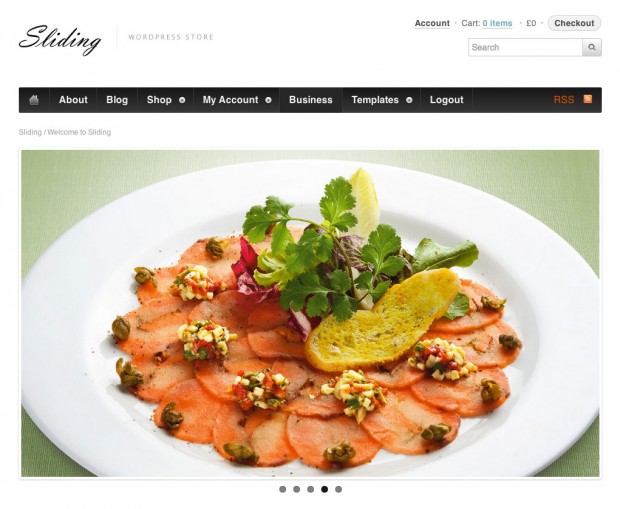 The various sections are, of course, all optional so you could showcase features and testimonials without a slideshow, or include a slideshow and hide the testimonials… the options allow for maximum control in only a few simple clicks.
How do I get this awesome new upgrade?
If you've already purchased any of the above themes, the upgrade is available to you immediately via your WooThemes Account Dashboard. If you've not yet purchased any of the above themes and would like to do so, the upgrades are available in there as well. 🙂
I'm having trouble setting this up… help?
Each theme's documentation has been fully updated to include detailed information on how to work with this page template and each of it's sections.
Of course, if you encounter a query that the documentation doesn't resolve, please post directly to our support desk, where our ninjas are on hand to assist in getting your new page set up for your eager visitors.
We hope you enjoy this exciting new update and look forward to seeing how you use the new page template to enhance your online presence and take your online store to the next level. 🙂