As promised in our WooDojo retrospective blog post, the WooTeam have been working on a bunch of new and exciting features and updates to WooDojo that we've been itching to release to you all. Despite our recent downtime, the WooDojo train is moving as fast as ever, with a queue of features in the pipeline. Today's blog post is no different.
WooDojo version 1.1- now with Instagram!
WooDojo version 1.1 includes 2 new widgets in the "WooDojo – Social Widgets" bundle; an Instagram Profile and an Instagram Photo Stream widget. These 2 new widgets provide and quick and easy way to display your latest Instagram photographs or statistics in your sidebar.
We're certain those of you who are photographers and Instagram users will benefit greatly from this addition to the WooDojo bundled features. Instagram widgets are an upgrade away. 🙂
Along with these widget additions, we've made several refinements to the core and to the main WooDojo UI, adding a version number display for easily keeping track of the version you're currently using.
WooTransmitter
The latest version of WooDojo includes WooTransmitter, a new tool we've developed as a WooThemes notification centre. This helps to make commuication easier by enabling us to send messages to your WordPress dashboard, notifying you of updates or new features. This also enables us to adivse of any important updates required to the WooThemes products you're using, without you having to visit our blog or Twitter feed, or to wait for our newsletter.
This feature is fully opt-in and doesn't log any of your website's data.
To ensure that WooTransmitter stays as much out of your way as possible while you manage your website, we've included the notifications centre at the top-right corner of your WordPress Toolbar- out of the way of your website management experience. We'll also try to keep these notifications as short and infrequent as possible.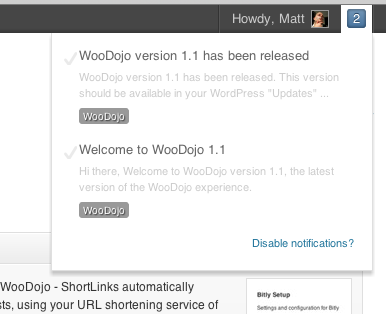 WooDojo version 1.1 is available via an automatic update if you're already using WooDojo. Alternatively, download WooDojo for free.
The Features
Ladies and gentlemen… the list you've all been waiting for… the newly released WooDojo features.
Along with WooDojo version 1.1, we've released a range of downloadable features to further enhance your WooDojo and WordPress experience. These features are entirely optional and can be downloaded and activated directly within WooDojo.
Maintenance Mode
Maintenance Mode enables the quick activation of a maintenance mode screen when performing routine maintenance on your website. Customise the page title, add a heading and a quick note, check the "Turn on maintenance mode" checkbox and, within a few seconds, your website will only be visible to administrators while you work on getting it up to date and maintained.
Launch Pad
Working as an addition to Maintenance Mode, Launch Pad enables the display of a "coming soon"-style page when Maintenance Mode is active. Containing optional social buttons, newsletter subscription and a countdown timer amongst other features, Launch Pad is the perfect compliment to Maintenance Mode, enabling you to create a following while working on designing and developing your website.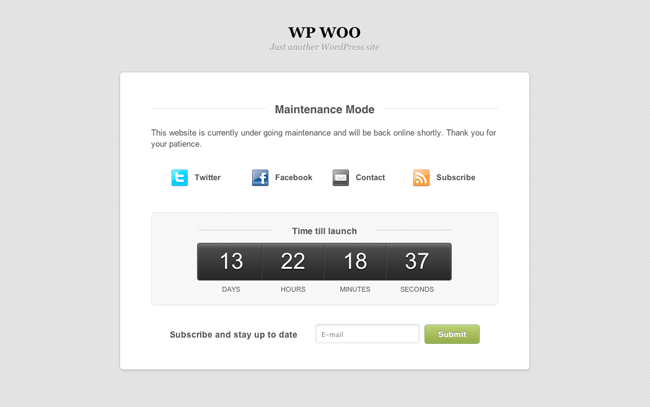 Launch Pad comes with 4 bundled templates which are added to Maintenance Mode's template selection when activated.
Widget Preview Mode
This feature is, for me, the ethos of what WooDojo is all about- small components: big impact. Widget Preview Mode performs a single task: allow a widget to be hidden from everyone except administrators.
Widget Preview Mode adds a checkbox to each widget, enabling it to enter "Preview Mode". When in preview mode, only administrators can view the widget on the website's frontend. This can be especially useful when setting up a website for a client, or styling and setting up a widget on a live website.
Dynamic Menus
Have you ever wanted to have your main navigation display different menu items on a specific page? Dynamic Menus provides this exact functionality. When adding or editing a page or blog post, Dynamic Menus adds a box to select which menu should display in each of your defined menu locations.
This can be useful for displaying contextual menus for different sections of your website (for example, specific menu items for shop-related pages of your website, or a shorter menu for your blog posts).
All of the above features are available for download and activation through WooDojo directly. If you don't see them in your WooDojo dashboard right away, they should be available within 24 hours.
If you haven't yet got your copy of WooDojo,
Download WooDojo Today
More features on the way
As we've mentioned, we have a queue of features lined up to be polished and released to you all. We look forward to sharing these with you in the coming weeks.
We're currently restoring the WooDojo Documentation. Please bear with us while we remedy this.