Don't worry we aren't going all Hollywood on you and creating "The WooThemes Network"… I think if we did it would probably be more a WooVille Manga animated film…
Instead, today we are announcing the release of a brand spanking new video-based theme – Premiere. Almost 2 years to the day since our last video theme – Groovy Video.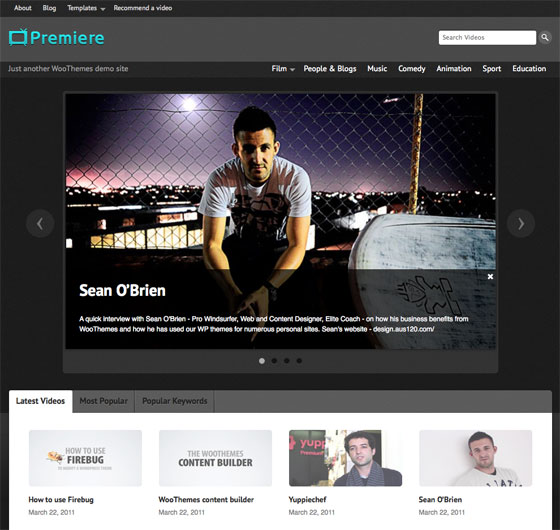 This is one of those themes where I really don't need a video theme on any of my personal sites, but almost feel compelled to create a new site just to use it. It really is a beautiful and very functional theme that we all love here at WooHQ.
Designed by the well traveled Frenchman Sacha Grief and submitted to us via our design submission page this theme has a very well thought out home page design, drawing inspiration from Hulu and Seesaw amongst others, capable of showcasing lots of videos, or just a few without your site looking too busy or too bare.
The featured slider was refined over numerous development revisions and the one you see in the final release allows you to display a video or an image advertising the video, as well as a caption overlay that can be positioned left, right, top or bottom of the slide. You can set the slider transition, speed and number of slides. Flexible indeed.
With Premiere videos are a custom post type in the WordPress backend, so they can be archived and searched for separately from your blog post archives. With their own custom settings panel below the WYSIWYG editor one can add videos sourced from YouTube or Vimeo, or even self-hosted WordPress videos, as long as they have an embed code to use. Then on the video category pages one can arrange videos by name or date added.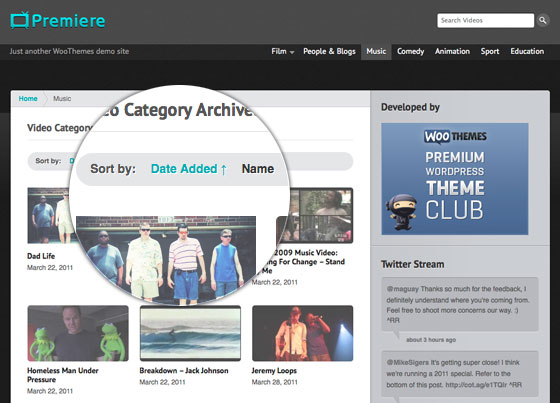 Thanks to the engine behind Diner and Listings, Premiere has a page template that allows for registered, or regular site visitors to recommend videos by supplying their details and the video embed code, then categorise and tag the video based on what exists in your WordPress system.
Before you ask version 1 does not allow for video subscription membership or visitors/users to upload videos to your site from the front end. With WooCommerce taking nice shape, and depending on the uptake of the theme that is all possible in a future rendition though.
Browse the theme listing, watch some videos we enjoy in the demo, play around with the slider, category pages, and blog archives, then get thinking about how you can use this theme on your site!
We're celebrating 2011 by giving you a 11% discount on every new theme release (woot!). Use the coupon code "PREMIERE11" to redeem that discount on your purchase of Premiere. Valid until 06 April 2011 only.