February 2011 saw an exciting addition to the WooThemes eco-system; the release of our popular Headlines WooTheme on the WordPress.com network as a part of their premium themes collection. Since then, we've ported over customised versions of several of our themes to WordPress.com, which brings us to today's topic; WordPress.com just got bolder!
Bold News (self hosted WordPress version), our popular news, magazine and blogging theme designed by Ryan Downie, is an ideal theme for showcasing your news articles in a clear and magazine-like fashion. With the number of proud WordPress.com blog owners who use their blogs for news articles or a magazine-style approach, Bold News seems like the next logical step in assisting these blog owners in better showcasing their content.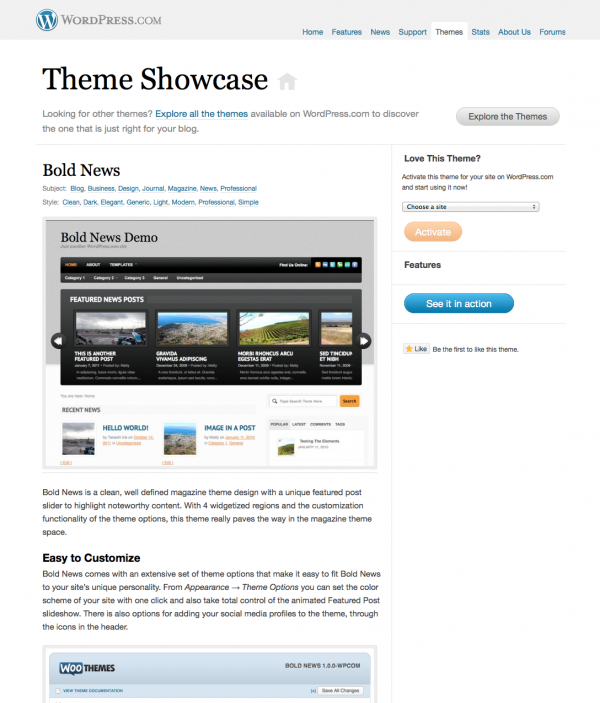 How is the WordPress.com version different?
We felt, with the release of Bold News (blogged about on WordPress here), this would be an appropriate time to explain how our WooThemes on WordPress.com have been crafted.
When a WooTheme is ported over to WordPress.com, we are converting the theme to be integrated seamlessly into the existing WordPress.com infrastructure. Thus, certain features are removed in favour of features already present on WordPress.com. Examples of this include the custom background, custom header and custom design options. Certain features such as sharing are also handled on WordPress.com, which is then integrated into the theme. The WordPress.com versions of our themes are, therefore, slightly different to the original version, yet with the same power and consistency of the WooFramework, backed by the WordPress.com architecture.
For more information on or to purchase Bold News for WordPress.com, head on over to it's showcase page on WordPress.com for a closer look, or take a look at the Bold News demo.