Control Inventory and limit Purchase Quantities with Woocommerce Cart Limits 
Cart Limits plugin enables you to add cart checkout restrictions based on rules and conditions you set. It allows you to set Minimum and Maximum limits on the amount, number of products, or number of items per customer. These order restrictions can be applied to specific products, and User roles or enabled for the entire store.
Woocommerce cart quantity manager features:-
Limits total cart amount or product quantity
When a customer reaches the maximum cart quantity, it stops them from adding products or allows them to replace items in their carts with new items
Allows customers to replace the first or last cart item
Displays customizable messages
Use Cases:
Wholesale buying restrictions / B2B Cart limits
Cart limits plugin allows you to restrict product purchase quantities for b2b purchases. Admin can set price brackets for quantities. 
For example, a product can be sold for $2 if it is bought in a bulk quantity of 50 – 70; similarly, you can apply another rule where the same product sells for $3 if the quantity is less than 50.
This way, admins can configure the extension to apply tired pricing along with order restrictions for b2b purchases and offer discounted prices for large order quantities.
Limited Edition Products
You can easily manage inventory of limited edition products or a product that is high in demand by setting the purchase limit of products that users can add to the cart. Often, best-selling products run out of stock due to over-purchases made by individual users. This way you can ensure that you supply your product to maximum users without going out of stock.
Cart Restriction Rules
You can apply checkout cart restrictions on 4 different methods:
Number of products

Number of quantity per product

Total cart value

Tiered Price Restrictions

Total weight of the products added to the cart
Limit Products in the Cart
Restrict checkout with the limited number of products that can be added to the cart. Disallow purchase if the total cart quantity exceeds the predefined range.
i.e If the max product limit is set to 10, then users can not add more products to their cart.
Limit Total Cart Amount
Admin can set cart restrictions on total cart value. This reflects the total amount a user can spend to make a purchase from the store. 
i.e If the admin has set a limit of $100 transaction per user then users will not be able to continue shopping if the cart amount exceeds the limit.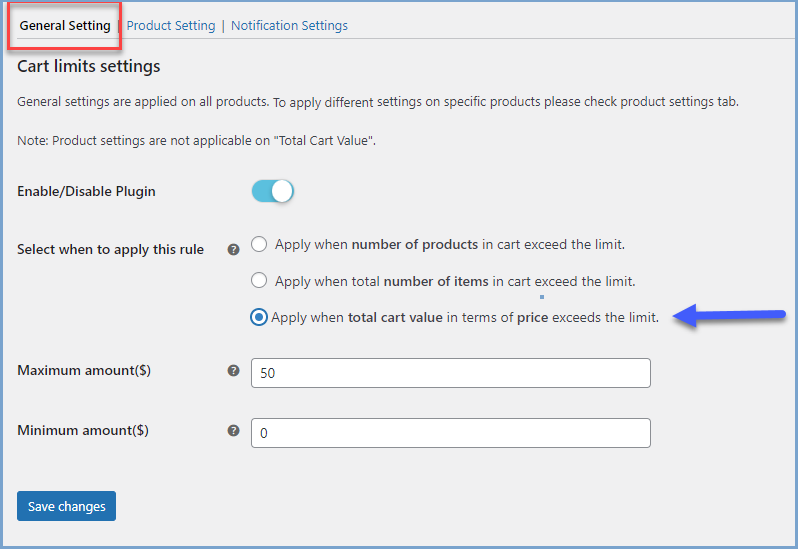 Limit Number of Items in the Cart
Limit quantity per product a user can purchase. This rule can be applied to limited edition products or bulk ordering where admins can limit the quantity of each item added to the cart. 
i.e product x can only be bought once for each customer.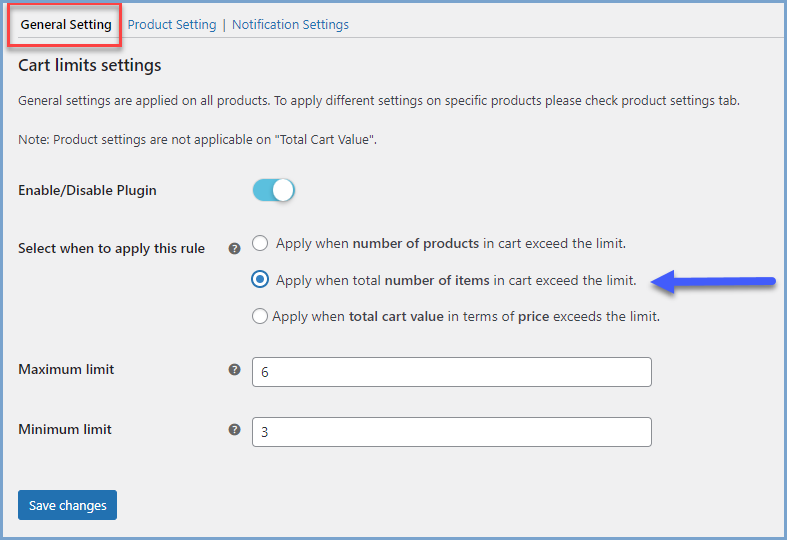 Block or Replace recently added product in Cart after limit is reached
Admin can enable the option to replace the last item added to the cart with the next item if the cart limit is reached. Admin can either choose to replace or restrict additional items to be added.
i.e if the admin has set the cart product limit to 10 and the user adds the 11th item to their cart, then the 10th item will automatically be replaced with the 11th item while maintaining the cart limit.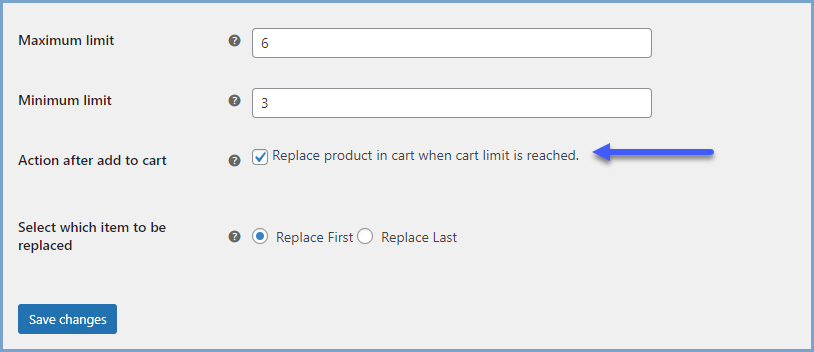 Apply Cart Limits to Certain Products
Limit product quantities that can be added to the cart by the customers with the WooCommerce maximum products plugin. Select specific products and set maximum and minimum limit quantity per product. 
Display Personalized Notifications
Compose custom messages for better communication with customers with the help of maximum products per user plugin for WooCommerce. You can set notification messages for product replacement, product limits, item limits, and cart amount.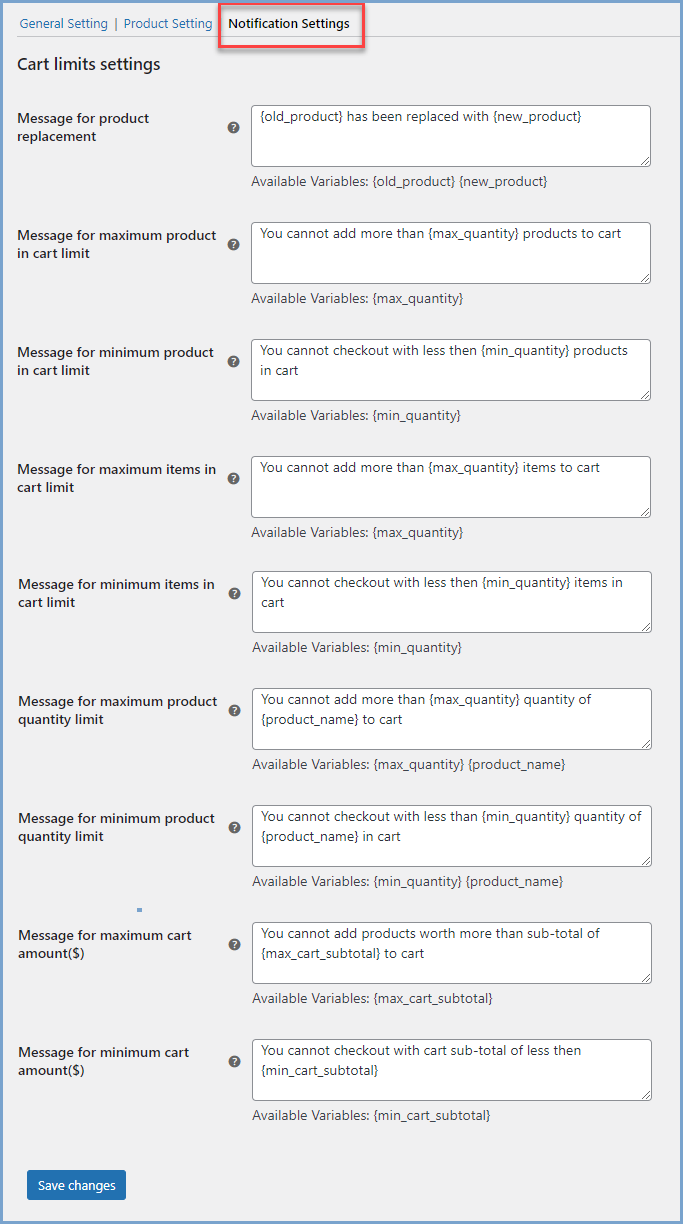 Benefits
Manage sales on your own terms
Allows you to focus on producing quality items, not quantity
You can offer a limited quantity of new or limited-edition products
You can limit the amount of inventory needed on hand for easy management
By limiting product quantities you can control the timing of restocking inventory
Comply with courier requirements regarding size and weight of products
Save on shipping costs by limiting cart-item quantities or cart amounts
You can compose custom messages to explain cart limitations to customers
Requirements
Minimum PHP version: 5.2
WooCommerce
The most customizable ecommerce platform for building your online business.