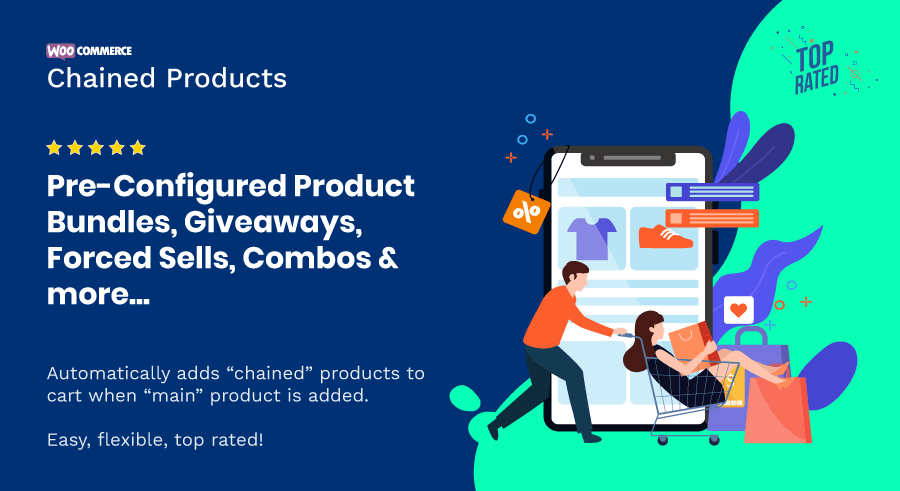 When someone buys a "main" product, they get all "chained" products automatically. Chained Products is your WooCommerce plugin to create pre-configured, discounted, automatic product bundles, forced sells, giveaways, and combos.
Thousands of people use it every day – and consistently give it 5-star reviews 😀
---
We have all picked up discounted bundles of products when we go shopping. Even when we didn't really need them; we have bought bigger quantities or multi-product bundles.
Offering a bundle of your products at a lucrative discount is one of the easiest methods to grow sales – research has proven this across a variety of businesses – physical products, digital downloads or memberships.
Most Loved Features
Chained Products does one thing, and it does it really really well. Here is what you can do with it.
Buy X, Get A, B, C, D…: Chain multiple products or additional quantities easily. When the main product is added to the cart, all the linked products will be added to the cart automatically. So yes, you can create "Buy One, Get X" or "Beginner Bundle" or "Everything for a Weekend trip" kind of products easily.
Individual Inventory Management: Inventories are managed at individual products that are chained. So no need to manage stock at the "main" product level.
No Configuration For Customer: These are pre-configured product bundles. Customers can't pick variation options or change bundle configuration. Makes it much easier for them.
Auto-update "chained" products in past orders: When you update linked products in the main product, Chained Products can automatically add/remove products from historical orders. Works great for memberships and digital downloads.
High performance: Chained Products does not slow down your site or checkout process. Some of the largest WooCommerce stores use it, and you too can rely on its quality.
Easy to use: It's super intuitive. Store admins and junior staff can easily create bundles using Chained Products – without needing developer assistance.
Genuine, Compatible, Regular Updates: You're getting 100% genuine and original plugin when you buy today. We keep improving it regularly. No risks here!

Why does Chained Products give stellar results?
There is certainly the "more bang for the buck" aspect. But chained product bundles also provide "works great with" and "get add-ons for free with the main product" cross-sell opportunities. They trigger fundamental human behavior to select an item with a higher perceived value.
Plus: Chained Products works because it lets you create pre-configured product bundles and gifts. Customers don't get confused picking options and focus their attention on the value a bundle generates for them. This improves conversion rates and greatly increases overall sales.
---
How does Chained Products work?

Edit a product (or create new) and go to the "Linked Products" tab.
Link as many products as you want to create a bundle. You can pick up variations and even select quantities.
This way you can create bundles, as well as bulk discount, offers – "Buy One Get One" / "Buy 1 Get X" / "Buy X For $$"
Now you can either set a price for your main product or you can configure chained products to be priced individually.
When people add the main product to the cart, the cart will show the main product and all linked products with the prices configured. Zero if priced individually option is disabled else the chained product price.
When an order is paid, Chained Products also takes care of managing inventory and granting access to digital downloads.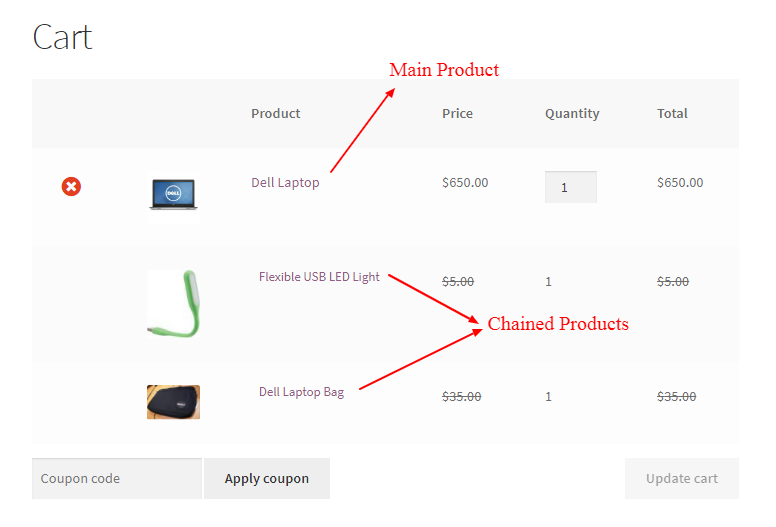 ---
---
Words from Chained Products users…
When you read the reviews on this page, here are sentiments that show up consistently.
Works perfect and configuration is very simple.
The plugin does exactly what it is supposed to do.
As easy and intuitive as I'd hoped…
Allows us to offer bundles, yet manage individual inventory levels while still providing a wonderful customer experience…
Exemplary support!
Any concerns?
Will it work with your plugins? We have mentioned a list of plugins compatible with Chained Products on this page under the 'Compatibility' section.
Will it work with your theme? If your theme declares WooCommerce support, then yes. People have been using Chained Products with all sorts of themes for over seven years. It works wonderfully. We also update it regularly.
Will you get support and assistance? Yes. We have extensive documentation and extremely high rated support for Chained Products. Do read customer reviews on this page to see what others say about our support.
---
Think about this…
Creating higher value for your customers is the golden rule of business. Offering pre-configured product bundles is proven to increase conversions. Chained Products positively alters customer experience (they don't have to do any configuration/pick combinations), conversion, and revenue. It's not just a plugin, it's your tool to build a better business.
Finally…
Go for it.
WooCommerce Chained Products makes it effortless to create and manage pre-configured chains of product bundles, combos, and giveaways. It's "battle-tested" and top-rated. If you want the easiest, "customer has to do nothing" kind of product bundling solution for WooCommerce, this is it.
Go ahead, buy it with confidence. 👍👍👍
---
Additional Resources
Extensive Documentation – howtos and detailed guides on different features and use cases
Read 6 Strategies to Customer Value Optimization in WooCommerce – you can implement them with Chained Products
---
Need any more reasons to buy? Chained Products is built by StoreApps, a leading WooCommerce.com Extension developer. You can trust you're getting high-quality code backed with first-class support.
Check out our other best-selling and popular plugins on WooCommerce.
---