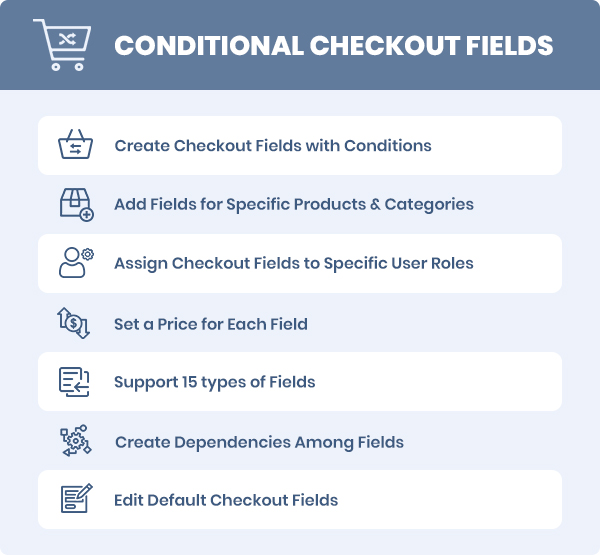 Create, Customise, and Edit Woocommerce Checkout Fields
Simplify the checkout process and collect more customer information by editing your store's checkout page with WooCommerce conditional checkout fields editor. It allows you to edit the default checkout fields of your WooCommerce store and add new custom fields. You can add fields in sections such as billing, shipping, and additional fields.
Edit, add, hide, or apply conditional logic to default checkout fields. You can change labels, rearrange the position of checkout fields, add validation to fields, or add custom CSS classes. You can control how custom checkout fields display by assigning them to a specific product, category, or user role. Set additional fees for user-requested customizations. Create a field for any specific section of the checkout page.
WooCommerce custom checkout fields allow you to display these fields on the order page, my account page, and invoice email.
You can specify whether fields are mandatory or optional and edit the default options on the checkout page. The user won't be able to checkout if the cart-condition rules are not met.
Features 
Create custom checkout fields with conditions.

Edit checkout field

Add custom checkout fields to specific products and categories.

Assign additional checkout fields to specific user roles.

Set a price for each field and experiment with customization.

Create fields based on product, category, or user roles.

Choose from 15 different input fields.

Create dependencies among fields.

Edit default checkout fields.

Additional fields will be displayed in the invoice email, the order page, and my account page.
Create new fields on checkout page
Conditional checkout fields for WooCommerce enable you to customize your checkout page by adding new fields to collect valuable information from your customers. You can edit, hide, or add custom checkout fields. The custom field option contains field labels, placeholders, maximum lengths, and validations of fields.

Add custom checkout fields to a particular product or page
You can add custom checkout fields and apply conditions for a specific product or page with the conditional WooCommerce checkout field plugin. These conditional checkout fields will be displayed only when the selected product is in the cart or the user is on a particular page.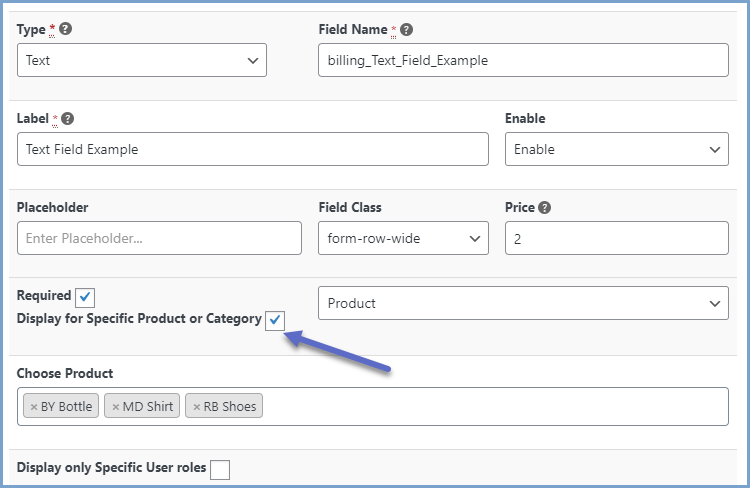 Create Additional Checkout Fields
WooCommerce checkout field conditional plugin allows you to display checkout fields to specific customers by restricting them to specific user roles. You can personalize checkout fields to your target audience as per your preferences.

Define a price for each custom checkout field
You can set a price for each custom checkout field you create with WooCommerce add field to checkout. It enables you to charge an additional fee when customers take advantage of an add-on, thus increasing your store revenue.
Personalize any section on the checkout page
Edit checkout fields WooCommerce plugin allows you to add custom checkout fields to any specific section of the checkout page that will appear in the billing, shipping, and personal information section, etc.

Fifteen field types are available
WooCommerce checkout page editor plugin has 15 different field types to choose from, including text area, multi-select, radio button, select box, checkbox, etc. to help users fill in the forms quickly.
By using the edit checkout fields WooCommerce plugin you can add the following types of fields without coding.
Text Field

Text Area

File Upload

Drop-Down

Radio Button

Checkbox

Simple Checkbox

Multiple Select

Date and Time

Color Picker

Password

Phone Number

Number

Paragraph

Heading

Advanced customization options for each field
Besides the basic customization options, you can mark fields as required with WooCommerce add custom field to checkout. There are also options to enable you to mark fields as required/disable fields and set prices for each add-on.

Edit default WooCommerce checkout fields
Following are the checkout field modifications you can do with the Checkout field editor for WooCommerce plugin:
Edit default checkout fields with the checkout field editor for WooCommerce.

Add new fields to the checkout page with the WooCommerce checkout page customize plugin.

Change the checkout field position by simple drag and drop.

WooCommerce adds field to checkout extension allows you to hide the default WooCommerce checkout fields.

Enable or Disable specific checkout fields.

With the checkout manager for WooCommerce, you can display the checkout fields in the order details and invoice emails.

Set custom CSS classes for individual checkout fields.

Display new fields to additional pages
This plugin enables you to display additional checkout fields on multiple pages, including the order and my account pages. New fields will also appear in the invoice email.
WooCommerce
The most customizable ecommerce platform for building your online business.