Add A Free Shipping Bar To Your Pages
Ensure maximum exposure of your free shipping deals with the WooCommerce Free shipping bar. This plugin helps merchants to use free shipping as a revenue maximization tool.
The free Shipping bar for WooCommerce displays the bar all across the product and CMS pages of your store. It naturally pushes the customers to shop more to save the shipping charges. Add a bar and limit it to specific countries to target the customers where you have to incur the least in shipping charges. Use multiple styles and customization options to make the bar look attractive and appealing.
The store admin can offer a discount on all the shipping methods so that customers can make the most out of the deal. Showing a progress bar alongside can help customers recognize the amount they need to add to the cart for the offer. Showing the 'free shipping' bar to mobile users can further improve store revenues
Features
Add 'Free Shipping' bar
Limit the bar to specific countries
Use multiple shipping bar styles
Offer discounts on all shipping methods
Customize text and color
Position the bar
Project the bar on mobiles as well
Enable progress bar for free shipping
Customize messages for Free Shipping Bar
Display bar on a specific page
Progress bar display with delays and disappear
Let your customers close the bar
Display bar to convey 'Free Shipping'
Free shipping bar WooCommerce helps you spread the word that your store is offering free shipping upon certain conditions. Let the customers know and avail the offer.
Restrict bar to specific Countries
You can confine the display of the 'Free Shipping' bar to specific countries so that only the targeted customers can get to know the offer.
Beautify the bar with styles
Use multiple styles to make the 'Free Shipping' bar stand out on the product or CMS page for maximum exposure and usability.
Giveaway shipping discounts
WordPress free shipping bar plugin helps you attract customers to shop around by offering a discount on all of the shipping methods. Set them free in using any of the shipping methods.
Set position of the bar
This plugin allows you to set the 'Free Shipping' bar either on top or bottom of a page. Choose the commonly viewed position of your store's web page.

Mobile responsive bar
You can enable the bar for mobile users as well so that they can have a mobile-friendly view of the offer or promotion.
Display a progress bar too
Add a self-explanatory 'Progress bar' that communicates customers' advancement towards availing of the 'Free Shipping' with the free shipping progress bar WooCommerce.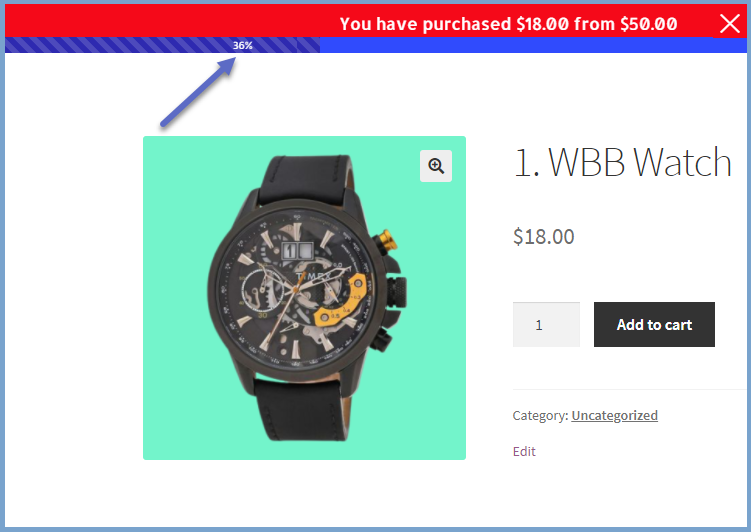 Create scenario-specific messages
You can customize messages for the bar according to the scenarios such as successful completion of free shipping or halfway towards it.
Display bar on a specific page
Select the pages you want to exhibit the free shipping offers. You can choose all or only the shop, product, or cart page.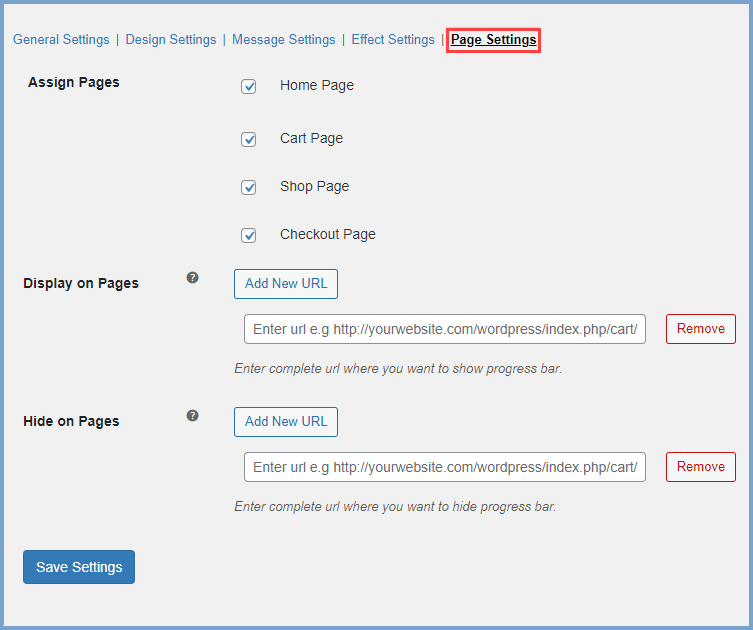 Benefits
Increases your average order value
Encourages customers to buy more to get free shipping
The best way to offer free shipping as a marketing tool
Attracts more customers to your store
Enhances your store's user experience
Get started
Purchase Free Shipping Bar for WooCommerce from WooCommerce.com.
Download and install the extension.
Activate the extension.
Go to WooCommerce > Settings > Free Shipping Bar to add rules to enable upload file for customers.
Read the full installation guide here
Requirements
Minimum PHP version: 5.2