Easily sell Litmos courses on your WooCommerce store
Leverage the eCommerce power of WooCommerce with the easy course creation and management of Litmos to sell your courses online, or give them away for free. Start using Litmos Integration with your WooCommerce store to sell access to your Litmos courses and automatically link your store to your course content. Or hey, give away those courses for free if you really want. This extension will do all the heavy lifting for you.
When a customer purchases the course in your store, a Litmos account is automatically created for them and the purchased course is assigned to them. The customer then receives an email from Litmos with their course information and login information, along with a link to sign in directly to their course. You'll also receive a notification email to help you keep track of your growing online training business.

Powered by Litmos
This extension is designed to work with Litmos, the world's friendliest learning management system, SCORM certified and completely web-based. You'll need to sign up for a free 14 day trial if you don't already have one. Important: This extension only works with Litmos Silver plans and above, as lower plans do not have API access.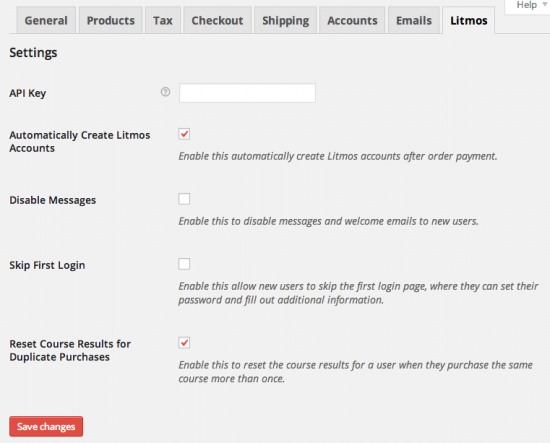 Powerful Online Course Shop Features
Automatically create Litmos accounts for customers and assign them to their purchased course
Easily match your WooCommerce products with the associated Litmos course via a drop-down on the 'Edit Product' page
Allow your customers to see their course progress and sign directly into Litmos from their My Account page
Reset course results for customers when they purchase the same course again — especially helpful when selling low-cost practice exams.
How to Get Started
Purchase and Download this extension
Upload and Install, then enter your Litmos API Key (sign up if you don't have a Litmos account)
Match your products within WooCommerce to the correct Litmos courses
That's it! Site back and enjoy sharing your knowledge with the world!
Read the full documentation to learn how to setup your Litmos-enabled products and configure the account creation process.
Need any more reason to buy? When you purchase a SkyVerge-developed extension, you're getting the highest quality extensions for your WooCommerce store. Gain piece of mind by knowing that when you purchase our products, your store's performance is as important to us as it is to you.