Connect Your Business and Online Store with Customizable PDF Vouchers
While virtual gift certificates are great, they limit many business owners who want certificates that can be redeemed at a physical location. Tired of the disconnect between selling online and your on-the-ground business? The PDF Product Vouchers extension solves this problem for you! Now you can customize and sell downloadable PDF vouchers for products such as tours, events, classes, and lessons; the possibilites are endless!
WooCommerce PDF Product Vouchers is perfect for businesses that accept orders or payment online but provide a good or service at a later date or in person. Need vouchers for pre-paid admission to your cooking class? PDF Vouchers can do that for you! Product vouchers also make an attractive gift for customers to purchase for their friends and family, and can be personalized with a recipient name and message.
How can PDF Vouchers Make My Life Easier?
Customize and sell downloadable PDF vouchers for products or services
Create printable gift certificates with variable amounts by using the Name Your Price extension NEW
Connect your business to your online store and sales
Create optional fields, including product name, SKU, expiration date, and more
Optionally add alternative voucher background images for customers to select
Allow customers to personalize vouchers with an optional recipient name / message
Manage vouchers from the admin and mark them as redeemed when needed
Supports using vouchers with variable products NEW
Allow customers to send vouchers to friends NEW
Support Online Payments for Any Good or Service
Selling online used to only work well for items that would be downloaded or shipped. Not any more! Printable vouchers allow you to accept payment online (streamlining your business model) while still delivering goods or services in person. Selling helicopter tours or lessons? Now customers can print a voucher and bring it with them to redeem their purchase. Working for a non-profit that does bake sales or dinner pickups? Allow your supporters to pay online and bring a voucher to pick up their purchases.
Support for Name Your Price Extension – NEW
PDF Product Vouchers now supports the use of the Name Your Price extension so that you can allow customers to add a value for their voucher to be redeemed with the new price field. Vouchers still cannot be redeemed as coupons for the online store, but can be used in person for the value entered at purchase, just like vouchers for which you set the amount. Turn your downloadable vouchers into physical gift certificates for redemption in person!
Easy Customization
Voucher creation and customization is easy thanks to a powerful admin interface. Simply upload an image of your choosing to serve as the voucher background, select a font, size, styling and color, and lay out your voucher fields using the intuitive drag-and-drop interface:
Customer Personalization
Allow your customers to personalize their vouchers on the store's frontend to create attractive and unique gifts by selecting from one or more alternative voucher backgrounds, and adding a recipient name and/or message, and use the NEW recipient email field to send the voucher as a gift via email: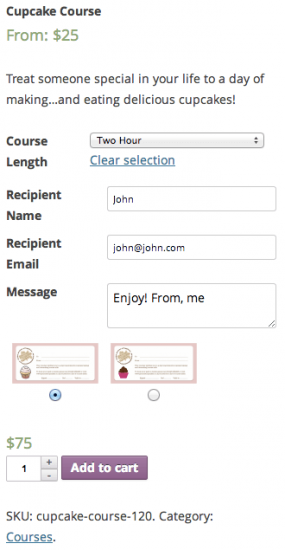 Voucher Order Management
View and manage vouchers from the order admin, marking them as redeemed so you know when a voucher was used or whether you have vouchers still outstanding:
Supports Product Variations – NEW
PDF Product Vouchers now supports the use of vouchers with variable products so that you no longer have to create different simple products for each voucher you'd like to sell. For example, sell half-hour, hour, and two hour versions of your course with the same product. We recommend using a unique voucher design for each variation so that you can distinguish between them when they're redeemed, or setting a unique SKU for each variation and ensuring that the SKU is included in the voucher. Please see the documentation for more info.
How to Get Started
Buy this extension 🙂
Download and install into your WooCommerce store
Configure vouchers and attach them to your downloadable products
That's it! Sit back and let your customers purchase beautiful personalized product vouchers!
Need any more reason to buy? When you purchase a SkyVerge-developed extension, you're getting the highest quality extensions for your WooCommerce store. Gain piece of mind by knowing that when you purchase our products, your store's performance is as important to us as it is to you.