Improve user experience, provide quick access to information, reduce support queries and more with Product FAQs
Add frequently asked questions (FAQs) to the products within your WooCommerce store. Visitors to your website can then view these FAQs while browsing the products within your website.
Click a question and the corresponding answer appears below the question. You can add an unlimited number of questions and answers to each of your products within your website. Product FAQs works and looks great across desktop, mobile and tablet devices.
This slideshow requires JavaScript.
Features
Accordion Display

Click or tap an FAQ question to reveal the corresponding answer.

Desktop, Tablet & Mobile Support

FAQs added look great no matter which desktop, tablet or mobile device used.

Easy Management

Add questions and answers via the product edit page using the Product Data > FAQs tab.
Entry is fast and adding/removing each FAQ does not require a page reload.
Move FAQs up and down and remove them easily.

Unlimited FAQs

You can add as many or as little questions and answers as required for each product within your store.

Works with all Product Types

FAQs can be added to products of any type

Displays within WooCommerce Product Tabs

Product FAQs is integrated into the standard WooCommerce product tabs included by standard in WooCommerce-compatible themes.

Easy & Fast Setup

Simply activate the plugin, edit a product, add your FAQs and they appear on your product page.

Customisation

Various filters for custom development, change the tab text, tab position, heading text, disable styling, add content before/after FAQs, set expanded by default, etc
All elements have a unique ID and/or classes to allow easy CSS overrides.
Benefits
Product FAQs has the potential to increase customer conversion and reduce unnecessary pre-sales questions as potential customers find answers to the most commonly asked questions for your products directly on the product page.
Improves user experience
Provides quick access to information to help your customer's purchase decision.
Reduces customer support queries by answering commonly asked questions on your products.
Increased search engine visibility potential as more information present on your product pages.
Boosts sales by customers having all the information available to make a decision on purchase.
A traditional FAQ page can not cover all FAQs for every product within your website, with Product FAQs customers can easily find the answers they need to purchase a product.
Display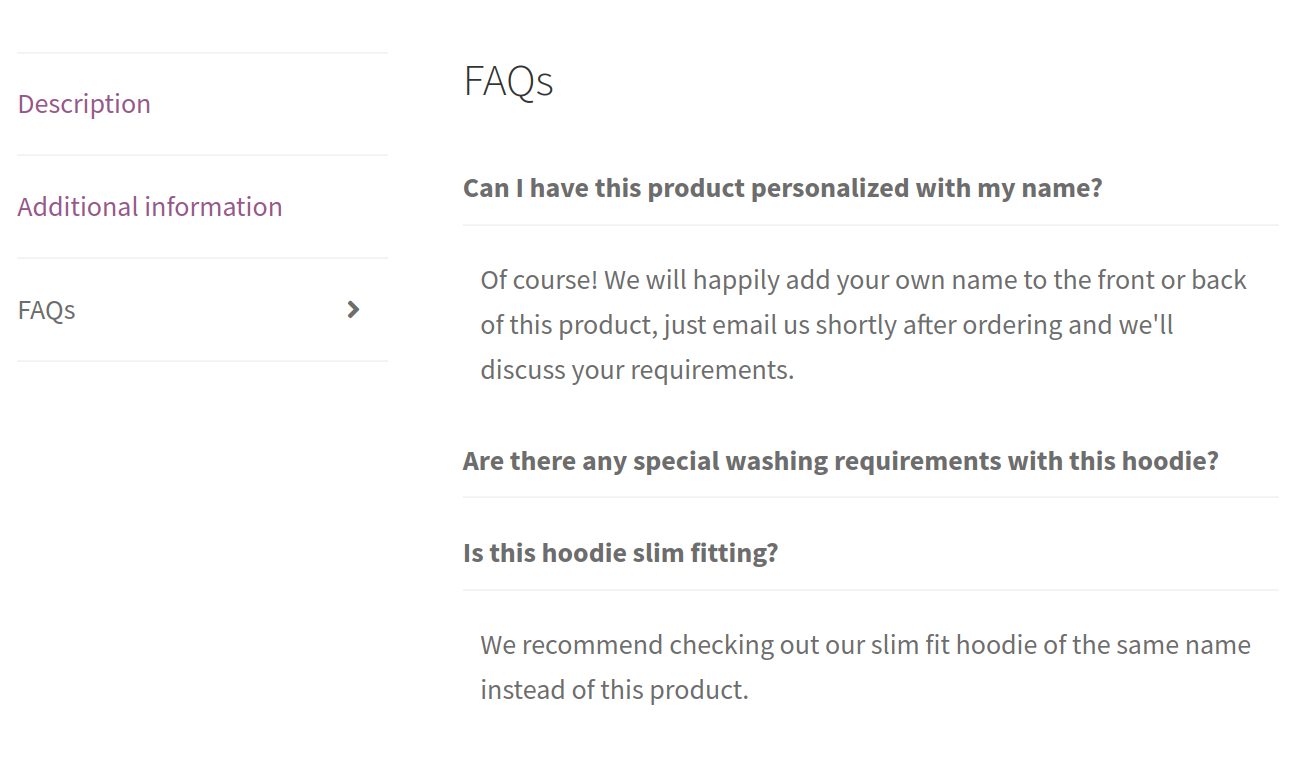 Management
More Info
You can view more information on this extension including setup instructions, configuration and customization via the documentation.