Add Quantity Increment Buttons & Optimize Your Shopper's Experience
Improve the user experience of product quantity selection with Quantity Increment Buttons for WooCommerce. The plugin adds customizable buttons for increasing or decreasing item quantities on product, shop, and cart pages. You can limit their display to specific products and categories.
The plugin replaces the default arrow signs with revamped plus and minus signs that are clear and effortless. With increment step configuration, you can sell products in higher quantities. To manage stock levels and sales, you can set minimum and maximum quantity limits as well. Use decimals for products that can be sold in varying quantities.
Features of quantity increment buttons:
Add quantity increment buttons to your store
Display buttons on product, shop, cart pages
Replace the default arrow with modern buttons
Define increment steps
Configure min/max quantity limit
Personalize the quantity increment buttons
Apply buttons on specific products or categories
Allow ordering product items in decimals
Beautify quantity increment options
The plugin adds charm to the product quantity selection by putting beautifully designed increment buttons on the products.
Increment buttons on product, shop, cart pages
You can add appealing increment buttons on products, shop, and cart pages. Let the customers avail these friendly options on any page they are on.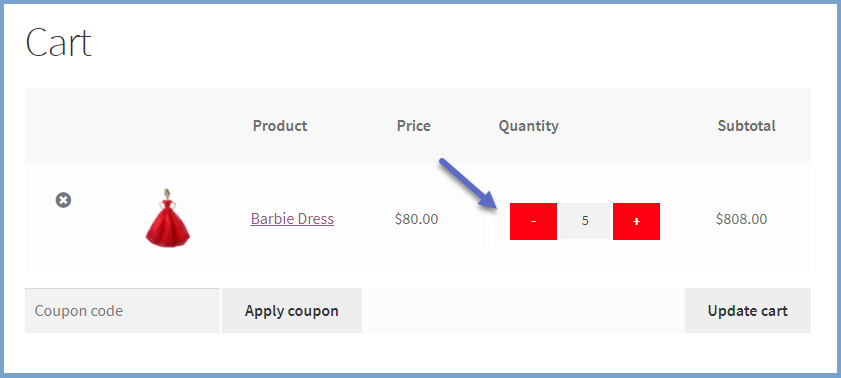 Replace the default option
The application of these user-friendly increment buttons automatically replaces the older ones with arrow signs which are unpleasant and difficult to use.
Set increment steps
You can define increment steps to communicate a specific product is available in sets. Such as a difference of 5 will allow product selection of 5, 10, 15, and so on.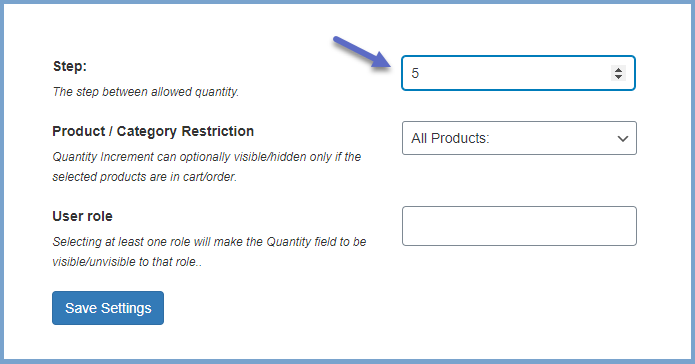 Specify quantity limits
By providing a minimum and maximum product to order, you can set quantity limits as well. Use the strategy to manage sales and stock levels.

Make changes to increment buttons
The plugin comes with customization settings to help you personalize the color and design of the increment buttons. Synchronize the buttons with your website design.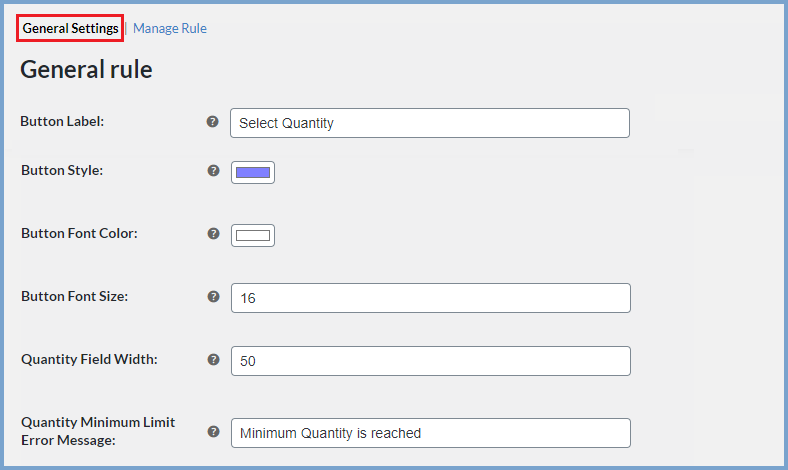 Project button on specific products & categories
You can take the increment buttons to specific products or categories, or make them display on the entire store. Apply the setting according to your preferences.
Sell product items in decimals
The plugin allows you to sell product items in decimals as well. For example, you can set product quantity to be 1.5, 1.8, 2.5, etc.
Benefits
Enhance the user experience with stylish increment buttons
Maximize revenues by specifying minimum and maximum order limits
Make it easy to sell high-volume products in various categories like grocery items
Get started
Purchase Quantity Buttons for WooCommerce from WooCommerce.com.
Download and install the extension.
Activate the extension.
Go to WooCommerce > Settings > Quantity Increment to add rules to enable increment buttons for customers.
Read the full installation guide here
Requirements
Minimum PHP version: 5.2