Grow Your WooCommerce Business with TikTok

TikTok for WooCommerce makes it easy to get your business in front of billions of highly engaged consumers. These users aren't just browsing — they're buying; as referenced by the popular hashtag #TikTokMadeMeBuyIt. With TikTok for WooCommerce, you can seamlessly run Smart Performance Campaigns, sync your product catalog, and showcase and sell directly through in-feed videos, LIVEs, and the Store Page.


Seamlessly add TikTok to your WooCommerce store and:
Shorten the buyer journey and improve conversion by selling directly via TikTok Shop. Product discovery, product details, checkout, and post-payment activity are powered and performed all within the TikTok App.
Install the TikTok Pixel in 1-click to measure the performance of your ads. Then, automatically sync your product catalog and create ads that instantly connect shoppers with what they want to buy.
Build TikTok-style videos in minutes. Simply upload product images or videos.
Discover TikTok Shop:
We've recently enhanced the plug-in to seamlessly sync your e-commerce store to showcase and sell products on TikTok Shop. Take your sales strategy to the next level with a seamless, in-app shopping experience for your customers.
Seamless Shopping Experience: Viewers make purchases directly within TikTok. It's a frictionless experience that increases checkout rates and turns viewers into loyal customers.

More Data Visibility: With all-in-app experience, you'll have complete access to accurate store performance. Track traffic, conversion rates, transaction data, and learn everything about your customers with TikTok Shop's data dashboards.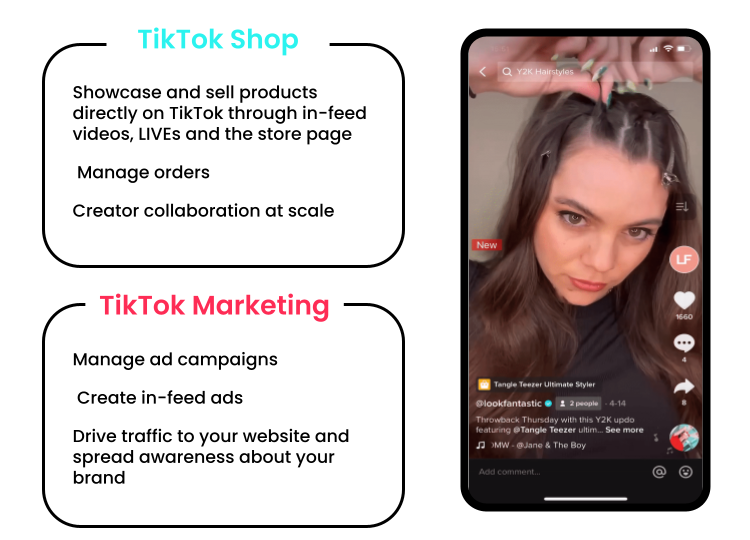 Launch ad campaigns in just a few minutes:
Use the ad creation module to make turning your existing images/videos into engaging ad campaigns without having to leave your WordPress dashboard!
All ad campaigns created within the plug-in are now Smart Performance Campaigns allowing you to:
Simplify campaign creation: All you need is a budget, country, optimization event, and video/images to get started!

Automatically Target: Automated targeting relies on machine learning to automatically find your ideal audience on TikTok.

See Strong Performance Results: Let TikTok do the heavy lifting for you and reduce campaign creation time while maximizing conversion performance.

Reduce Campaign Management: Amongst surveyed advertisers, Smart Performance Campaigns campaigns saw a 37% increase in ad shelf life compared to manual campaigns.
You can explore more advanced ad formats and analytics available to you on TikTok Ads Manager !
---

Download and add TikTok for WooCommerce to your WooCommerce store.
Under the marketing sidebar menu in your admin dashboard, select TikTok.

For WooCommerce versions 6.5 or greater, the marketing sidebar menu may not appear by default. 

Navigate to WooCommerce > settings > advanced  >features

Un-check the "Navigation" option and save changes

You should now see TikTok under the "Marketing" tab and initiative your setup.

Follow the prompts to complete set-up and create or connect your TikTok accounts.

For Marketing:

Sign-in or create a new TikTok account

Authorize WooCommerce to connect with TikTok for Business

Connect your existing Business Center

Install the pixel and activate Advanced Matching for optimized tracking

Sync your product catalog

Add your billing & payment info to test your first campaign (and don't miss our $200 ad credit!)

For TikTok Shop:

Sign-in or create a new TikTok account

Authorize WooCommerce to connect with a new or existing TikTok for Business

Connect TikTok for Business to TikTok Shop

Upload the necessary documentation for your business 

Enter the warehouse information for your business 

Sync your product catalog

---
FAQs
What does TikTok for WooCommerce enable? 
With the TikTok channel setup you will have:
Easy TikTok For Business, TikTok Shop, and Ad accounts set-up

Pixel installed in one click

Automatic catalog sync
Do I need to have a TikTok account?
You will need to connect a new or existing TikTok account. 
Is the TikTok Shop feature available for any merchants?
In the US and UK, both new and existing TikTok Shop sellers can seamlessly connect to TikTok Shop with the TikTok for WooCommerce integration by creating a new account or logging in with their existing TikTok Shop account.
What documentation is required to register for TikTok Shop?
1.
For an individual seller:
A US issued passport or driver's license.
2.
For a corporation:
Scanned copy of your business registration document and a US issued passport or driver's license of a stakeholder.
What events does the TikTok Pixel for WooCommerce support?
The pixel automatically installed during the TikTok channel set-up supports View Content, Start Checkout, Add-to-Cart, and Purchase.
When will my Shop become live?
After finishing the onboarding steps, TikTok Shop will review your application and documents. Once approved, your products are automatically synced to your TikTok Shop catalog and you may start sales.
How do I cancel, manage returns, or refund orders in WooCommerce?
Order Cancellations, returns, and refunds can only be managed in
Seller Center.
Please log into your Seller Center account to manage cancellations, returns and refunds.
What is Advanced Matching?
Advanced Matching is an enhancement to the TikTok Pixel. It allows you to send privacy-safe hashed customer information (email addresses and phone numbers) to increase the match rate between TikTok ad clicks, views, and conversions on your website.
Why am I not seeing TikTok in my WordPress Admin?
Navigate to WooCommerce > Settings > Advanced > Features, un-check the "Navigation" option, and save the changes. You should now see "TikTok" under the "Marketing" tab.
How can I create ads on TikTok?
You may create ads on TikTok Ads Manager and, or via our TikTok integration (for a conversion campaign). For access to all other campaign objective types (such as reach, traffic, app installs, video views, and lead generation), please use TikTok Ads Manager. See how to choose the right objective here.
Are there any prerequisites before ads creation? 
You must have your Ad Account in an approved state and have payment methods set up before an ad campaign can start delivery. For more details on account approval, please click here. For more details on accepted payment methods, please click here.
Will I be able to see all campaigns implemented via the TikTok for WooCommerce integration on TikTok Ads Manager? 
You will be able to see all campaigns created on the TikTok integration on your TikTok Ads Manager account.
Which product categories are allowed for advertising?
Click here for a detailed overview of product category restrictions in our advertising.
Need help with installation?
Submit a customer support ticket here.