Authorize.Net SIM
Developed by SkyVerge
Information & Requirements
Requires PHP 5.3 or newer.
This Authorize.net SIM integration supports all Authorize.net merchant account regions.
An SSL certificate is not required for the Legacy SIM mode, as PCI compliant payments take place off-site.
The newer Accept Hosted gateway mode (iframe) requires an SSL certificate.
Authorize.net SIM does not store credit card data for future transactions.
View documentation for more info →
Head's up! We're unifying our Authorize.Net plugins to provide a better, more consistent experience for our customers.
We recommend that you purchase our
WooCommerce Authorize.Net
plugin for the best experience. If you've already purchased the Authorize.Net SIM plugin, please consider
contacting WooCommerce
to exchange/upgrade to the unified WooCommerce Authorize.Net plugin.
Securely Accept Credit Cards and eChecks with Authorize.Net SIM
The Authorize.Net SIM extension provides a PCI-compliant payment processing integration between WooCommerce and Authorize.Net. Payments can be taken using a hosted payment form or an iFrame on your site, providing an easy and secure payment integration. Includes support for checkout using Authorize.Net eChecks!
The SIM extension for Authorize.Net has two gateway modes:
The Legacy SIM mode sends the customer off-site in the checkout process to enter payment details on a hosted payment form. (No SSL certificate required)
The Accept Hosted mode keeps the customer on-site using an iFrame on the order pay page to process payment. (Requires an SSL certificate)
In either case, since the payment form is hosted by Authorize.Net's secure servers rather than your site, this alleviates the security burden of PCI compliance.
View a more detailed comparison →
Why Authorize.Net SIM is right for your store:
Accept international transactions from customers worldwide
Customers are automatically redirected back to your site after payment (Legacy SIM) or can be kept on-site with a secure pay page (Accept Hosted)
Process refunds / voids automatically from within WooCommerce NEW
Capture prior authorized transactions right from the WooCommerce edit order screen NEW
Provides a PCI compliant payment method since payment forms are not hosted on your site
Can accept eChecks with optional Authorize.Net eCheck account
Accepts all Major Credit Cards / Debit Cards – Visa®, MasterCard®, American Express®, Discover®, Diner's Club, JCB
Authorize or immediately charge transactions
Force charges for orders with only virtual items instead of authorizing them
Show detailed decline messages at checkout instead of generic orders (Legacy SIM only) NEW
Secure and Simple Checkout
When a customer opts to pay with credit cards or eChecks via Authorize.Net SIM, the secure payment form is hosted on Authorize.Net's servers.
The newer Accept Hosted mode will show a payment form on your WooCommerce pay page:
While the Legacy SIM mode will direct customers to a hosted payment form. The plugin forwards customer information, such as name and address, into this form to make completing payment as easy as possible: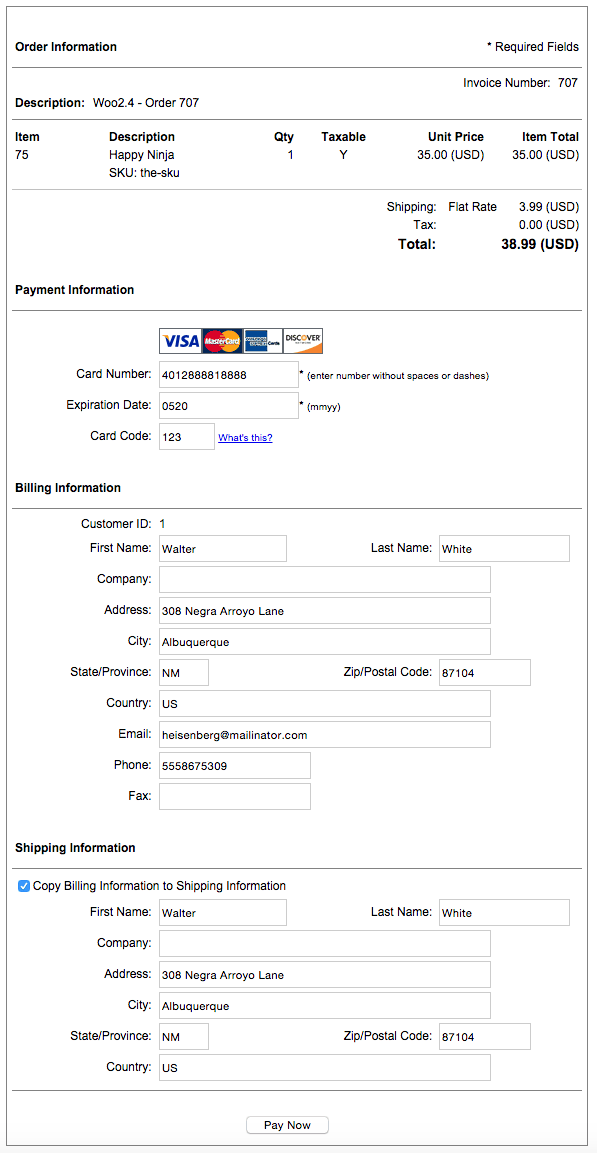 Once the customer enters payment details and clicks "Pay", the customer is automatically redirected back to your site to the "Order Received" page.
With the Legacy SIM mode, you can also opt to show detailed decline messages to your customers, no more "an error occurred" error messages!
(Coming soon for Accept Hosted.)
Support for Automatic Refunds & Voids – NEW
Shop employees can now process refunds for an order paid for with Authorize.Net SIM directly from within WooCommerce — no more logging into your merchant account to process refunds! Speed up your store management by creating full or partial refunds from the "Edit Order" screen and sending the transaction automatically to Authorize.Net by clicking "Refund via Credit Card".
(Supported by both gateway modes.)
Full Support for Authorize.Net eChecks
Customers with US bank accounts can checkout using their bank account information for a checking or savings account. To use this feature, you must have an active Authorize.Net eCheck account.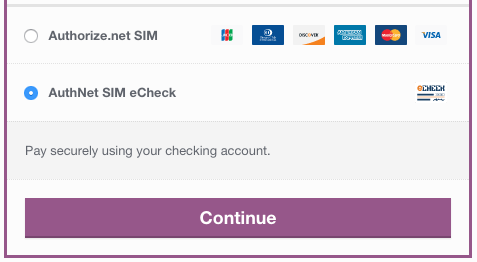 (Supported by both gateway modes.)
Supports Authorize.Net Reporting Plugin
A great bonus to using a WooCommerce Authorize.Net Payment Gateway is the Authorize.Net Reporting plugin. You can avoid all of the hassle of logging in to your Authorize.Net account and running all sorts of complex reports just to get a simple list of transactions.
Try the WooCommerce Authorize.Net Reporting extension, which is compatible with Authorize.Net SIM. After you install and configure the extension, you'll start receiving a daily email with your Authorize.Net transactions from the previous day attached as a CSV. You can also get transactions for a range of dates easily right from your WooCommerce store!
How to Get Started (in 5 minutes or less)
Buy this extension 🙂
Download and install into your WooCommerce store
Login to your Authorize.Net account (sign up for Authorize.Net if you don't already have an account) and grab your API credentials
Save this information on the settings page
That's it! Sit back and enjoy secure payment processing!
Need any more reason to buy? When you purchase a SkyVerge-developed extension, you're getting the highest quality extensions for your WooCommerce store. Gain peace of mind by knowing that when you purchase our products, your store's performance is as important to us as it is to you.