Important: 
This theme was
retired
in October 2015 and is not for sale. Documentation is no longer being updated.
Buro carries all the usual bells and whistles of our popular business themes – a featured slider, a feedback/testimonial module, and lots of footer/sidebar widgetized spaces.
Buro Theme Demo: demo.woothemes.com/buro
To learn how to install your theme please reference our documentation here: Installing a Theme
Checking your theme version ↑ Back to top
You can confirm your theme and WooFramework version by going to: Buro > Framework
After you install your theme, be sure to activate your theme key by downloading and installing the WooCommerce Helper plugin. This will verify your site when contacting support and will enable 2-click updates for quick theme upgrades down the road.
Updating your theme
It is very important to ensure you have the latest version of your theme at all times. This is the best way to proactively troubleshoot issues on your site.
Below is a screenshot of the Buro home page with each of it's modules explained. More detailed documentation below.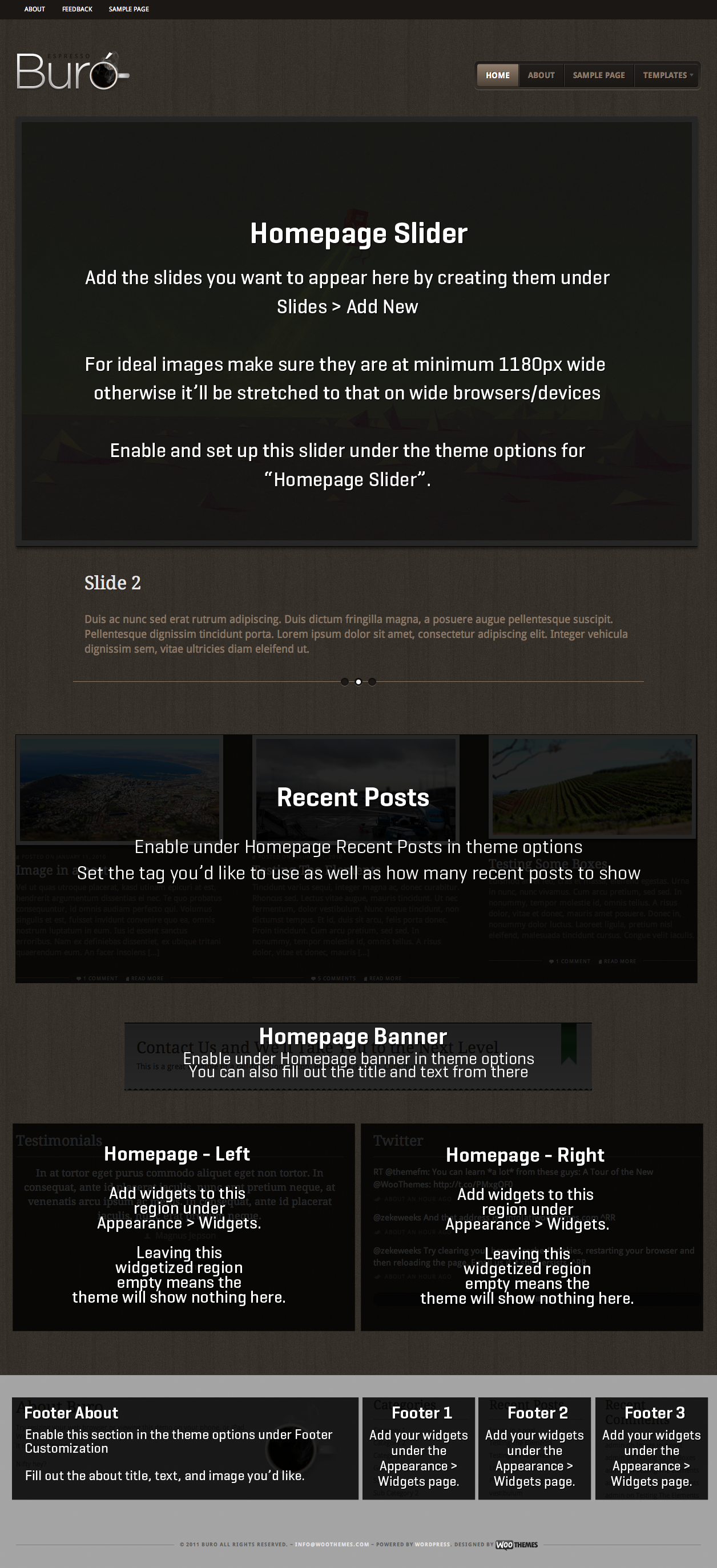 The home page of Buro is largely widget based, with 2 regions available for placement of custom woo widgets after the recent posts and banner, and 0-4 regions in the footer. Place widgets in these regions under Appearance > Widgets
The featured slider can easily be enabled/disabled under Homepage Slider settings (more information below).
The Buro theme comes with support for 2 menus. The Primary Menu is located to the right of your theme header. The Top Menu will appear in a strip across the top of the site. You can activate the top menu under Appearance > Menus. See documentation on Menus for more info.
Buro is a responsive theme, this is a term that's been coined that means the theme responds to most any device and screen size it's viewed on. Yes, this means that the theme works and pretty much looks just the same as it does on your desktop and smartphone. Instead of serving up separate sites for devices, this theme adapts and tries its best to provide your device or screen size with the best experience it can.
Set up The Featured Slider ↑ Back to top
The unique home page featured slider can be used to display noteworthy content and has it's own custom post type called Slides designated to it. The slider uses custom post images for the slide image, and then shows the the title and content below the slide image.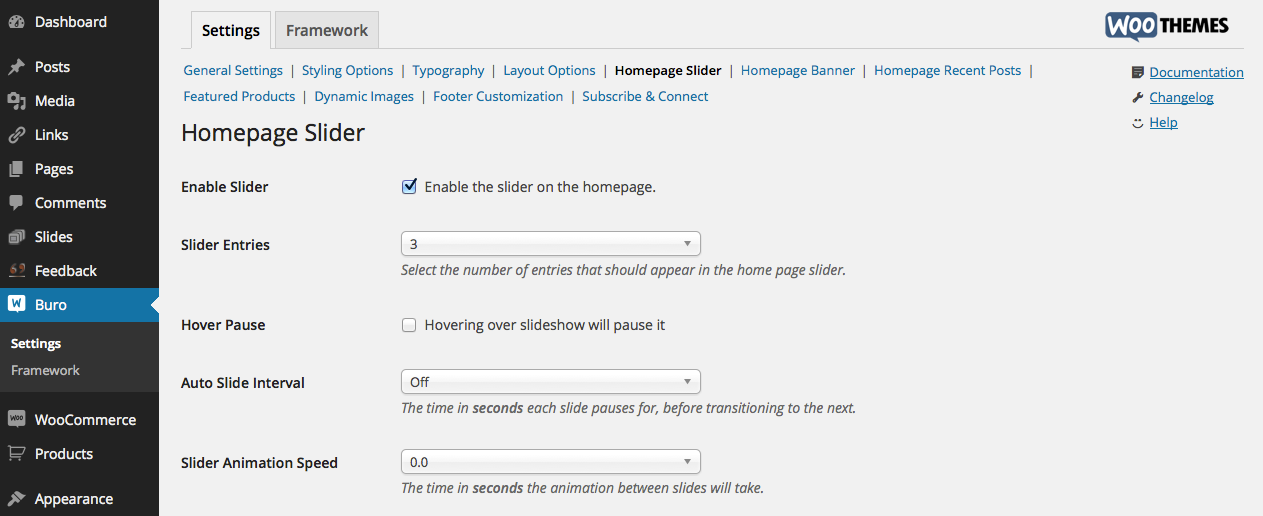 The Buro homepage slider pulls the custom "slides" post type. The number of slides is set under the Homepage Slider in the Settings panel. You can set the animation and fade speed, as well as enable touchswipe for devices like iPads under the settings.
Add Slides
To add slides to your homepage:
Go to Slides > Add New
Add slide content in the main content area, including a title and description.
Add a Featured Image for the slide.
Scroll down to review additional options in Buro Custom Settings for URL to link to or to add video embed code.
Publish slide to save.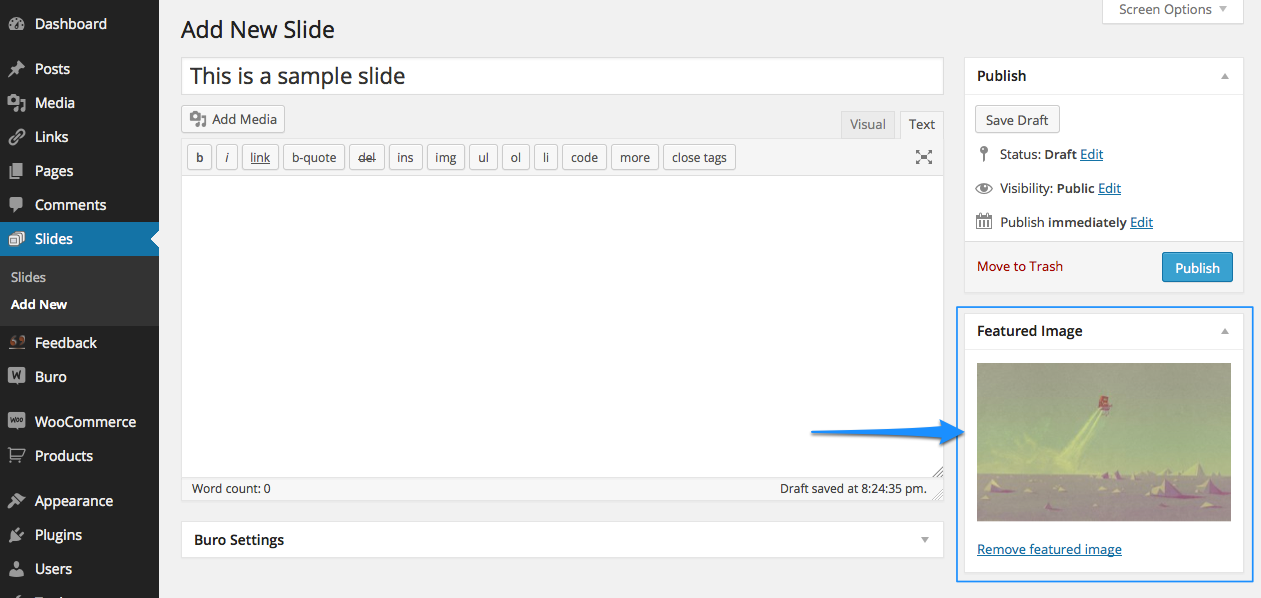 To create a dedicated blog page you need to create a new page, it doesn't need any content in it, as you would the portfolio page documented above. Then assign the Blog page template to that page. Once you've done that you can go to: Appearance > Menus page and add a menu item to your navigation so visitors can easily access the page.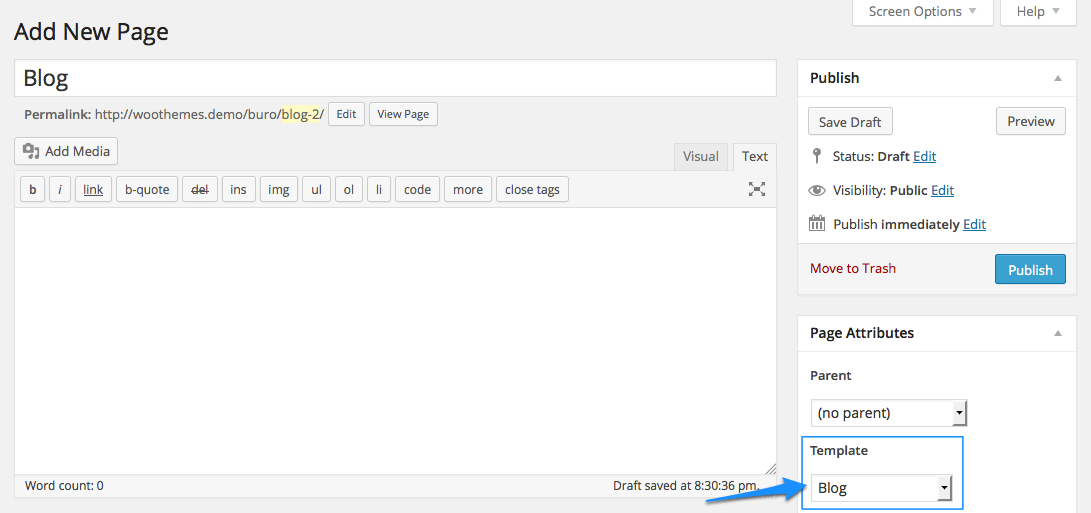 The Feedback module of Buro can be added to any widgetized area and can be used to show off the praise and great things your customers have to say about you and your business.
To add feedback just go to: Feedback > Add New, give your Feedback a title, then the actual feeback. You can also add the author's name and url if you so wish. You can show the author's name and url via the widget options if you so desire.
The theme includes 9 custom widgets that you can add to any of your widgetized regions. Go to Appearance > Widgets to add these to your theme.
The custom woo widgets included are:
Woo – Feedback
Woo – Tabs
Woo – Twitter Stream
Woo – Blog Author Info
Woo – Subscribe/Connect
Woo – Embed/Video
Woo – Adspace
Woo – Search
Woo – Flickr