Important: 
This theme was
retired
in June 2012. Documentation is no longer being updated.
After installing the theme, go to Settings > Permalinks and click the Save Changes button, even if no changes have been made. This registers the custom post types used in Caffeinated.
The homepage has an introduction, portfolio, recent blog posts section and a widgetized footer area.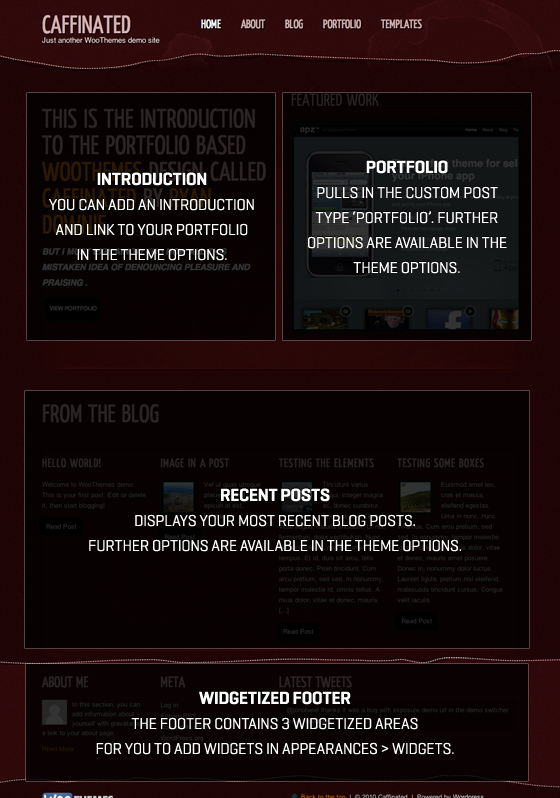 Using the custom panel with the theme options, there is a custom post type in the backend menu called Portfolio. This displays portfolio content on the home page and also the portfolio template.
Showcase your work or products. To add the portfolio:
Go to: Page -> Add New
Add a title, i.e., Portfolio
Select the Portfolio page template in the Attributes panel on the right
Publish.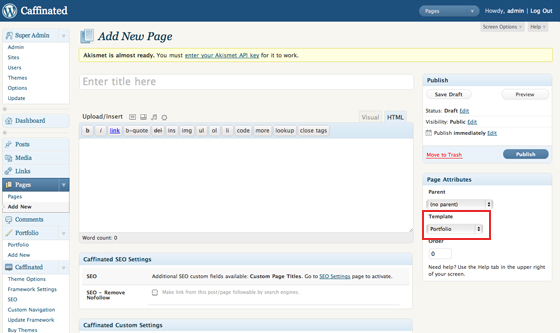 The portfolio section also uses a custom post type called Portfolio. Add a new item:
Go to: Portfolio -> Add New
Enter a title
Enter text to describe the portfolio item
Go to the Portfolio Thumbnail image in the Custom Settings area
Upload a large image or add an URL (external image, video, etc.) that your thumbnail will link to
Add an optional Portfolio Link to to show a Visit Site button
Add an optional tag to categorize your portfolio item
Publish and repeat for the next portfolio item.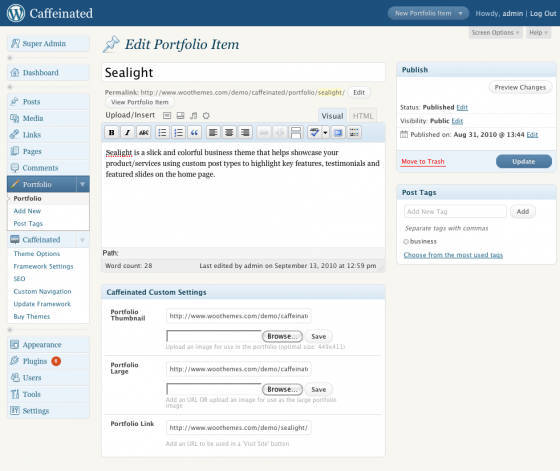 Note: You must upload a "Portfolio Large" image for image attachments to work.
Upload multiple images per portfolio item
When opening a portfolio image in the included lightbox, it's possible to have multiple images to look through.
To set this up, upload image attachments to the Portfolio Item and click Save Changes. Do not insert into the post after upload.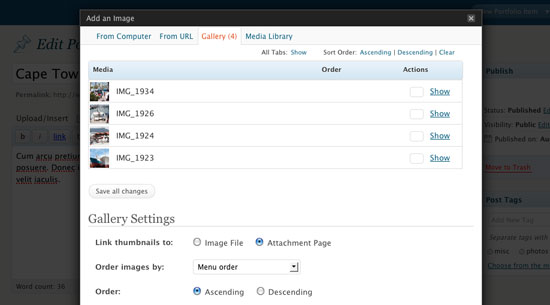 Go to the theme Options Panel
Setup portfolio category tags if you wish to categorize your posts
Tick "use lightbox" if you wish the large images to display as an overlay when clicked on, not a link that takes you to a new window.
Save settings and you're done!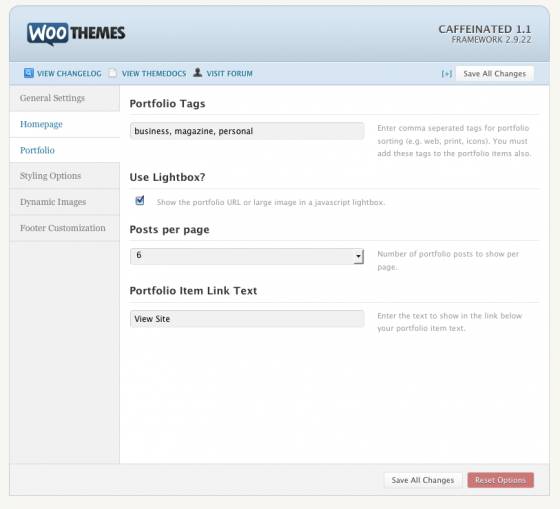 There are eight custom widgets you can add to any widgetized area:
Woo – Flickr
Woo – Adspace
Woo – Search
Woo – Blog Author Info
Woo – Custom Nav Menu
Woo – Tabs
Woo – Embed/Video
Woo – Twitter Stream