Important: 
This theme was
retired
in April 2013. Documentation is no longer being updated.
Daybook is a wonderfully simple theme. It excels at displaying your content and making it easy to sort through. There is a powerful filtering widget included with Daybook that makes this happen.
Daybook is simple to set up. Once activated, have a look through the theme options. There is much to customize via these theme options, but we'll highlight the most important. Specifically if you want to set up Daybook as our demo.
Under Theme Options > Layout Options there is one checkbox we want to draw your attention to. It is the option to enable or disable the fixed navigation bar.

If enabled this keeps the blue bar at the top of your browser window, no matter how far down you scroll. Disabling this option keeps it at the top of the page, and it won't follow you.
The next option is the Introduction Bar at Theme Options > Introduction bar. This is an easy way to give your site a quick intro. You have the option to enable or disable the Introduction Bar by ticking the checkbox, and there is heading text box and the body text box.
This is what it looks like on the front end of your site. The Introduction Bar is also easily hidden by either clicking the close icon or the i next to the site title.
The rest of Daybook's homepage pulls in your latest blog posts. You can set the number of posts you want displayed on each page by going to Setings>Reading and changing the numbers there. Around your blog posts are two spots for widgets. The sidebar and the footer.
There are a few important widgets to cover in Daybook. The first of these is the Woo – Filter widget. This widget has four options you can enable or disable once you drag it into your sidebar. Ordering, category, author, and post count are all the ways you can filter posts with this widget.
As you may have figured out by now the Woo – Filter widget allows you to filter your posts by any or all of these options. Under Order By you can sort by most recent, most commented, last modified, and alphabetical. Under Order you can choose ascending or descending. Under Category you can choose from any of your categories you have setup. Finally under Show, you can choose the number of posts to show in your filter.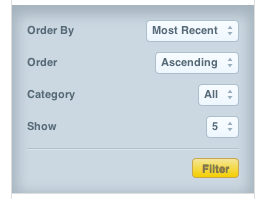 Our next widget is the Woo – Related Posts widget. As the name says this is an easy way to show related posts based on either category or tags. You have the option to enable or disable those relations once the widget is put in a sidebar. Also note, this widget will only show on a single post and only show if one of those options is enabled.
Finally, the Woo – Authors widget included in Daybook is a great way to show of the authors on your blog. As you can see, there are plenty of options packed into this widget. First you you can choose the user role of authors you want to display, as well as check to "Show Only Authors." That disables the widget from showing subscribers.
You can then choose how to order your authors. You can order them by username, email, website, date registered, display name, and post count. Most of these options are set under each authors user profile. You can of course sort then by ascending or descending, as well as set a limit on the number of authors displayed.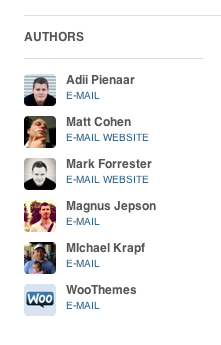 From there you can include or exclude authors based on their user IDs. It's real simple to find a users user ID. Simply navigate to Users>All Users. There you'll see a list of all registered users on your site. Simply click on a user's username, then in the url you'll find their user ID. It'll come right after the bit that says user-edit.php?, and it says user_id=#. Of course instead of the pound sign the actual user number will be there.

There are custom widgets you can add to widgetized areas. Go to Appearance > Widgets to add to your theme.
The custom Woo widgets are:
Woo – Adspace Widget
Woo – Search
Woo – Tabs
Woo – Twitter Stream
Woo – Flickr
Woo – Blog Author Info
Woo – Embed/Video
Woo – Subscribe/Connect
Woo – Filter
Woo – Related Posts
Woo – Author