Important: 
This theme was
retired
in October 2015 and is not for sale. Documentation is no longer being updated.
To learn how to install your theme please reference our documentation here: Installing a Theme
Checking your theme version ↑ Back to top
You can confirm your theme and WooFramework version by going to: Olya > Framework
After you install your theme, be sure to activate your theme key by downloading and installing the WooCommerce Helper plugin. This will verify your site when contacting support and will enable 2-click updates for quick theme upgrades down the road.
Updating your theme
It is important to ensure you have the latest version of your theme at all times. This is the best way to proactively troubleshoot issues on your site.
Olya is a sophisticated portfolio theme that allows you to very easily publish your work, whether that be images, or videos. Not only that, but you can also showcase your portfolio pieces via the nifty Portfolio custom post type.
Below is a screenshot of the Olya home page with each of it's modules explained.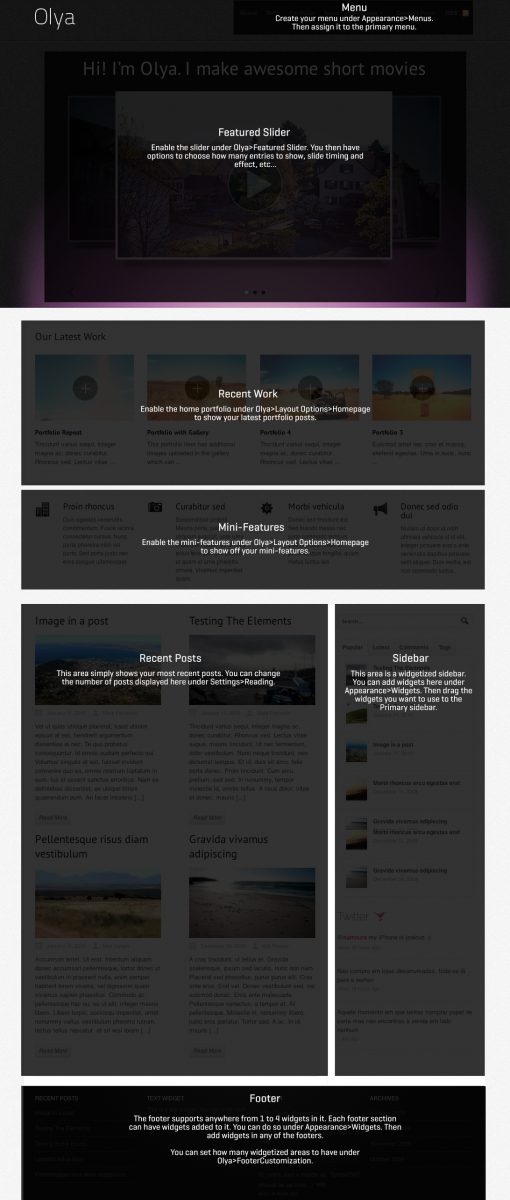 To set what features show up on your Homepage, go to: Olya > Settings >Layout Options.  Here you can set what features appear on the Homepage, as well as wether to show your blog posts or one of your pages below the Mini-Features area.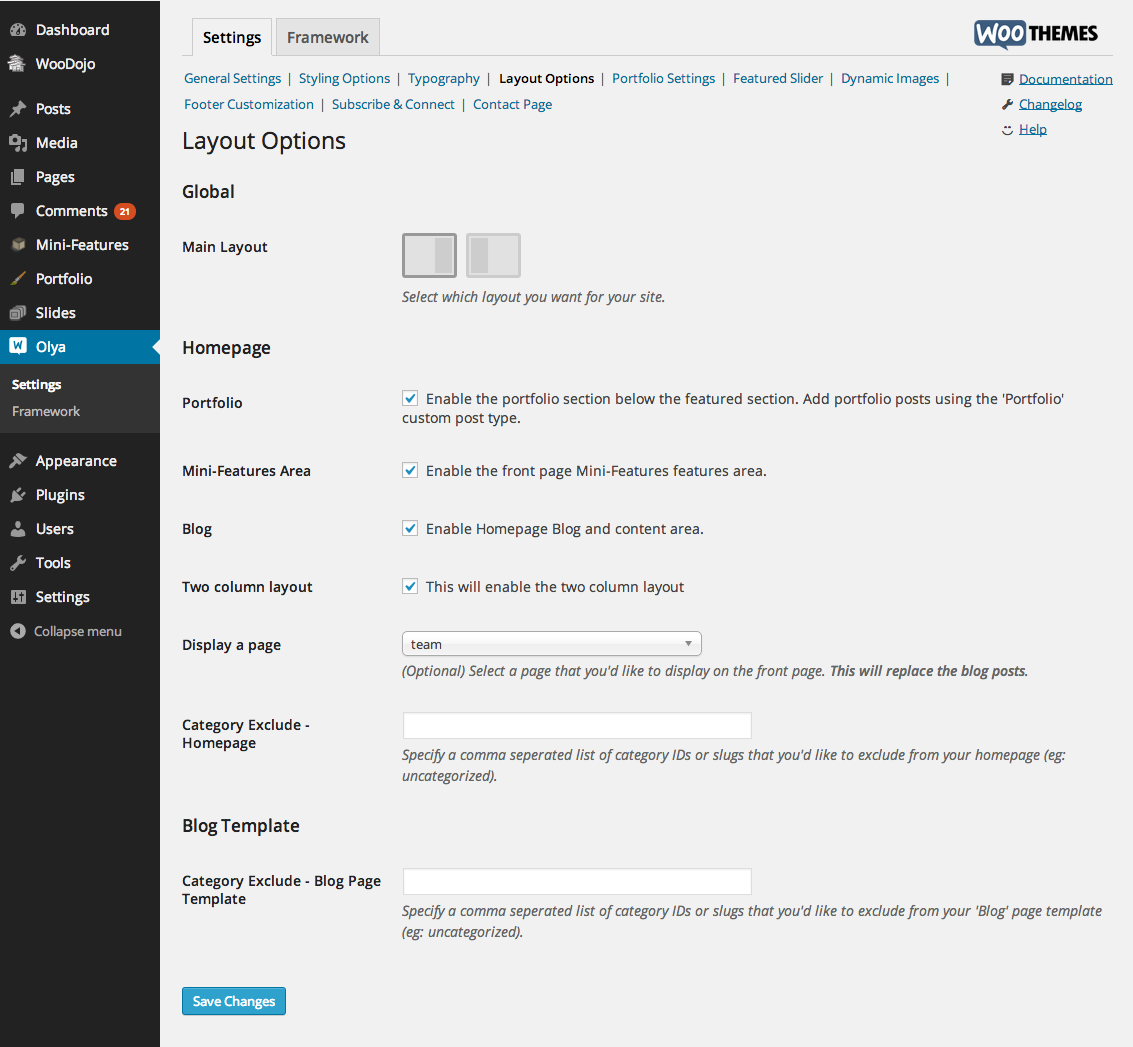 Next we'll walk through how to set up each of the Homepage Sections.
To create slides for your homepage, simply click on "Slides" in your Dashboard, then "Add New" to add a new slide. From there you can fill out the title, add a video embed code or url for the slide image to link to, or and an image for the slide.
To create a slide:
Go to: Slides > Add New.
Add slide content in the main content area, including a title and description.
If you want the image to fill the entire background of the slide add a Featured Image for the slide.
Scroll down to review additional options in Olya Settings to optionally add a Video Embed Code or a URL to link the slide.
Publish slide to save.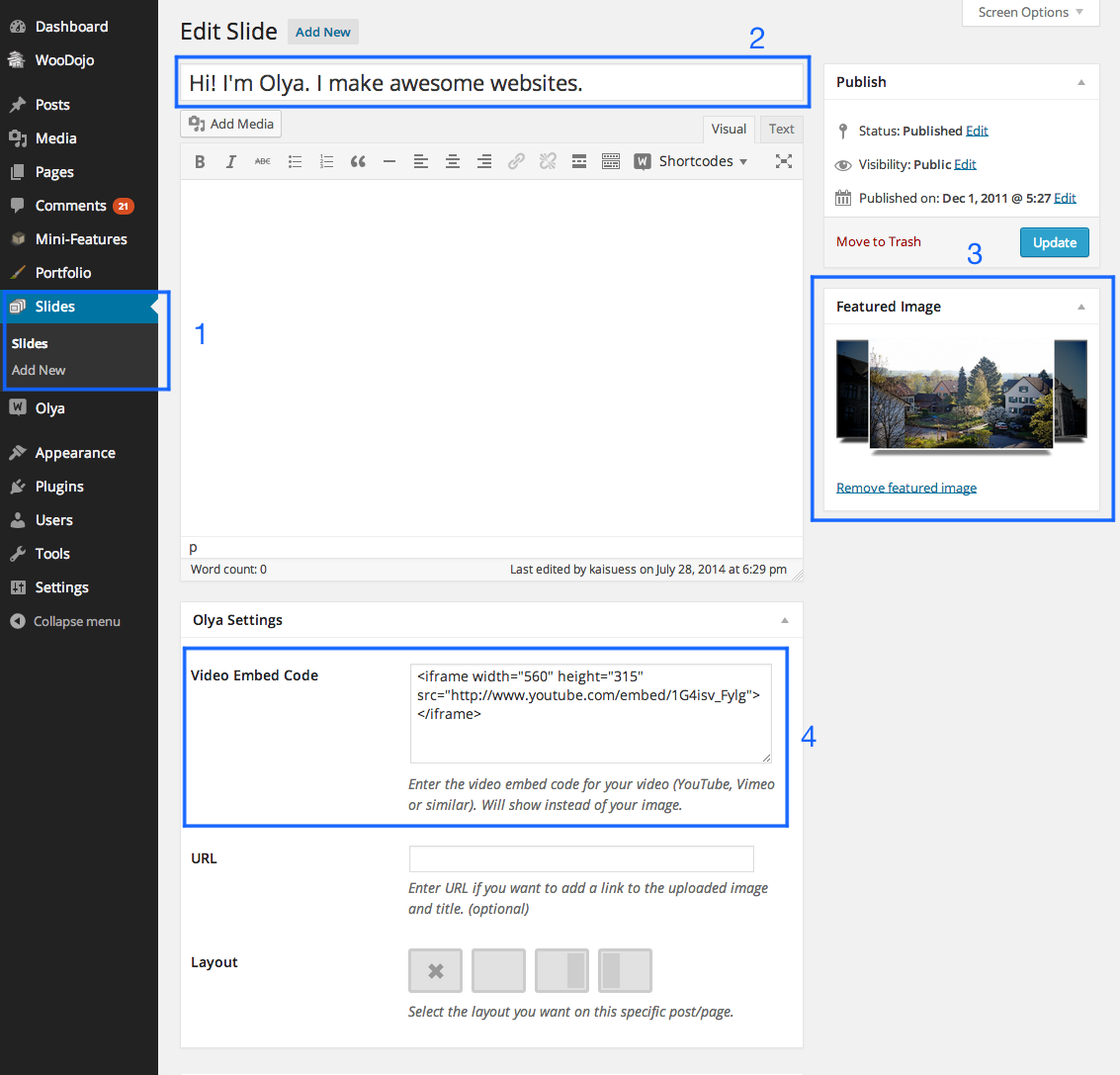 To configure your Slider settings, such as slider height, number of slides to show, and slide animation settings, Go To: Olya > Settings > Featured Slider.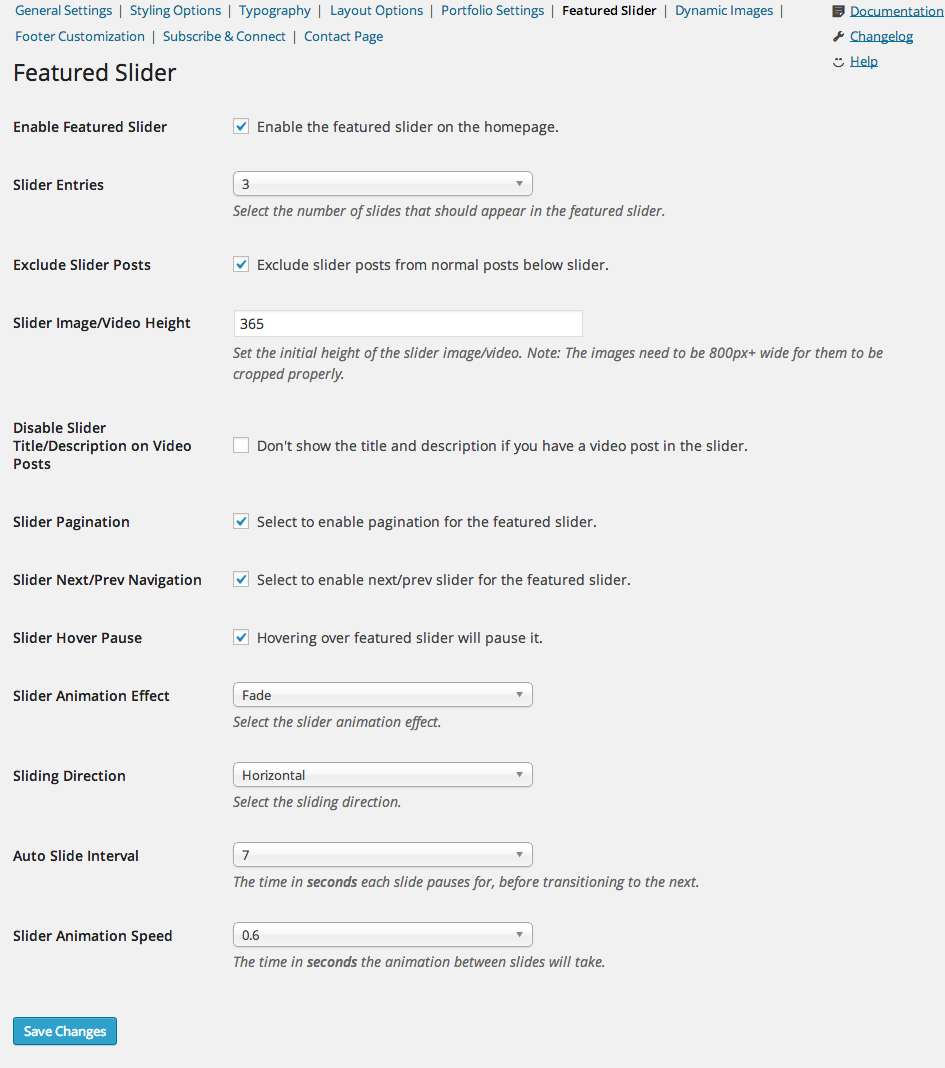 To setup your portfolio page in Olya, simply create a new Page and then assign the Portfolio page template to it:
Once you've added a few Portfolio items, your page will look like this:
The portfolio section uses a custom post type called "Portfolio".  To add a Portfolio item, follow the steps below:
Go to: Portfolio -> Add New
Add a title and some content to describe the portfolio item
Upload the Portfolio image in the Featured Image area in the right sidebar if using the WordPress Thumbnail option.
Add a Video Embed Code in the Olya Settings panel below the Editor if you want to show a video. You will still need to add an image for your portfolio item which is showed on homepage and portfolio page template.
Select or create a Portfolio Gallery to organize your posts.
Publish the portfolio item.
Adding Multiple Portfolio Images ↑ Back to top
You can also add multiple images to your Portfolio item. When you're uploading the featured image you want to use outlined in the steps above, simply upload all the images you want to use here. Then pick from there the one you want to be your featured image for that post. That image will be the one shown as the thumbnail in the slider and main portfolio page. Also be sure that the other images are set as an attachment page and not image file.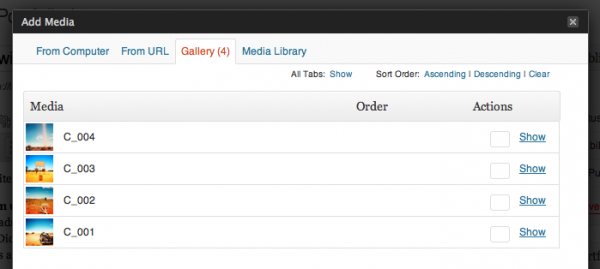 You can also configure some settings for your portfolio, such as thumbnail size and lightbox settings.  To do this, Go To: Olya > Settings > Portfolio Settings.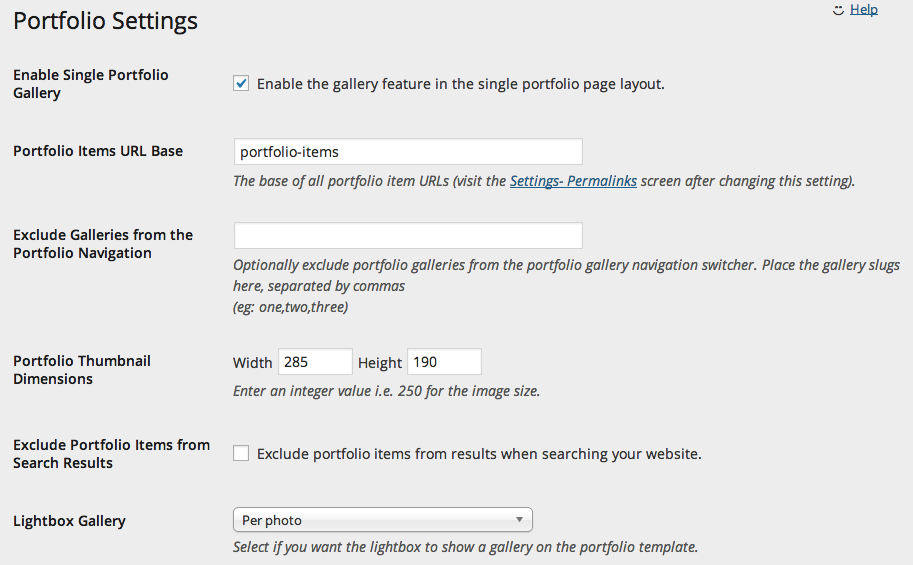 Just below the Slider and recent Portfolio Posts on your Homepage are the Mini-Features. There are a total of 4 Mini-Feature areas to showcase any part of your business.
To Add a Mini-Feature:
Go to: Mini-Features > Add New
Add and title and description for the Mini-Feature.
Below the Content Editor, in the Olya Settings panel, you can add a Mini-Features Icon, an excerpt to display on the homepage. You can also add a link for the Mini-Feature if you would like it to open another page from your site or elsewhere.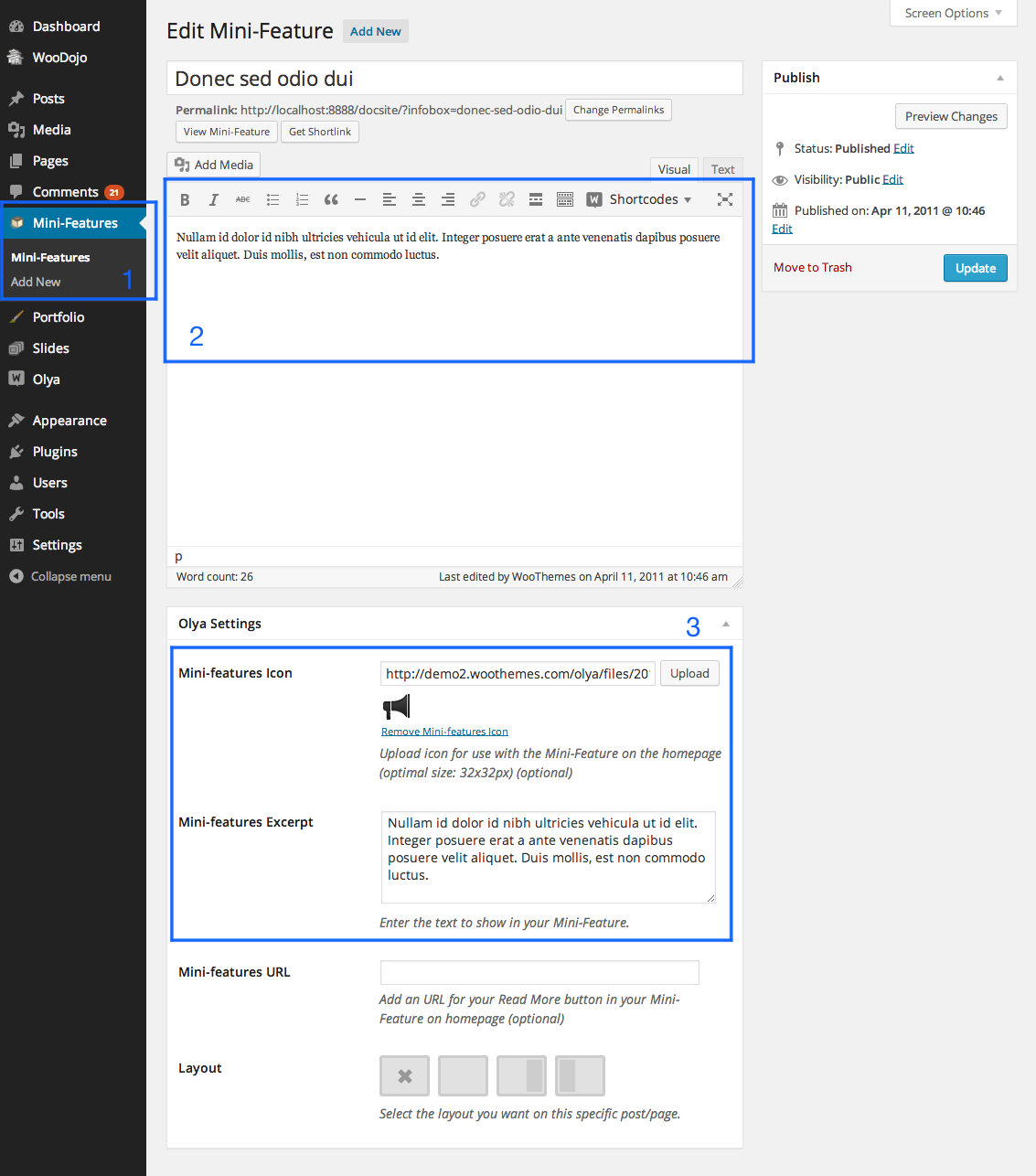 Here is how the Mini-Features appear on your homepage.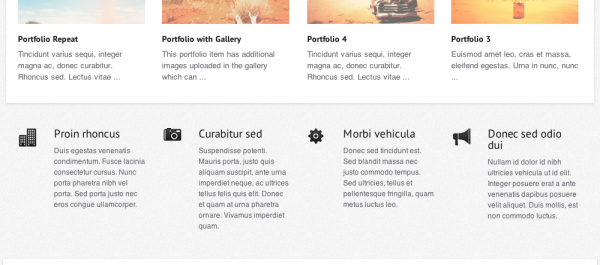 To create a team page, Go To: Pages > Add New, and assign the team page template to it like you did for the Portfolio Page above.
This page template displays all of the users on your site- great if you have multiple authors or team members on your site that you want to showcase.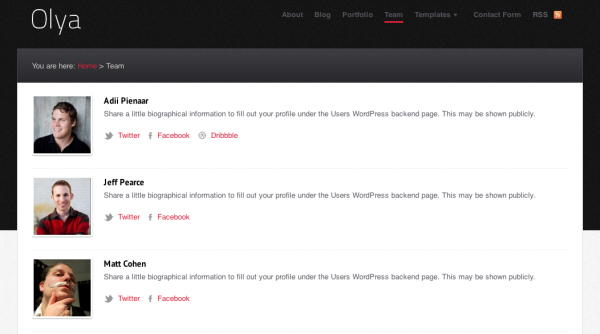 We've included a great Contact Page template that you can assign to one of your pages like you did for the the Portfolio page and the Team page. Our Contact Page template not only includes the contact form it also pulls in your latest tweet, your companies address in the left sidebar, as well as the location of your business.
To set up the Contact Page, Go To:  Olya > Settings > Contact Page. From here you can enter your contact information and configure the Google Map to display on your Contact Page.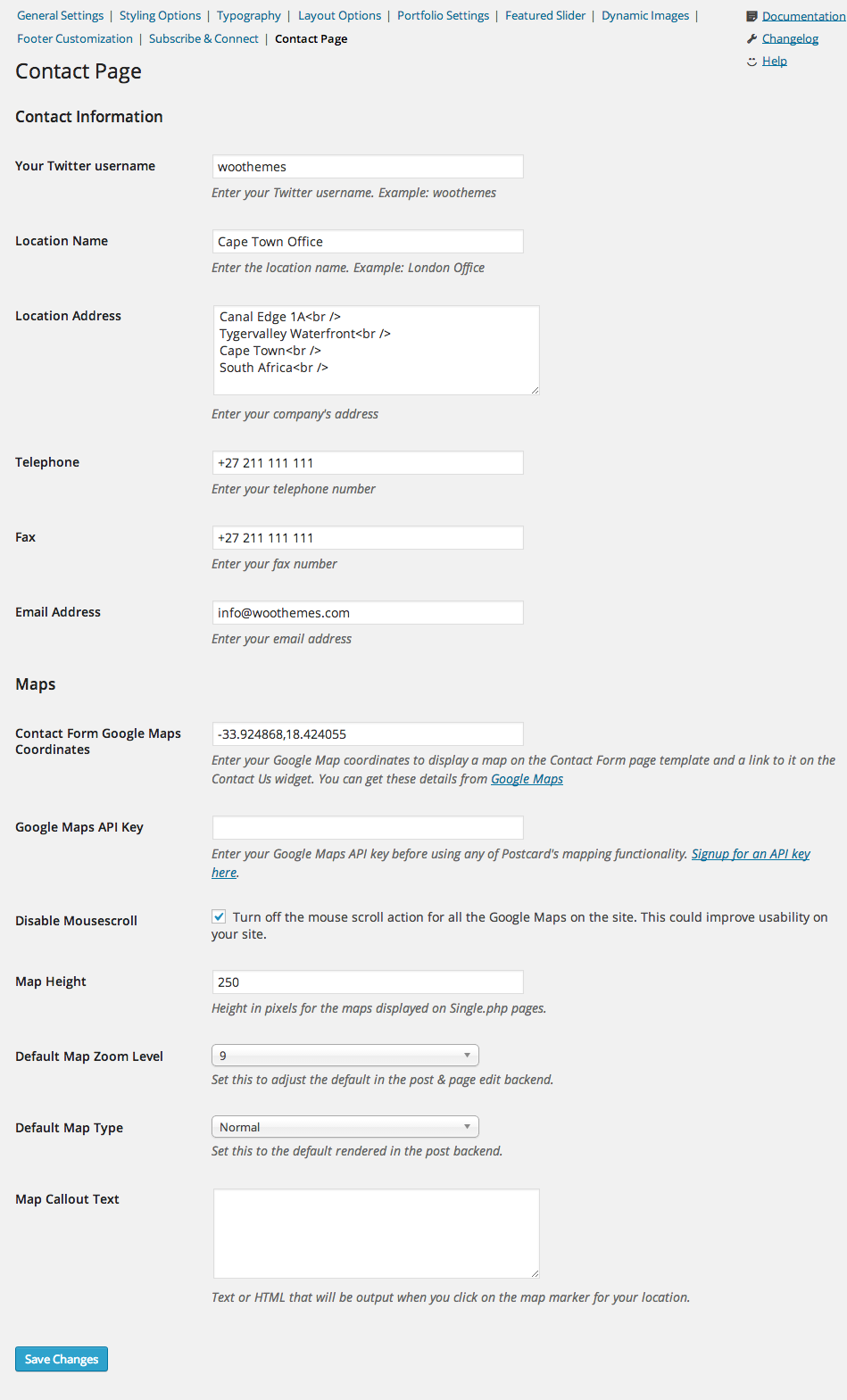 The theme includes 6 custom widgets that you can add to your widgetized sidebar.
The custom woo widgets included are:
Woo – Search
Woo – Twitter Stream
Woo – Adspace Widget
Woo – Flickr
Woo – Tabs
Woo – Blog Author Info