Important: 
This theme was
retired
in February 2014. Documentation is no longer being updated.
This plugin allows you to considerably change the layout of its output.
For optimal use, we recommend emulating our setup in the demo of Snapshot. Alter the options as shown in the screenshots:
Layouts: Photo Showcase or Design Gallery ↑ Back to top
Snapshot is set up to function as a photoblog/photo showcase, as well as a design gallery. The built-in theme options allows you to switch between the two options.
The main difference is the photo showcase does not use an external link (for example when using Snapshot as a CSS design gallery, the thumbnail links internally), and the detail page uses a larger preview image.
There are also subtle layout differences between detail pages of the two templates. Experiment and switch between the two to understand which suits.
Adding Items (Photo or Design) ↑ Back to top
Go to Posts > Add New in the WordPress admin.
Complete all fields. Content would be a description of the item; the excerpt is optional and not published anywhere.
Complete the SnapShot Custom Settings as specified below.
Publish.
Additional Fields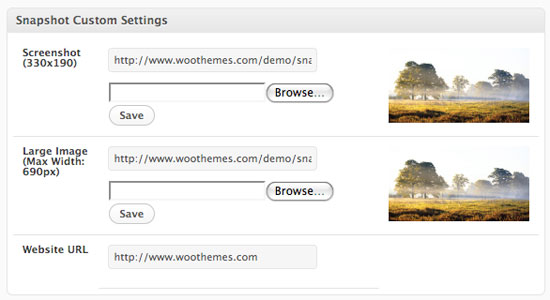 Screenshot (330×190). Upload an image to be displayed.
Larger Image (Max Width: 690px). Upload a larger preview image with a max width of 690px and no height restriction. Note that this is only needed for the photo showcase template (1-photo.php).
Website URL. Enter the external URL where the item can be viewed. Note that this is only needed for the design gallery template (2-design.php).