Most accurate, advanced and consolidated reporting for all your e-commerce stores, payment processors, currencies and more. Plus customer intelligence, segmentation, subscription and refund management!
Loved by thousands of makers, owners, growth marketers and support heroes.
---
Every WooCommerce store must have Putler – here's why
You can read what hundreds of store owners say about Putler's analytics – but here are the top reasons.
Most Accurate Reporting: WooCommerce, Google Analytics or Payment Processors – using any of these alone will give you inaccurate reports. Putler combines and consolidates all of them so you get the most accurate analysis of your business.
eCommerce, Subscriptions, Memberships: works for all online businesses.
Multi-store Reporting, Currencies, Integrations, Team Members: Bring it all together in one place.
Saves Days of Work: Putler is ultra fast and lets you manage subscriptions, issue refunds and send emails right from Putler – apart from all the intelligent reports.
Search, Filter, Segment and Drill-down the way you like
Customer Intelligence and Automatic RFM Segmentation
Most Advanced Growth Platform: It's not just the hundreds of metrics… Putler gives you so many things to track, understand, grow and manage your business.
Paid for itself in 10 minutes…
Putler is amazing for lifetime value, top clients, top selling products, sales for the last many years, multiple PayPal accounts… It's the best app I've ever used!
James Schramko – Celebrated Business Coach & Bestselling Author, SuperFastBusiness
Answers to your everyday questions, and then some more…
Putler syncs data, converts currencies and gives you ready dashboards that quickly answer your everyday questions.
Tons of metrics like – Sales, Refunds, Orders, Visitors, Customers, Averages, Trends, LTV, Churn, MRR, ARR, ARPU etc..
Comparisons, Forecasts, Goal Tracking
Recent Orders, Top Products, Top Customers, Behavior based RFM Segmentation on customers, Sales Heatmap, Frequently Bought Together Products…
Extensive customer profiles – including complete order history, enrichment, geo location
Visitors, Audience Locations, Top Pages on site…
Insightful special reports like holiday season sale performance etc.
Powerful search, filtering and faceting tools
WAIT, your current reporting is inaccurate – try this to confirm
WooCommerce reports are great, but there are many holes – payments you receive directly on PayPal, refunds you've made on Stripe (that are somehow not reflected in WooCommerce), disputes, partial refunds, bugs introduced by plugins… We've witnessed tons of problems over all these years!
By extension, any solution that syncs data only from WooCommerce will be wrong – remember bad data = bad reports = bad decisions.
Similarly your payment processor does not have product or customer information, and can not track orders you've manually processed in WooCommerce.
And if you've tracked your Google Analytics eCommerce reports, you know they're flat out wrong.
Just compare the numbers – you'll surely spot the problems.
So, what's the cost of tracking and making business decisions with inaccurate numbers? Think about it…
Putler consolidates, removes duplicates, merges and cleans up data from dozens of integrations to give you a reliable single source of truth!
Putler is every WooCommerce store owner's growth advisor!
I used to spend three tiresome hours every week reconciling my stats. Now it's all available instantly in Putler. I make much better marketing and operations decisions now!
Joseline Rodrigues, Pop Sticks
One place for all your order, product and customer insights…
Putler brings together all the essential ecommerce tracking reports in one place. That not only saves you time, but also helps you see the big picture. You can finally make data driven decisions with confidence.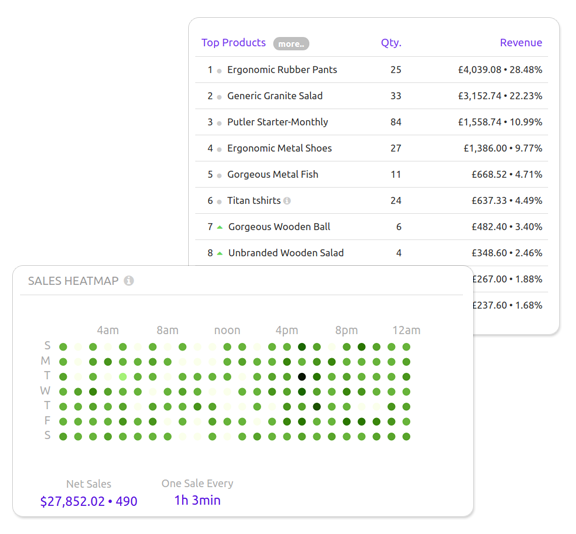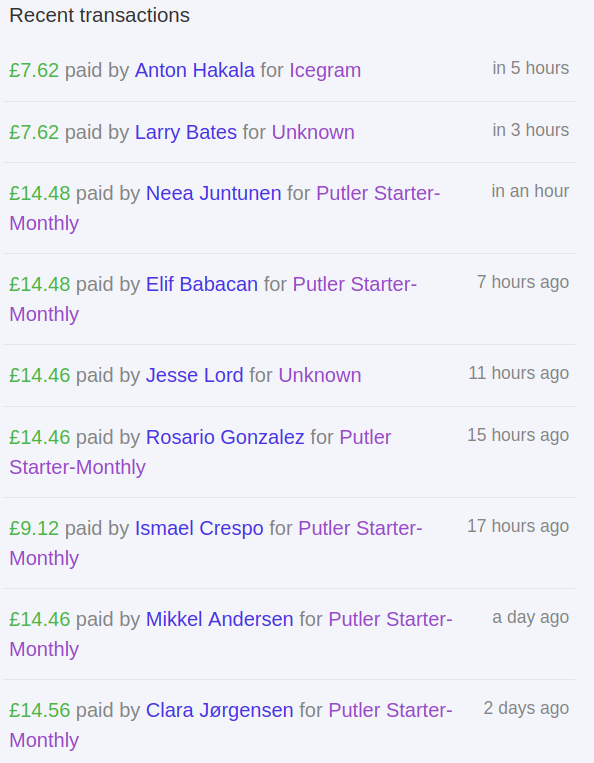 Shopping behavior based customer segmentation
RFM – Recency, Frequency and Monetary – value based automatic customer segmentation lets you quickly run marketing campaigns tailored to different types of customers.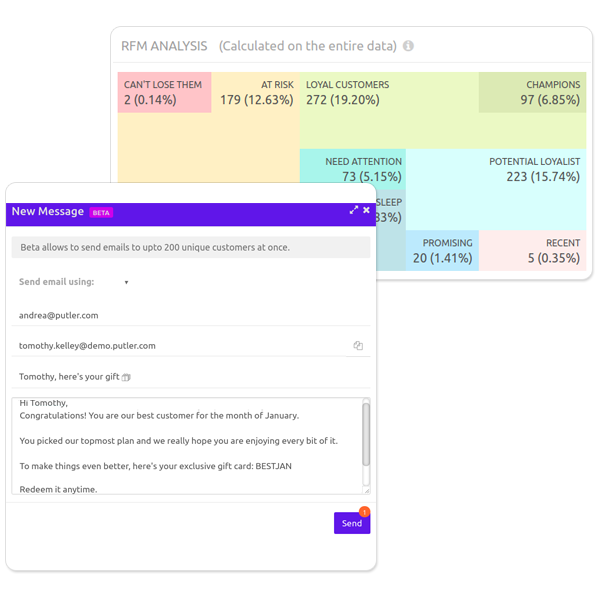 Targeted email sending
You can filter and segment a set of customers and quickly send an email to them from within Putler. Maybe a "thank you" coupon to loyal customers or "feedback request" from customers about to churn.
Issue refunds and manage subscriptions
Do it in seconds, not minutes. Instantly search an order and refund it or cancel a subscription.
CSV and MailChimp export
Export any list – products, customers, sales, transactions as CSV within seconds. Or add customers to a MailChimp list.
Subscription reports and SaaS metrics
LTV, churn, MRR, ARR, ARPU, paid subscriptions, trials and lot more. Putler understands WooCommerce Subscriptions, and recurring payments from other platforms. So you get all the subscription metrics you want.
Data filtering and custom segments
Slice and dice through your orders / customers / products and transactions like never before. Create custom segments using various parameters.
For example: Find all the customers who have bought products from you in the last 90 days.
Or
Find all the customers that are located in the United States and send them a special discount on the 4th of July.(Geographic targeting)
Customer intelligence and profile enrichment
All you need to know about your customer! Putler cleans up email addresses, billing and shipping addresses, names, phone numbers and compiles the entire order history, revenue contribution, products purchased, refunds etc in one place.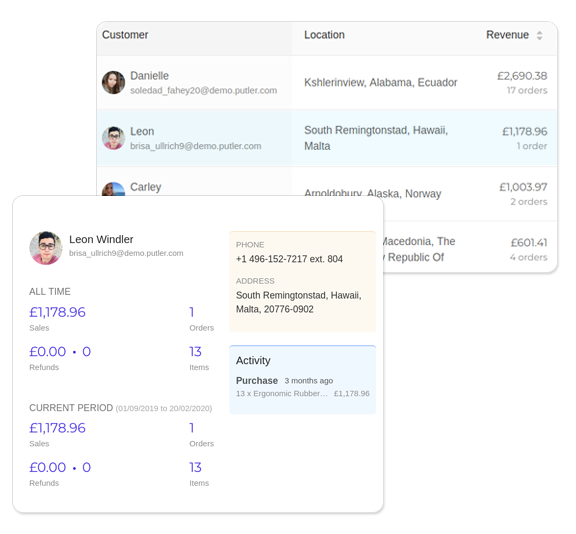 Weekly Email Alerts
Don't lose track of your numbers. Get the most important KPI's straight in your inbox or choose to send it to your team every week.
Goals, Forecasts & Annual Planning
Putler predicts your monthly revenue and helps you track sales goals. You can even use the "Time Machine" feature to plan growth trajectories.
Succeed together with unlimited team sharing
Get your whole team on Putler for free. Decide what they can see and the level of their access.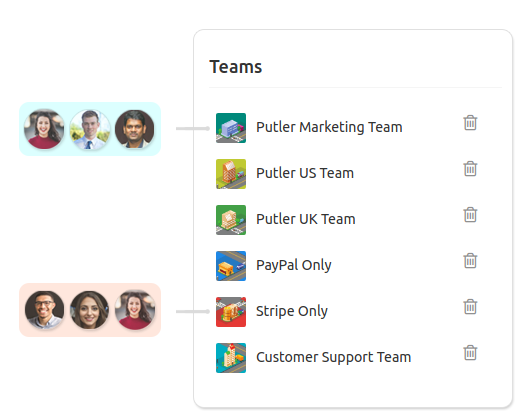 Bring all your data – dozens of integrations
Not just Woocommerce, you can connect payment gateways (like PayPal, Stripe, Authorize.net), other eCommerce platforms as well as Google Analytics to Putler. Putler does all the consolidation, normalization and deduping magic. You no longer need to login to multiple systems.
Try it to believe it!
View the Live Demo and Sign up for Putler's free 14 days trial.
You don't need any technical help or credit card to get started. Simply sign up, download our WooCommerce connector plugin, set it up and connect your store with Putler. For most accurate results, also connect your payment gateways and Google Analytics.
Growing your WooCommerce store with accurate data driven decisions is now just a few clicks away.
---
Need any more reasons to buy? Putler is built by the same folks who make Smart Coupons, Affiliate for WooCommerce and other top WooCommerce extensions. You can trust you're getting a high quality solution backed with first-class support.
Check out our other best-selling and popular plugins on WooCommerce.
---
Please note:
Third party extensions are not covered under our
Support Policy.
WooCommerce
La plataforma de eCommerce con más opciones de personalización para gestionar tu negocio en línea.