Anyone running a business that relies on scheduling customers knows how painful managing appointments over the phone can be. An automated system that allows clients to book, cancel, or reschedule online makes the process much easier.
What might not be obvious, however, is how important it is for customers to book appointments directly on your website, rather than using an external platform.
Advantages of Online Booking
Whether you're in the business of booking reservations, rentals, classes, or appointments for services, automating the scheduling process eliminates virtually all of the frustrations involved with manual appointment setting.
Online scheduling is available 24/7 so customers can book whenever it's convenient for them. They don't have to deal with the time and frustration of being put on hold or leaving a message when calling your business. Instead, they can quickly see appointment availability in real-time.
There's a clear need to offer self-service online scheduling. Where it starts to get tricky, though, is deciding the best kind of online scheduling tool to use. There are two basic models from which to choose – linking to an external site or integrating a scheduling program that plugs directly into your own website.
Linking to an external website can seem like a simple and affordable solution. However, those are pretty much the only advantages – it's fast and can be inexpensive. It might make sense for a new business with little or no revenue to launch with one of these tools. However, in time, many businesses end up seeking new solutions because of the drawbacks they experience, including a leaky sales funnel, a bad user experience, and inconsistent branding.
Reasons to Keep Appointment Scheduling on Your Site
Consistent Branding and User Experience
You've likely spent a lot of time and money creating a consistent visual brand and user experience at every point in the customer journey. When clients are on your site or in your store, they know exactly where they are and what to expect.
This all comes to a screeching halt when you send your clients to another company's website that neither looks nor feels like your brand. It can be jarring for your customer and is bad for your brand's integrity.
With an integrated scheduling tool, both branding and user experience can remain consistent throughout the entire process. Your customers only interact with your company, not someone else's.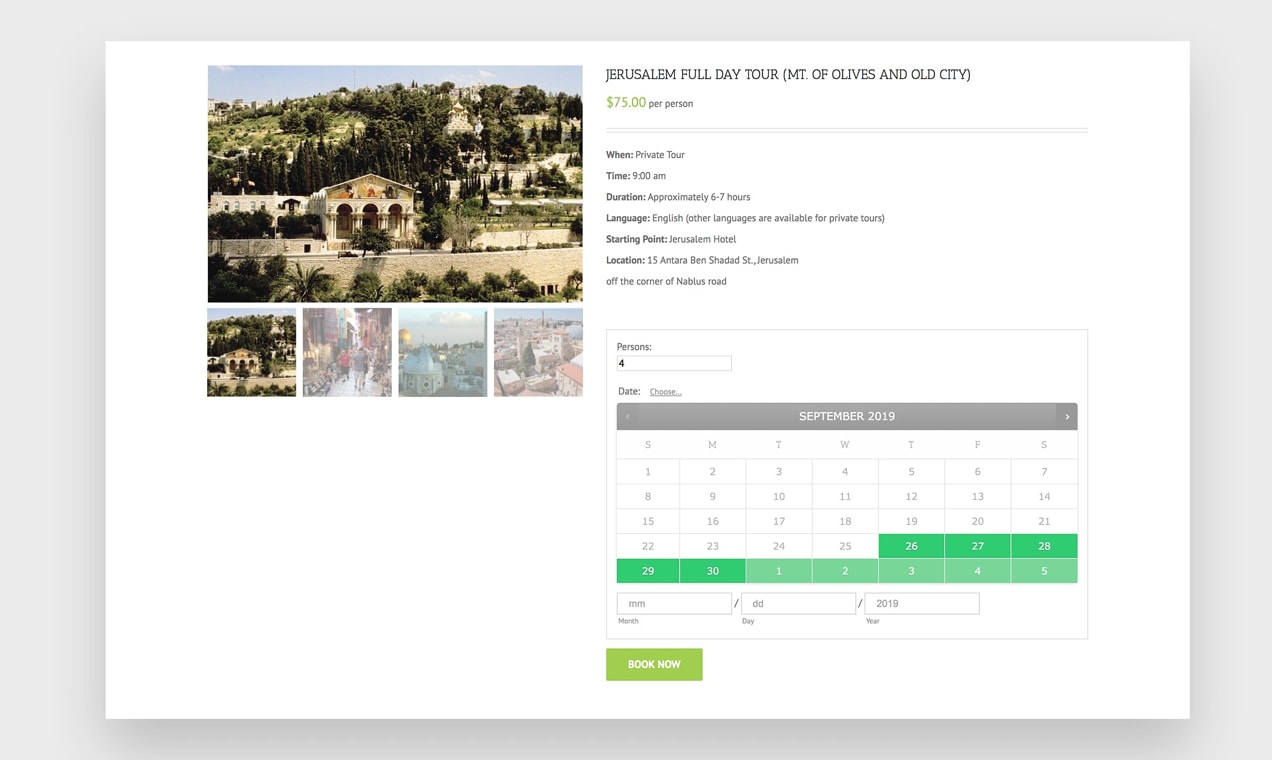 Visit Palestine, for example, offers a booking calendar for their sightseeing tours. Their orange and green brand colors are used throughout all tour listings and calendar graphics. Plus, both fonts and photos are consistent across the site. Even while booking, customers know that they're in the right place.
Seamless Payment Solutions
Another big advantage of an integrated booking system is that you can collect payments on the same page as your calendar. This automates yet another time-consuming pain point; payment is collected as soon as the appointment is booked instead of at the time services are rendered.
Being able to integrate scheduling and payment into one place saves you time and money and makes for a better experience for your customers. The WooCommerce Bookings extension offers safe and efficient online payments with virtually any payment gateway on the market.
Google Calendar Integration
WooCommerce Bookings automatically syncs with your Google Calendar, so online bookings show up almost immediately. You can efficiently schedule your personal and work activities all in one place instead of having to keep multiple calendars and manually add entries. This also reduces the chance that you'll make a mistake such as double-booking a time slot or missing an appointment completely.
Maximum Flexibility
Scheduling plugins that integrate with your site offer more flexibility for you and your customers. For example, WooCommerce Bookings lets you offer users date and time ranges, block time off as un-bookable, and set up buffers between bookings. Depending on your business, WooCommerce also gives you the option to set up multi-person events.
If there are times or days that are less popular with your customers, you can offer special pricing to get those booked up. And if you're doing business across borders, WooCommerce Bookings can automatically show the hour in the customer's own time zone.
Icon Cookery School uses a booking calendar to showcase only the dates available for their cooking classes. They block off unavailable date ranges and make it easy for their customers to know exactly when each class is offered. Their students can even book the class for multiple people at once, which is great for couples who want to learn together.
Close the Deal
Perhaps the biggest weakness of linking to an external site is that adding an extra step to the sales funnel makes it much less likely that the customer will complete the booking. It's inevitable that some people will abandon the process if they are forced to click a link and wait for a new page to load. When you've worked hard to attract potential customers to your store, losing them in the final stages can be frustrating.
Integrating a booking system on your own website makes for a seamless experience for the client, which means you reduce sales funnel leakage.
Retain Valuable Client Data
Even if the client makes the jump over to another platform, there is another major drawback that comes with linking to an external website – you lose the ability to collect information about that customer in the final stages of the buying process. Plus, you've just handed that customer's data to a third-party vendor.
With a scheduling tool extension like WooCommerce Bookings, you retain the data and analytics about your customers' behavior and preferences, which you can use to refine the user experience and close more deals.
Automate Time Intensive Tasks
An integrated scheduling system frees up staff from administrative busywork, which can reduce labor costs. WooCommerce Bookings can send out booking confirmations that integrate with the customer's own calendar, making it less likely that they will forget their appointment.
Appointment reminders and cancellations can also be automated. Send out reminders the day before an appointment and allow users to cancel or reschedule with the click of a button. This saves you from time-consuming phone calls and, ultimately, reduces no-shows.
Responsive Design
WooCommerce Bookings and Bookings Availability are fully responsive, so it works well and looks great on any size device. In a world where your customers switch back and forth between devices and make purchases on the go, it's important that the booking experience works flawlessly across all screen sizes. 
Sell Bookings Directly on Your Site
Your customers look for the ability to book appointments quickly and easily, no matter where they're located or what time it is. Whether you sell services, tickets, classes, or hotel rooms, a booking system on your own website can improve both your operations and revenue.
WooCommerce Bookings helps you close more deals, provides valuable analytics, and ultimately saves you both time and money, and Bookings Availability makes it possible to work with the Blocks Editor/Gutenberg. Get all the answers to your questions with our helpful documentation.