Sensei, as I'm sure you're aware, is a great (arguably the best) tool for teaching anything online. What you may not know though, is that you (yes, you!) can use it right now even if you aren't running an online school.
Here are five ways that you can use Sensei today to share your knowledge with the people who need it:
1. An internal training tool for your staff
Many companies run internal training, but it's tough to find a standardised way to do it that is reproducible and easily manageable. The advantage that Sensei offers in this regard is that, as a WordPress plugin, it is self-hosted so you don't need to rely on any third-party service or host in order to run things. This mean that you can run training directly from your existing website – just use a free plugin such as Groups to restrict the content and your ordinary site viewers will be none the wiser.
Here at WooThemes, we have our own internal training site on which we employ Sensei to educate our team members.
With the new Learner Management feature included in Sensei 1.6 you'll be able to add and remove your staff from your training at any point.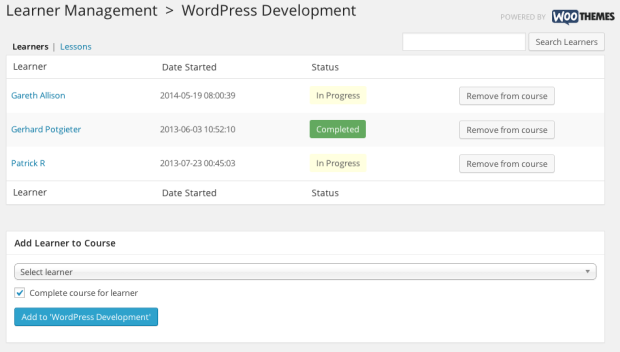 2. Teaching your customers about your product
Not all products are easily understood by their target market. You may think you've created the most amazing doohickey known to man, but does your audience know just how life-changing it really is? That's where Sensei can help – create a few lessons (with videos if you like) that explains how awesome your product features are and get your customers to answer a few questions after each lesson.
You can use the Auto-grading Notes available in Sensei 1.6 to give immediate feedback and clarify each answer after your potential customers have completed their quizzes.
3. Conducting research surveys
Research surveys have a plethora of uses – you can find out more about how your customers are using your product, collect data for a thesis, gather post-event feedback – the possibilities are endless. The good thing is that Sensei can help you achieve any of these goals. Using all six different question types you can collect the necessary information in many different ways at once.
Once users have completed your survey, you can use the Email Notifications feature in Sensei 1.6 to automatically let them know how much you appreciate their response.
4. Running competitions to promote your brand
Online competitions are a great way to promote your brand, and who doesn't like entering them? Entries require very little effort, they cost nothing and there's always the potential to win fantastic prizes. With Sensei you can run your own competitions very simply – maybe even repurpose courses or lessons so that you can run multiple competitions at the same time.
Using the new and comprehensive Question Bank that's a part of Sensei 1.6 you can create dozens of potential questions per competition and each individual will only see a small, randomly selected set of them – this means that each person will get different questions making your competitions more dynamic.
5. Educating the world about your favourite topic
Being passionate about something is great, but sharing that passion with the world is even better. I've bored many of my friends to tears with overly passionate discussions about Star Wars and how I'm desperately struggling to decide at what age it's appropriate to introduce my daughter to the franchise. A much better outlet for that passion would be to open up my knowledge to the world with a few online lessons and quizzes powered by Sensei.
You can use Sensei 1.6's new Private Messages to have heated discussions about the correct order in which to watch the movies and you can even award your users with a certificate at the end of each quiz using our free Certificates extension.
How are you using Sensei? Let us know in the comments below!