When starting, or expanding a business into the online space, two factors seem to drive decision making; time and budget. These factors can sometimes also lead to decisions being made that fall into the "quick and cheap" category- friendly to both budget and timeline. With so many aspects of the website needing to be considered, tight budgets and short timelines, "free" is often seen as the word of choice.
Often times, "free" doesn't translate to quality. When choosing a design, in particular, "free" can begin to impact the way your business is perceived by your customer, if the quality of the design and theme code is inferior.
Today, we'll be showcasing 5 free WordPress themes that support WooCommerce and look set to provide a great starting platform for your online business to springboard off of.
Mystile
Clean lines, open spaces and a large header image area. What more could one ask for, right?
Mystile does what it says on the tin. Crisp, clean and responsive, with just a dash of colour, helping you to showcase your own style. With a variety of colour scheme options, careful attention to eCommerce design best practices and the WooFramework as it's backbone, Mystile is the perfect free theme for a clean and customisable design.
Download Mystile
Travelify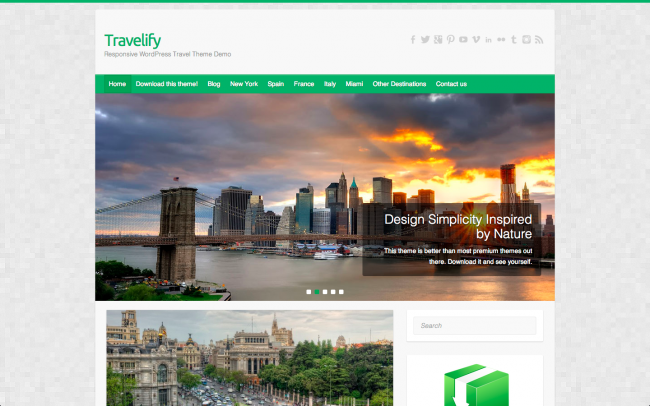 Travelify, by Color Awesomeness, is a theme inspired by nature. If you're a travel blogger, or just love nature, this is a great theme for you. If you sell travel or nature-related products as well, this theme just gets better, as it includes native support for WooCommerce.
Download Travelify
Wootique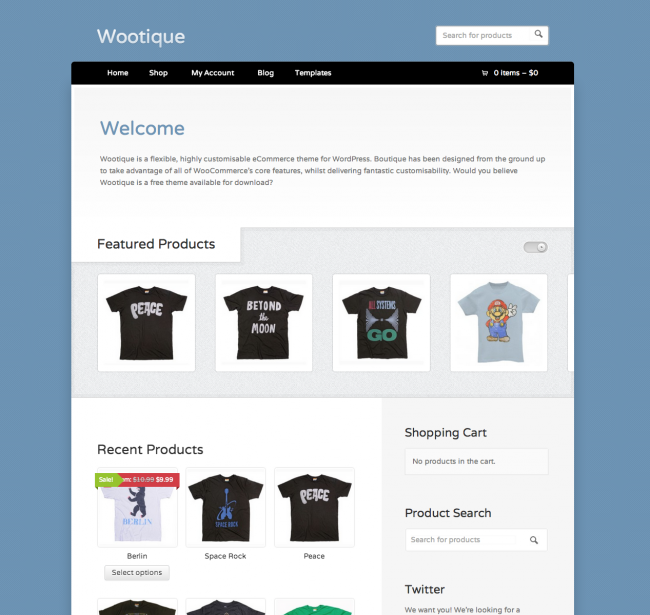 Wootique's primary focus is to showcase your products. The rest of the benefits are without measure; a clean and customisable design, nifty hover effects when browsing through your product catalog, a fully-integrated WooCommerce experience and a great frame for the rest of your website's content.
The original free WooCommerce-enabled theme, Wootique set the bar for how free WooCommerce-enabled themes should look and function.
Download Wootique
Discover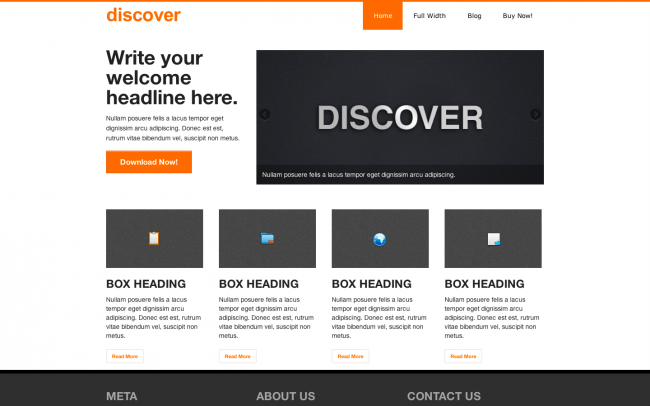 "A very neat and clean orange and white business theme" is the first sentence of this theme's description on it's WordPress.org listing. This line perfectly sums up what Discover is; clean, business-focussed and orange & white. AntThemes have done a great job, here, creating a clean business theme with support for WooCommerce.
Download Discover
Artificer
Ideal for artisans and creatives. Artificer is styled to make use of the look and feel of an artisan's workshop, while also ensuring your content is the main focus of your website (whether viewing your website on a desktop computer, or on your mobile phone or tablet). Muted tones and a well-defined colour palette make Artificer the theme of choice for creatives, artisans and anyone who works with their hands and wants to showcase their creativity.
Download Artificer
When setting up your online store, it's important to consider the timeline when making decisions; how was your business in the past, what does your business look like today and how would you like your business to look in the future? Keeping this timeline in mind enables informed decision making that enables "free" to not negatively impact on your decisions, and to provide a stable footing for a forward-thinking online business presence.
We hope that the above list of top-quality WooCommerce-enabled WordPress themes helps you, and your business, to craft a stable (as well as time and budget-sensitive) footing from which to springboard your online business.