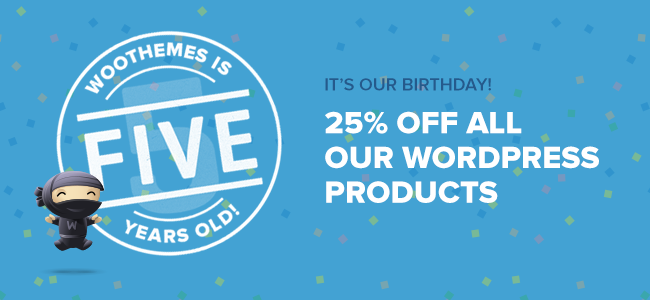 We seem to be on a roll with recent milestones. Today is another significant one; We're 5 years old!
To be an online business and to make it to 5 years is an achievement in itself. To be 5 years old and to be experiencing our best growth month-on-month yet is testament to the team that powers our product offering and to you, our loyal customers.
To celebrate, we're doing it in true WooThemes birthday fashion – a big sale, a 'Memorable' theme release, and a specially-crafted custom website, highlighting some of the highlights of our journey.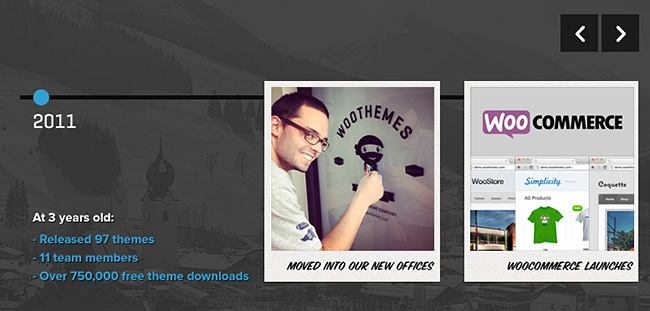 View some of our business highlights in our 'Memorable' theme release birthday demo
48 hours of big discounts
Checkout with any of our themes, plugins or extensions and you'll get a very useful saving of 25% off your product purchase.
Spend big, save bigger
That's right if you really want to make the most of this promotion then spend big and the discount becomes even more attractive.
Get 25% off any product purchase on our site
Spend over $250 and the discount becomes 30% off your product purchase.
Spend over $500 and the discount becomes 35% off your product purchase.

Please note that club subscriptions are excluded from this promotion.
These discounts will all be auto-magically applied to your checkout cart when you go over the amounts specified above.
This promotion expires at 11.59pm 11th July (PST Time Zone) has now expired.
After 5 years of barely touching our product price points, and after much data analysis, we will be increasing our pricing in the next couple of weeks. This is not a decision we've made lightly, and is another good reason to take advantage of our birthday promotion. A further explanation of this will be provided in a blog post.
Thank you to all our customers for affording us our dream jobs. We look forward to the next 5 years and will try everything in our power to fill them with even more memorable milestones.