We've just passed another milestone at WooThemes; our 200,000th order has just been placed and in true WooThemes fashion we want to celebrate that with you!
So, for the next 24 hours you'll be able to get some of our awesome products for 25% off.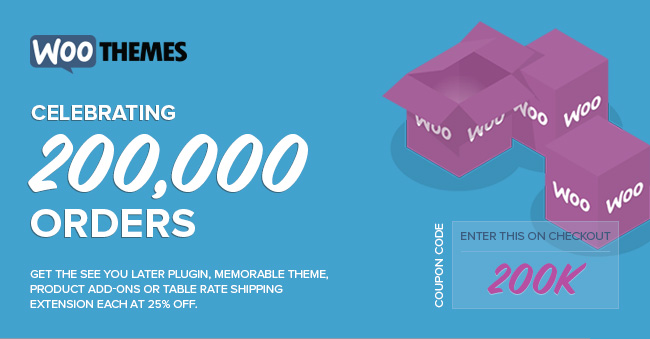 We've selected what we think are great plugins to get you started with a new site, or improve an existing one.
What is on special?
You'll need something to help you engage your visitors before you've launched the site. Go get See You Later for 25% off.
Need a great theme design? We've got you covered with our most Memorable theme.
If you're in the eCommerce business, you're going to need our awesome Table Rate Shipping to help make shipping your goods an easier experience. And to top it all off, you can get our best selling Products Add-ons extension which allows you to capture any extra information you may need fro your customer when they purchase your product.
To sum up, the following products are available for 25% off:
Just use the coupon code 200k and you'll get 25% off all the products listed above.
You can choose one of the products, all of the products or just a few them to get your discount, but make sure to get something; this sale is only on for the next 24 hours!
This special is now over, thanks for taking part!