Today's post comes from Scott Bollinger, co-founder of AppPresser. Scott has been working with mobile WordPress design and development for years. He recently had a chance to speak about AppPresser at MacWorld as part of the 6 About to Break challenge. Read more about their experience here. 
Wakami is a socially conscious lifestyle brand that designs fashion accessories. Each piece is hand crafted in villages of Guatemala by over 550 artisans that are making their dreams come true. Through their mentorship program artisans become empowered entrepreneurs – changing their lives while positively impacting those around them.
Their mission is to bring income generating opportunities to people in areas of the world that do not already have them.
Wakami knew that 4 out of 5 consumers use their smartphones to shop, and being able to send messages directly to their customer's phones (via push notifications) could give their sales a big boost.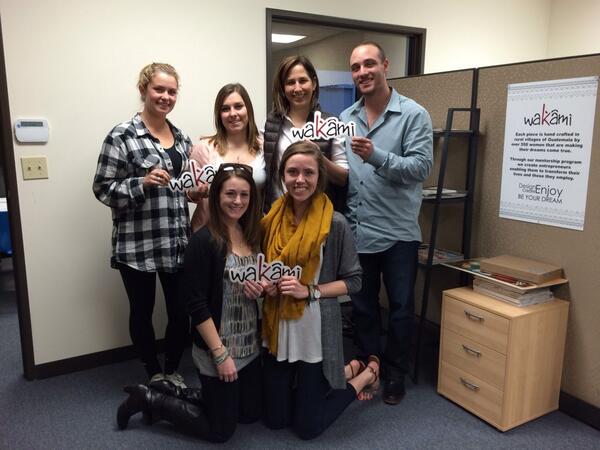 The Need for an App
This led Wakami to look into building a native mobile app for their WooCommerce store to complement their website.
They wanted to bring their products to their customers in a new way, expanding their reach and opening new sales opportunities.
They didn't have the budget to build a fully custom native app (who has $100K lying around?) so they looked to AppPresser for help.  AppPresser allows you to build an iOS/Android mobile app from your existing WooCommerce store at a fraction of the price of a custom native app.
Their app features their products in a format that allows their customers to find what they want and purchase quickly. Swipeable image galleries and carousels, custom app-style menus, and an optimized layout for both phones and tablets creates a beautiful shopping experience.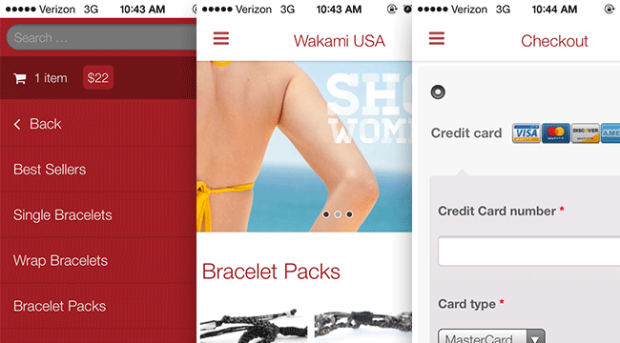 AppPresser
Using AppPresser + WooCommerce means that Wakami can manage the sales and site copy from one place. Any content updated on the WordPress site is instantly updated in the app.
AppPresser also allows you to integrate native device features such as the camera, so Wakami's customers can upload their own images of products. The app owner can approve/decline photos through WordPress, and once approved the customer photos go straight to the product image gallery.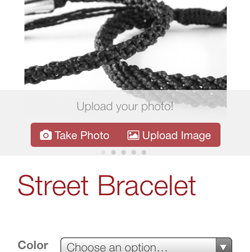 "We wanted to go for the mobile app to increase brand awareness, make it more user friendly for our customers on mobile devices, and drive more people to our website. We thought it was a great opportunity especially with how prevalent it is today to use mobile devices." – Amanda, Wakami
Wakami is now poised to reach more customers and expand their sales with their awesome mobile app!
The Wakami app is available on iOS and Android phones and tablets through the iOS app store and Google Play. To download, visit the app store on your device and search for Wakami. You can also click here for iOS, and click here for Google Play.
How can a mobile app help you?
"41% of smartphone owners have made a purchase from their mobile phone." –Digby
If you run an online store to sell your products, you probably also have a nicely designed mobile web site, or responsive version of your existing web site, that your visitors can visit on their mobile and tablet devices.
Companies like Zappos and Amazon have that, too – and they do extremely well.  In addition to a great mobile experience on their web site – both of those companies have native apps available in the Apple Store and Google Play.
The reality is that consumers are spending 80% of their device time in mobile apps.  (Not mobile websites, mobile apps.)  Online retailers who have a mobile app that their users can purchase from directly have a distinct advantage.
The key is to have a great mobile site AND a mobile app, to get the most customer engagement possible.
Do you think your customers would download and use your mobile app? Could you make a few extra sales per month and reach a wider audience?
A custom eCommerce app like this can cost upwards of $50,000 from some companies, so it is very hard to justify that cost. Now AppPresser allows you to get a mobile app for your WooCommerce store for less than $500.  How many extra sales does it need to bring in to pay for itself? I'm guessing not that many.
Start engaging more customers through a mobile app for your WooCommerce store today!
To learn more about AppPresser and making a mobile app for your WooCommerce store, please visit here.
Have a question or comment about AppPresser or mobile apps? Feel free to share.