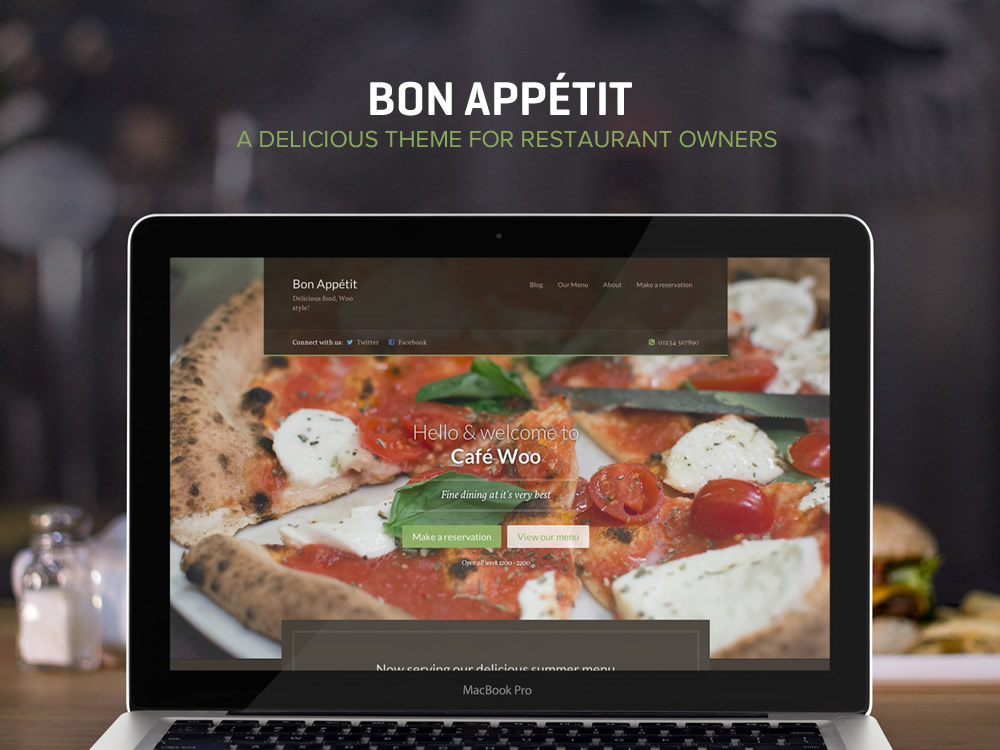 There is no love sincerer than the love of food.
George Bernard Shaw, Man and Superman
The restaurant industry operates at an incredibly rapid pace. The reason for this is evident; the more covers the restaurant turns over in a single sitting, the more revenue the business brings in.
When established brick-and-mortar businesses (such as restaurants) first discover the internet, they often see a new channel through which to entice potential customers to visit their establishment. This is usually where their interaction with the internet ends.
Today's release helps to expand the restaurant's interaction with their potential customers via the internet.
Patrons of Café Woo, we present to you Bon Appétit, a tasty restaurant theme for WordPress.
A Healthy Appetite
Bon Appétit, translates directly to English as "good appetite". We certainly have a good appetite for Canvas child themes! A specially styled integration with the Restaurant plugin for WordPress helps to whet your customer's appetite for your exciting food menu.
Powered by Canvas
Bon Appétit is a child theme for our flagship WordPress theme, Canvas. Thus, the full power and flexibility of Canvas comes standard when combining Bon Appétit and Canvas. What a powerful combination!
Purchase Canvas
A bit more about Bon Appétit
Bon Appétit aims to showcase your restaurant images in as bold a manner as possible, placing them front and centre for your customers to view, and to entice them to visit your establishment. With a large background image area as the main focus, placing an image of your signature dish here is sure to whet your customers' appetites!
Your contact information is also placed in the header area of your website, making it easier for your customers to get in touch with you directly with any specific queries they may have.

Designed, and developed, by our very own James Koster, Bon Appétit is ready to be shaped and crafted as desired with a few small tweaks using a CSS plugin.
To illustrate the power of Bon Appétit, we've set up a demo website to showcase the theme and to show off just how easy it is to get up and running with next to no effort.
We look forward to seeing the scrumptious restaurant websites you all create using Bon Appétit, Canvas, WooCommerce and any number of our wonderful WooCommerce extensions and exciting free plugins.