As promised, we're back for our customer happiness report for the month of February. We had some fantastic numbers from January, our first response times were well under our stated goals (outside of a small percentage of tickets), and we had a 91% satisfaction rating for all tickets. So, with that, let's see how we compared.
Since February only has 28 days, our total ticket to days ratio will be a bit skewed this month. Some other internal wild cards that have affected our stats include: surgery, wisdom teeth, holiday leave, internal reorganization, and training. Although our team has grown over the last year, the loss of just one member can be felt throughout.
Customer Happiness in Numbers
Looking at the numbers:
9,870 new tickets created this month.
20.3 hours to First Response (the amount of time the average customer waits for our first response).
24% of all tickets are responded to within 8 hours; and
92% satisfaction rating on all tickets.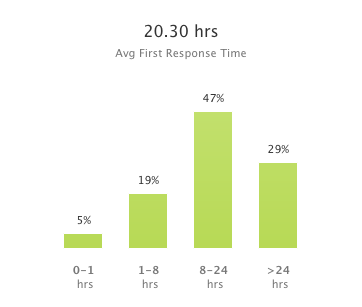 Our response times have increased, but we've also taken in roughly 1,100 more tickets as compared to January. This increase in tickets combined with decrease in days has had the greatest impact on our first response times. While we're still doing well inside our 12-24 hour commitment, the tickets that have waited 24 or more hours rose by 12%. Compared to last month, February has seen a 12% increase for first response times greater than 24 hours. While this statistic is a bit unsettling, it's enabled us to identify a problem and formulate a solution.
Diving Deeper
Let's compare the numbers between our support channels.

We've seen an increase in first response times across the board and the chart above gives a breakdown of these numbers (weekends included). Even so, our global satisfaction rating remained steady at 92% showing that the quality of our replies hasn't been affected by the increased load.
In addition to answering support tickets we've spent some time this month on internal reorganization, product improvement and training as a way to improve our support infrastructures. A few of us from both Accounts and Support were working on revamping our new Documentation Portal. Lot's of time and effort went into designing, editing, and polishing the new portal. We hope the changes make your experience much more efficient and enjoyable.
Our WooCommerce team has been busy prepping for 2.0. It's imperative that we are ready to offer support for the new version once it's released. This involves internal training, extension audits, and document rewrites. Though it doesn't show in our numbers, we've been very busy working behind the scenes.
Benchmarking & Context
The benchmarking metric backs up what we already know. Our first response numbers have suffered this month. We've leveled out with the industry standard and that just isn't good enough. On the bright side, our satisfaction rating has increased by one percent compared to the industry average.
Time For Action
This is only our second Customer Happiness Report, but we're already beginning to learn from the data. In studying our support channel metrics, we can determine when the ticket traffic is busiest and adjust our workflows accordingly. Based on this month's data our goals are as follows:
Bring the majority of our first response times across the board back into our stated and expected time frame.
Look at our Support Channel metrics to see where the influx of tickets, comparatively, came from and address that cause.
Continue to figure out how to address weekend tickets.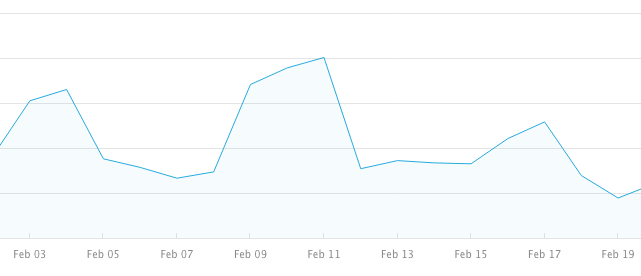 As always our goal is to deliver happiness. This is most definitely our entire team's motto, but especially relevant to our support team and these metrics. We're always hard at work making that statement ring true, I hope to report back next month with improved numbers and no metrics slipping any further!