tl;dr: Canvas isn't going anywhere, and we're dedicating a team to growing and optimizing it.
Since launching on the 9th of February 2010, Canvas, our all-purpose theme, has been a consistent performer and gathered a large base of loyal users. The styling control panel added by Canvas has proved popular amongst users who aren't familiar with CSS, yet desire a customized look for their website. Businesses have since been built on the back of Canvas and WordPress, due to the ease of customization afforded by it.
With our 2015 theme retirements happening recently, we retired our collection of Canvas child themes. This action sparked questions from loyal Canvas users regarding the status of Canvas and our view on the product looking forward.
We're here today to explain why these child themes were retired, and to give you a look into the future of Canvas. Keep on reading to learn more about the path this theme will take in the future.
Why we retired our Canvas child themes
With a product such as Canvas, the logical next step — on the surface — seems to be launching child themes. After much discussion around how best to do this, we determined we'd launch a small collection of child themes and evaluate their performance.
To this end, we launched a collection of child themes, beginning with Uno and Duo, and resulting in a collection of five child themes for Canvas.
When measuring performance of these themes, we factored in sales numbers (which proved healthy) as well as user experience with the product. But while the sales numbers looked healthy, our customers were having a lot of difficulty getting these child themes up and running, making the overall Canvas experience confusing and cumbersome.
The way in which Canvas is developed means the visuals are entirely dependent on the theme's customization options, rather than having fixed default values which are optionally changed. When attempting to control these values via a child theme, this often resulted in the child theme not looking at all like its intended design.
This is counter to the purpose of purchasing a child theme in the first place — to have a specific design.
Thus, we determined that "child themes" in their conventional form aren't well suited for Canvas, without heavily restricting the styling options in Canvas (which counter to the reason you purchased Canvas in the first place). This is what led to the retirements of Uno, Duo, and three others.
For you all who purchased a Canvas child theme from us, you can rest assured that we will offer support for your purchase for the duration of your currently-active subscription. Read more about our support policy for retired themes here.
What's happening with Canvas 6
We've received quite a few questions about a release timeline for the next major version of Canvas, Canvas 6.
Through months of discussion, customer feedback sessions, prototyping, and developing of a full new theme as a proposal for Canvas version 6, we determined that the direction we were moving in wasn't the direction Canvas users were looking for.
The feedback we received during our Canvas 6 customer feedback sessions can be summed up in two comments: "we want new additions to Canvas" and "we don't want anything in Canvas to change".
Combining these two comments, we read "we want the features already in Canvas to be improved upon and optimized, but don't take any features away".
Through this feedback, it became clear that creating an entirely new product, while a great product, simply "wasn't Canvas."
Our focus with Canvas is currently on enhancing the current features, while simplifying and refactoring the user interface wherever possible.
Canvas 6, while a major release, is still a few releases away. This is given version 6 being a major rewrite, which is contrary to the gradual refactor approach we've adopted.
Where we're going from here
The short version is this: Canvas isn't going anywhere. We determined that a product like Canvas requires a unique approach, with small incremental updates, and being 100% mindful of legacy features at all times.
Our current plan with Canvas is to form a team of experienced engineers focusing purely on developing and optimizing it. This dedicated approach will be for the benefit of everyone using the theme.
We understand how important Canvas is to you, and want to ensure we maintain the product, while continuing to upgrade it's codebase to be truly lean and mean. We want to do this via small incremental updates to the product, rather than large sweeping updates.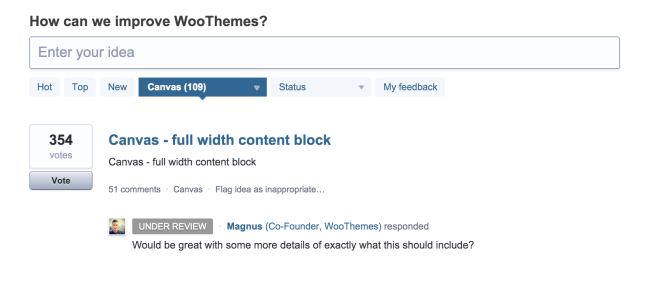 We look forward to seeing the websites you and your teams build with Canvas, and to hearing your feedback on our updates via our helpdesk.
Do you have an idea for a Canvas feature or update you'd like to see? Share your ideas with us and the community on the Canvas Ideas Board.