Here at WooThemes we use a script for dynamic image resizing in all our themes which is called timthumb.php (thumb.php in our themes). One of the main reasons why we haven't replaced our dynamic image resizing script yet, is because we feel it is superior to the WP post thumbnails that were introduced in WordPress 2.9.
The reason it is superior to WP Post Thumbnails is because it can dynamically change the size of your images. It is widely used amongst WP theme developers, but it also has it's problems (mostly setup and server performance issues).
We noticed a WP trac ticket (hopefully it makes it into a future WP version) which had a nice function to use the built in re-size functionality which already exists in WP core, and have now added this function to our framework (v 3.1.10) to see how it works.
We have also updated Canvas with a new option to enable the re-size function if you use WP Post Thumbnails, so you can test the new functionality today!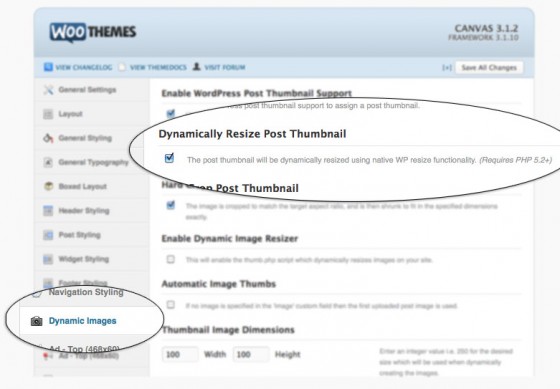 PS! We also have some new framework functionality coming soon which will update the way you upload images in your options panel/custom settings… Stay tuned!
Update!

We have deployed version 3.2.0 of the WooFramework which now uses native WP upload functionality for uploading in the options panel and in custom settings field. Grab it now by going to YourTheme > Update Framwork.

If you have any problems with this new function, please post a new thread in the our support forum. For general feedback use the comments below.