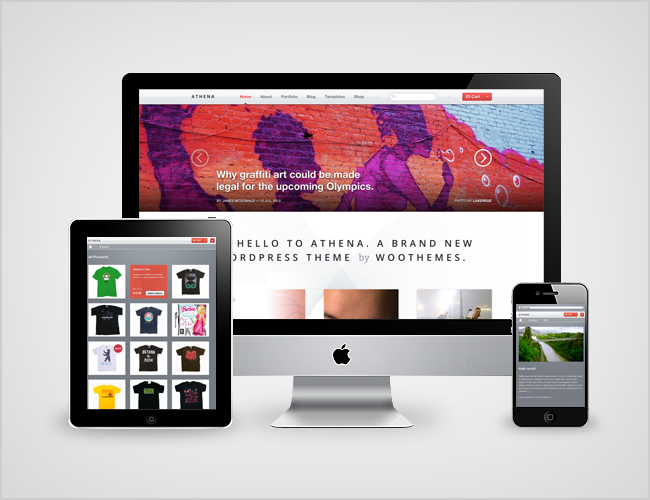 Inspiration is a core element that drives us all when developing products here at WooHQ, as well as within the WooCommunity, when using WooThemes products to complete projects for happy clients. We feel, why not showcase that inspiration in a clean, clear and flexible WordPress theme? Athena is that theme.
Designed by James McDonald, Athena is a robust business/portfolio/blogging theme with a modular, airy homepage, to best showcase your content. Athena includes our popular portfolio feature, as well as customised homepage components for an introductory message and a clear featured slider, to showcase your blog posts.

Athena (Greek goddess of inspiration, mathematics, wisdom) features unique overlay hovers for portfolio items and products, allowing the focus to be on showcasing your imagery. The text stays out of the way until the visitor hovers over a product or a portfolio item, at which point they are presented with everything they need to know about the product or portfolio item.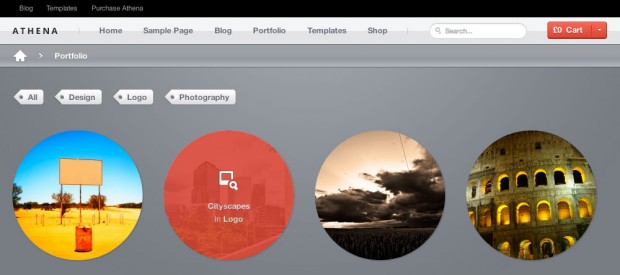 As with our recent PixelPress and Scrollider theme releases, Athena has custom styling for WooDojo and it's bundled features, to enhance your website with a tabs widget, Twitter stream, Instagram photo stream widget and more.
Athena comes bundled with WooCommerce support from day 1. If WooCommerce isn't active, the theme works just as well… and looks just as great. 🙂
As with all WooThemes themes, Athena isn't just for business or commerce. With a few minor tweaks to the comprehensive theme options, Athena can transform into a blog theme, a purely business-focussed website, or a personal nameplate homepage. The possibilities are limited only by your imagination.