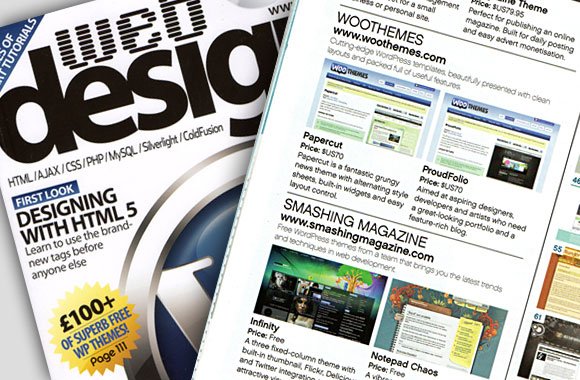 Hot off the press and in most UK newspaper/stationery stores is Issue 149 of Web Designer , the only serious tutorial-driven monthly publication dedicated to online creativity available in the UK .
Issue 149 focusses on the wonderful WordPress , giving you history and tips behind Web 2.0's blogging behemoth.
We were approached by Web Designer last month and asked if we would contribute any of our WooThemes for this issue's accompanying CD. After a brief chat Adii, Magnus and myself decided it would be silly to pass on the opportunity of marketing WooThemes to the huge following of this great magazine. After careful consideration we decided we would offer both Papercut and Proudfolio . That's right two of our premium themes are avaliable for free with Issue 149 of Web Designer. Also in this issue is a step-by-step detailed tutorial on how to develop your own WordPress theme, albeit quite a basic one.
What are you waiting for? Make sure you pick up your copy today!