Finding new customers is often one of the most difficult and expensive parts of owning a business. That's why repeat customers are so valuable – it costs much less to sell to existing buyers than to attract and convert new ones.
Loyal customers not only make repeat purchases, they often talk to their friends and family about your business, leading to sales from referrals.
But how exactly do you build customer loyalty online?
WooCommerce created three extensions for your online store that will help keep your customers coming back time and time again.
Make Shopping Fun with WooCommerce Points and Rewards
One downside to selling products online is that your customers miss out on the joy of getting a loyalty card punched each time they make a purchase. But with the WooCommerce Points and Rewards extension, you can bring some of that joy to your online store using personalized deals and special offers.
Here's how it works:
Each time customers make a purchase, write a review, sign up for your email list, or join your membership program, they earn points. They can later redeem these points for discounts off future purchases.
With Points and Rewards, you can customize how many points are earned for each purchase, and the value of each point for discounts.
Suppose you award one point for every dollar spent. If a customer spends $50, they earn 50 points. Then, you could set 25 points to equal a $1.00 discount. So those same 50 points would be worth $2.00 off a future purchase.
This is a great way to make customers feel happy about buying from you, and motivate them to come back so they can use their points.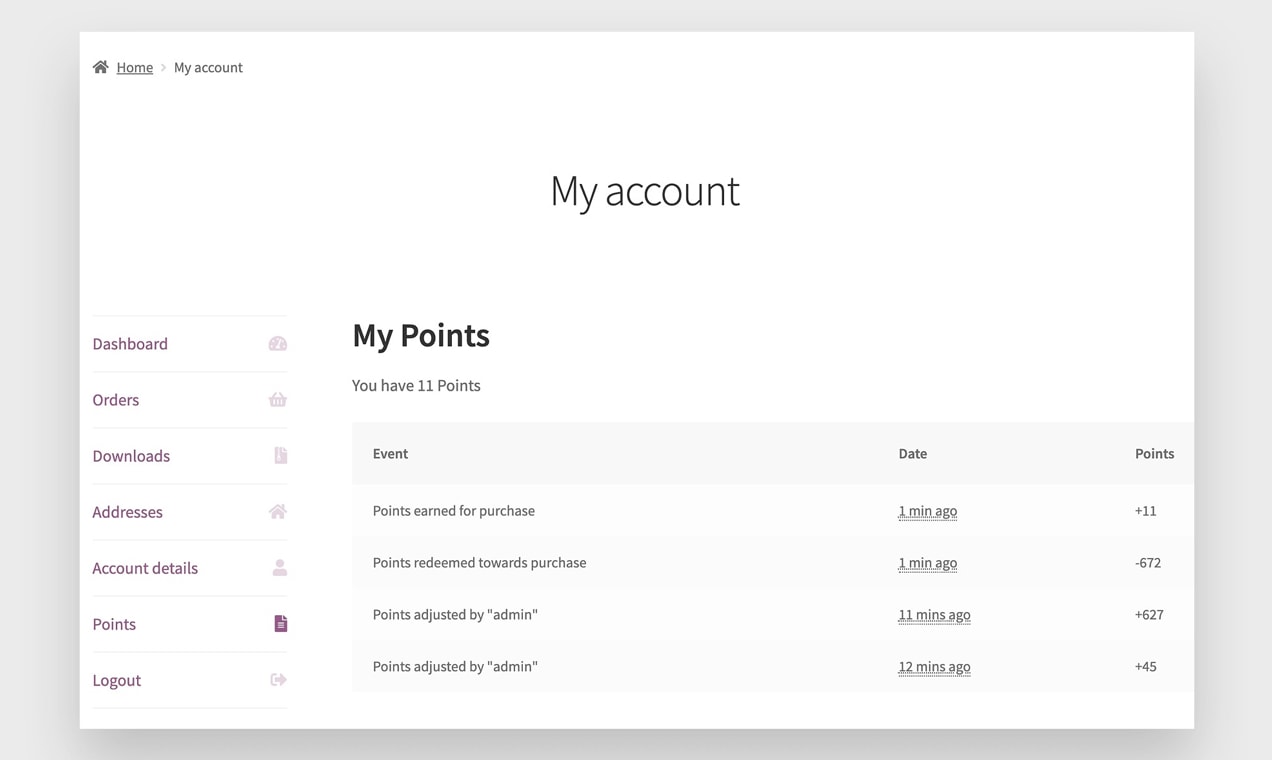 More Loyalty Marketing Options
With the Points and Rewards extension, you have complete control over exactly how your reward system works. Here are just a few of the other features available:
Control the maximum discount that can be earned using points at the cart, category, or product level.
Award points for actions like signing up or writing a product review.
Apply points earned to all previous orders so customers can start redeeming points for discounts immediately.
Adjust the points balance for a customer.
Set the name of your reward system and points to match your brand.
Being able to change the name of points that your customers earn can actually be a powerful branding tool. Suppose your online store, Sugary Treats, sells candies and chocolates. You could call your reward program "Treat Rewards" and call points "Treat Bucks."
The more special your reward system feels, the more your customers will want to stick around. Customizing your loyalty program goes along way in making it feel unique and exclusive.
But what about customers that have already been loyal for years? If you add a reward program to an existing online store, you can apply points to your customers' previous orders, so they can start redeeming discounts right away. What a great way to surprise and treat your customers!
A loyalty program can help increase your average lifetime customer value. And your buyers will be drawn back to your online store, rather shopping elsewhere.
Learn More about WooCommerce Points and Rewards
Keep Customers Coming Back with Smart Coupons
Coupons and discounts are a great way to encourage repeat purchases. And with the Smart Coupons extension, you can create and manage just about any type of coupon imaginable.
You can offer:
Discounts on additional products after one product is purchased.
Gift vouchers after certain amounts are spent. For example, "spend $250, get a $25 coupon."
Gift certificates your customers can give to friends and family.
One-click coupon offers that appear at checkout.
URL-based coupons that can be shared as a link via email or on social media.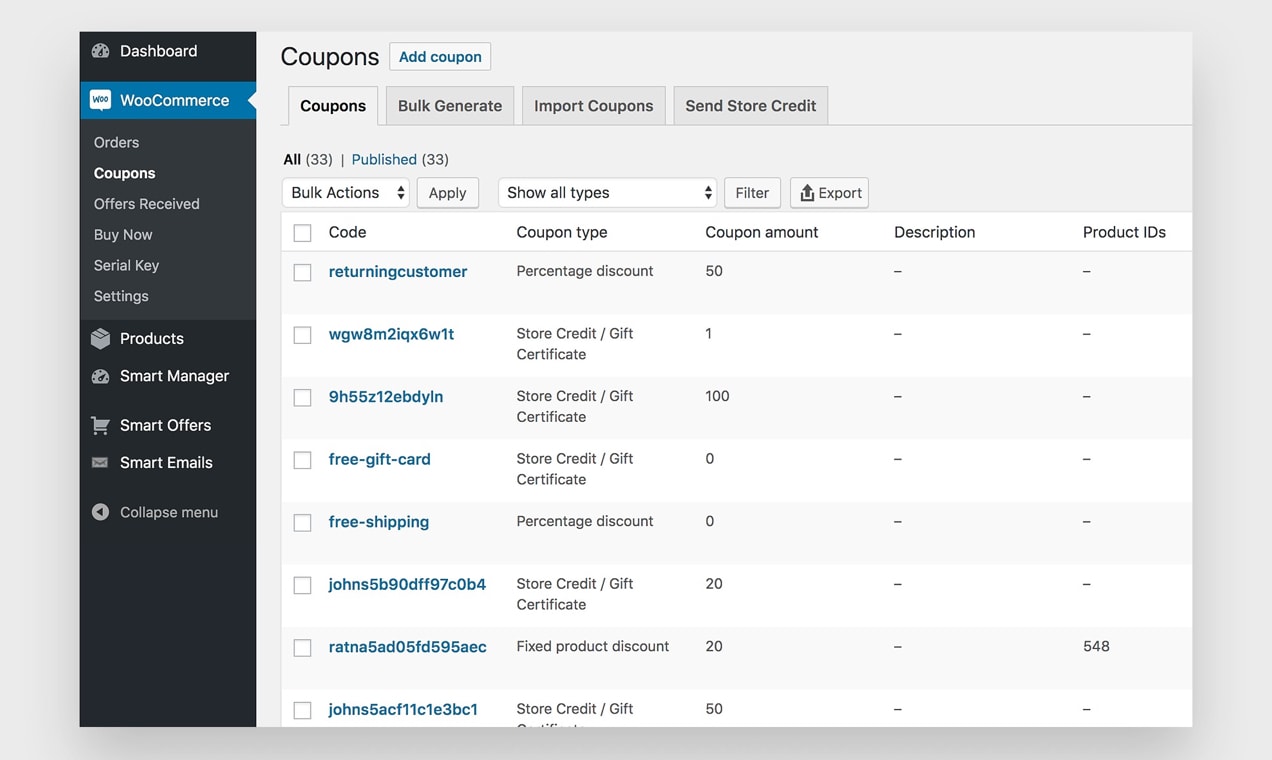 You can also create a credit system, where your customers can store money in their online account. For example, someone might add $100 to their account, but only purchase a $40 product. They'll want to come back in the future to use that extra $60!
You may want to offer additional methods of payment, however, because not all of your customers will want to store their money on your site.
Smart Coupons works seamlessly with many other WooCommerce extensions, such as Chained Products and Subscriptions. With additional integrations, you can create coupons for both subscriptions and memberships. To motivate membership renewals, offering limited-time renewal coupons can increase your membership loyalty.
By using Smart Coupons, you'll also automate a lot of the time involved in creating coupons. You can generate thousands of coupons automatically, email them to customers, add them to your store, and even export them as CSV files that you can share with business partners.
This is a great way to both increase customer loyalty and average transaction size.
See six more Smart Coupons strategies.
Increase Customer Loyalty Using Email Follow-Ups
Email marketing is a powerful way to connect with customers and encourage repeat purchases.
The Follow-Ups extension automates the email marketing process and keeps everything right on your WooCommerce site. Since it's managed from your WooCommerce dashboard, your entire store workflow is in the same place. And, it's a much less expensive option than many email marketing platforms.
Follow-Ups provides all the same functionality you expect from an email system. You can:
Automate your email marketing.
Schedule emails in advance.
Import email lists.
Use merge tags and custom variables to personalize emails.
Send out newsletters.
Create templates.
Segment your email list.
Track your email metrics, like opens and clicks.
But Follow-Ups takes things a step further. Because it seamlessly integrates with WooCommerce, it can amplify the effectiveness of other extensions and deepen your relationship with your customers.
For instance, you can use Follow-Ups to create and send out coupons personalized for each individual customer. A coupon with their name on it goes a long way in making buyers feel appreciated and special!
You can create pre-written emails that are triggered based on your customers' actions, like a first time order. This is a great way to engage customers at key points such as the beginning of a membership or when they return to your store after a long time away.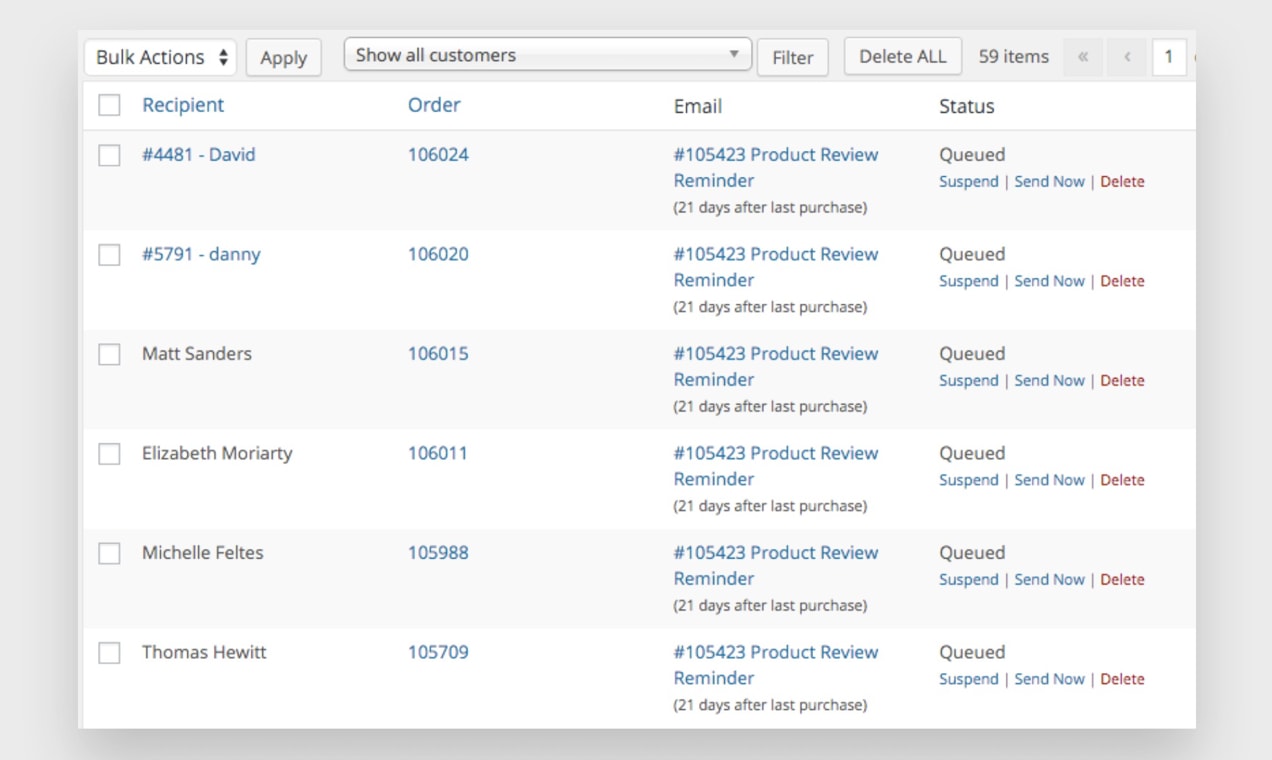 Follow-Ups also enables you to send out thank you tweets after a purchase, request reviews, and connect with your buyers directly on Twitter.
Engaging through multiple channels helps increase your customer loyalty and attract new customers. With Follow-Ups, you can use email to supercharge everything you do with Smart Coupons and Points and Rewards, and watch your business grow.
Learn More about the Follow-Ups Extension
Increase Customer Loyalty with Three Powerful Extensions
The key to successful customer loyalty is to create value. It's important that your customers feel appreciated and enjoy their experience shopping with you!
By combining Points and Rewards, Smart Coupons, and Follow-Ups, you create a powerfully dynamic system to keep customers engaged, connected, delighted, and surprised.