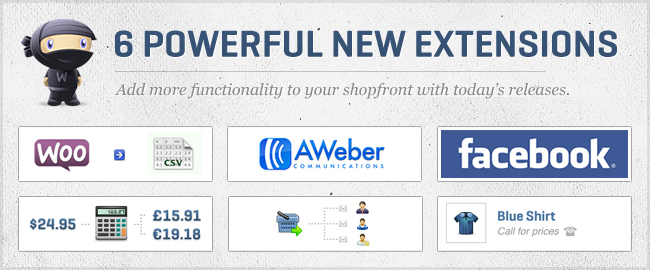 It's been only 2 weeks since the release of WooCommerce 1.4 and our download stats have clocked over 65,000. We are all for keeping this momentum powering WooCommerce forward and that is why we are releasing another pile of powerful extensions today. What is important to note is that these aren't payment gateway extensions either, all catering for different requests by the community!
Aweber Newsletter Subscription
The AWeber Newsletter Subscriptions plugin for WooCommerce gives you the abillity to easily integrate your WooCommerce site with your AWeber powered newsletters. Customise your checkout to include a subscribe option, or place the AWeber Web Forms widget in any widgitised area on your site to allow for easy customer subscription from any page. The WooCommerce AWeber Newsletter Subscriptions plugin also include a dashboard widget for displaying your subscriber statistics where it matters, on your WooCommerce dashboard.
Developed by Gerhard Potgieter
Find out more about the Aweber extension
Catalog Visibility Options
Transform WooCommerce into an online catalog by stripping out the checkout facilities.
Wait, what? Remove eCommerce functionality? It may sound strange but when you think about it, if you take out the cart, checkout process and 'buy now' buttons, WooCommerce is actually the perfect platform upon which to showcase a catalog of products which aren't currently for sale online. The added beauty of this solution is that when you do want to start selling, you can do so with the flick of a switch.
But this extension does much more than that. Rather than just taking the entire store offline, you also have the option restrict it to specific users levels.
You can also configure messages to replace the price / add to cart button components or just remove them completely.
Developed by Lucas Stark
Find out more about the Catalog visibility extension
Facebook Tab
I really like this extension that integrates with Facebook to create a tab on the left hand side of your page where customers can view your products and add them to their cart all from within Facebook. They are then taken to your site to complete their order. Seamless integration with the biggest social network out there! You can view a demo of this extension on our very own Facebook page!
Developed by dtbaker
Find out more about the Facebook extension
Notifications Pro
Consider a store with multiple suppliers, several drop-ship locations or multiple store managers, Notifications Pro allows you to set any number of general notifications or inventory control notifications to manage this in the simplest way possible.

Perhaps you have a store with multiple suppliers. Simply set each of the suppliers a separate inventory notification – when the stock level reaches the defined quantity, Notifications Pro sends an email advising each of the suppliers of the low stock level – simple! You can even choose which products they receive a notification for.
Developed by Luke Carbis
Find out more about the Notifications Pro extension
Currency Converter Widget
A hugely requested feature that Mike has tried to cater for, factoring in the limitations of payment gateways. The widget makes full use of money.js and the Open Source Exchange Rates API allowing it to dynamically grab the latest exchange rates, and substitute displayed prices on the fly. All prices formatted by WooCommerce are updated, even totals. Checkout is still done using your store's base currency, but the converted price is also stored for your reference.
As an added bonus, when a users checks out, the converted total will also be stored in the order so you know what price they saw.
Currency conversions are estimated and should be used for informational purposes only. Checkout/purchases still use the stores currency.
Developed in-house by Mike Jolley
Find out more about the Currency Converter extension
Export to .csv
With this extension you can export your customers or orders (from a date range) to a .csv file with the click of a button!

Developed by Ilari Mäkelä
Find out more about the Export to .csv extension
Dynamic Pricing Updated
The Dynamic Pricing extension released last week has also been updated with a nice new feature. It now includes an additional mode of discounting, as well as additional options for category based discounts. The new mode of discounting is Totals Pricing, allowing you to configure discounts based on the sub-total in the cart. This new mode is great if you want to create a discount, such as purchase $100 or more of goods and receive a %10 discount.
The additional advanced category pricing options allow you to configure how the category quantities are calculated. We now support calculating the category quantity totals based on individual cart line items, not just the entire sum of the category in the cart. This is useful if you want to apply product level discounts to an entire category, but require the discount only be applied to the cart items which meet the quantities you configure. This option makes it more efficient to apply an Advanced Product Pricing type rule en-mass to all products in a specific category.
Find out more about Dynamic Pricing