Today we reveal 2 new pages we've been quietly brainstorming, developing and populating over the past few weeks. Both are resources we hope inspire and equip our community with tips and tools to get their sites supercharged, whilst connecting them with the correct people for some expert guidance.
Customer stories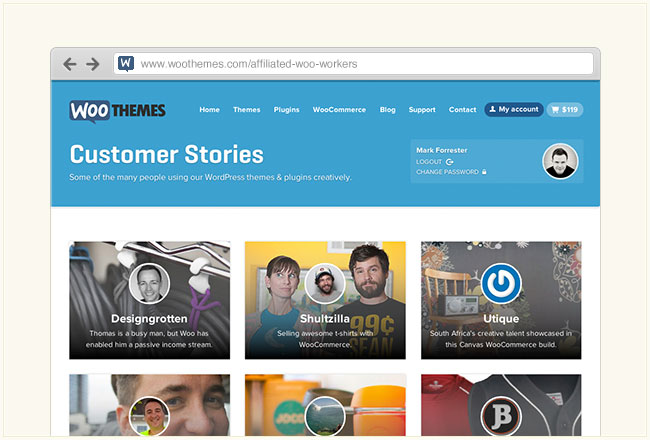 If you've been a regular reader of our blog you would have seen quite a few case studies published from time to time with stories from designers, developers and business owners on their experiences with our products. We've published about 22 case studies, but finding them and navigating through them has proven difficult.
Today we've taken an active step to bring them to your attention and get you inspired about what can be done with a little creativity and WooThemes products.
View the customer stories page
A re-designed Affiliated Woo Workers page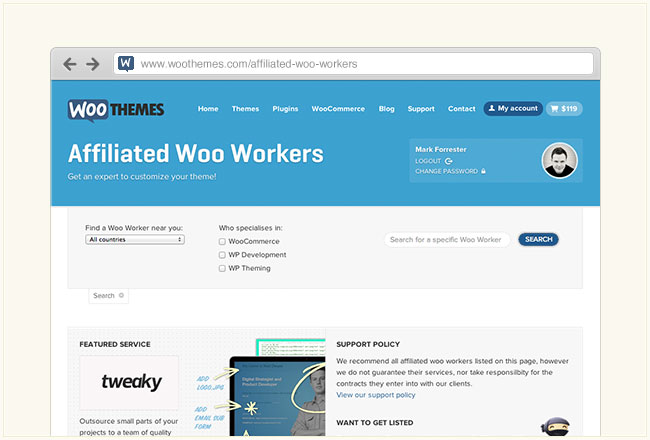 Our affiliated woo workers page lists some of the amazing freelancers and agencies offering implementation, customization and migration services. They're some of the brightest folks using our products and are well versed in our codebase.
All these listings on one page was becoming quite a tedious task to manage and update, not to mention cumbersome to navigate for those requiring quick expert help. With the new AWW page we've followed a similar structure to our extensions archive page, with the profiles powered by it's own custom post type and the option to search by country and skillset.
You will notice a couple featured profiles in the listings. More on our involvement with these companies soon.
View the affiliated woo workers page
Both these resources still require a little elbow grease and we have some great features planned for future versions, but following our mantra it was time to ship!